'Dragon Ball Z: Resurrection 'F": Opening the swag bag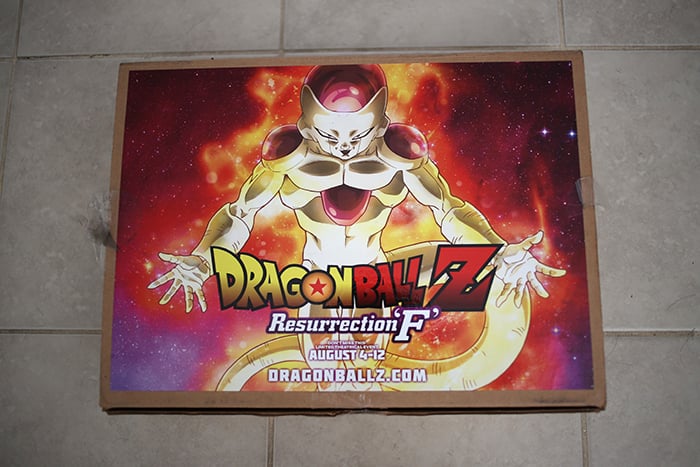 KAMEHAMEHA! No, not the famous Hawaiian king, but the infamous signature attack of Son Goku, hero of the best-selling anime franchise of all time, Dragon Ball Z. Any otaku worth the name has tried to do the Kamehameha at least once in their life. Along with going Super Saiyan. If this makes no sense to you, you obviously do not suffer from the malady of being an otaku.
Funimation sent me a screener of the upcoming movie "Dragon Ball Z: Resurrection 'F,'" being released in American theaters for a very limited time from Aug. 4 to 12 (only until Aug. 8 in Hawaii). It's the sequel to "Dragon Ball Z: Battle of Gods," where we see Son Goku achieve Super Saiyan God level for the first time. I'll review "Dragon Ball Z: Resurrection 'F'" shortly, but first things first. Let's take a look at all the swag that came with the screener.
Let the unboxing begin:
This is the fancy box the screener and swag came in. A nice poster of everyone's favorite villain Frieza is plastered on the exterior. I'm surprised the poster was left relatively unscathed. Now to figure out how to get it off without tearing it.
Bubble wrap. I like bubble wrap. Who doesn't like popping bubbles for days? I won't let it distract me from my goodies. Well, maybe I'll just pop a few.
What do we have here? Swag, that's what we got. For the uninitiated, swag in this case refers to the free goodies that one gets from anime and comic conventions. Usually the goodies are relatively inexpensive, like posters or key chains, but sometimes you find something quite valuable, like a limited edition collectible.
Here we have a limited edition collectible. From my understanding, you could only get this little guy if you attended San Diego Comic Con 2015. Or if you happen to be the resident otaku at Frolic Hawaii. Vinyl figures like this one are quite the rage among collectors. Spoiler alert: This figure shows Frieza in his ultimate final form.
Before there was a Super Saiyan and final form Frieza, we had these guys. You plug these guys into the headphone jack in your smartphone and watch them dangle the night away. Or you can put them on your key chain. Or gym bag. The possibilities are endless. Pretty much like their transformations. Super Saiyan God Super Saiyan anyone?
The ball that started it all: the four-star Dragon Ball. Oh, the stories you could tell. I didn't realize it was soft and squishy. Well, this ball is, anyways. Whenever I get stressed, I guess I can just grab a Dragon Ball and squeeze the Home For Infinite Losers out of it. That's an inside joke for those of you that haven't watched that American version of Dragon Ball Z.
A pamphlet giving a breakdown of the movie and the characters, along with the DVD itself. If you can't read the print, it says Krillin is working as a cop and Gohan lost his gi. He also let his hair grow out apparently. I have a confession. I need to watch the first movie, "Dragon Ball Z: Battle of Gods," before watching this one. I know. I know.
And finally, we have a T-shirt in the same shade of purple that can be found on Frieza. I don't wear size Large though. I guess I can wear it like pajamas in bed when I'm watching the DVD screener in the comfort of my home.
"Dragon Ball Z: Resurrection 'F'" will be shown in select Hawaii theaters Aug. 4, 5, 6 and 8. Check local listings for showtimes.