Don't talk stink! Izakaya-style natto dinner coming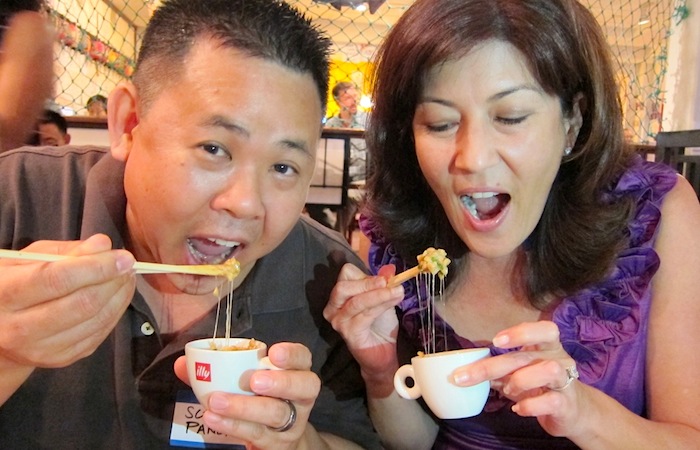 UPDATE: The Feb. 17 natto dinner is sold out. Don't cry, natto lovers, we hope to have another in a couple of weeks. Stay tuned to Frolic!
What's better than an annual feast celebrating the gloriously stinky-slimy natto? Two feasts!
That's right, natto friends and foes: Back by popular demand, because Hawaii's Facebook natto lovers group could not wait a whole nother five months until Natto Day on July 10, is an upcoming dinner with course after course starring the famously fermented bean. This one will be at McCully's Izakaya Torae Torae, where chef Hide Yoshimoto is planning seven izakaya-style courses including dessert.
What this means: Yoshimoto, whose pedigree includes a long stint at Doraku, updated that restaurant's sushi menu with profusions of textures and flavors. He brings the same no-holds-barred approach to Torae Torae, so along with familiar, pure flavors (natto miso soup), you can expect riotous explosions of natto and other ingredients in your mouth.
This dinner is open to the public, and there's only one rule: You must like natto. If you don't, stay away. Yoshimoto's kitchen will be totally given over to the great bean on this day, so there'll be no ordering off the menu.
Izakaya-style Natto Dinner
Tuesday, Feb. 17
Izakaya Torae Torae
1111 McCully St.
Seatings at 6, 6:30 and 7 p.m.
Cost: $43.50 per person (includes tip and tax)
Tickets available online
Parking: limited on-site parking, street parking, and $2 parking at Central Pacific Bank after 6 p.m.
Torae Torae serves beer and a nice selection of sake. If you want to bring your own drinks, the corkage fee is $20 a bottle.
No room for the pic, but I'll tell you the happiest dish on Yoshimoto's planned menu: shrimp chips stuffed with mashed avocado and topped with natto, ahi, ikura, takuan, cucumber and shiso with a drizzle of kabayaki sauce. As for dessert, your guess is as good as mine.
See you Feb. 17, natto lovers!
NOTE: If you get shut out but wanted to come, let us know and we'll do our best to schedule a second natto feast.