Don't Miss This: Eddie Kamae Songbook Launch Party in Waikīkī
The six-hour songfest on May 1 at the Royal Hawaiian Center celebrates a free music resource: performance clips of 34 legendary Hawaiian songs, plus their sheet music, lyrics and translations, song histories and more. The new online/interactive songbook honors many of Sons of Hawai'i founder and filmmaker Eddie Kamae's favorites.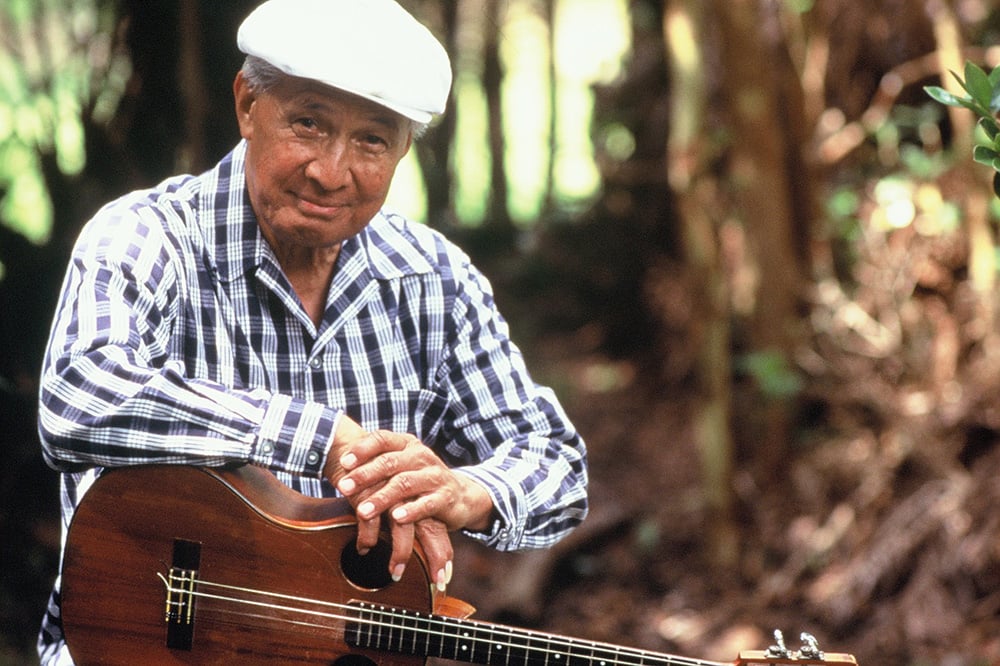 If the journey of Eddie Kamae seems to resemble that of Hawaiian music itself, it's because he was part of so much of it—and preserved even more. Previewing his free online songbook that debuts May 1, it's sobering to think how much would've been lost without Kamae's intervention as documentarian, bandleader and self-taught ethnomusicologist.
Indeed, the scope and impact of the late Kamae's life is daunting to summarize—Kamae and his co-writer, James Houston, needed an entire book, the classic Hawaiian Son—but starting in May, a curated chunk of his work will be available at the click of a mouse or snap of a QR code.
Kamae loved nothing better than a kanikapila, loose and flowing, so the launch party May 1 at the Royal Hawaiian Center (noon to 6 p.m.) should be fun. Family, friends and performers will celebrate the Eddie Kamae Songbook in song and talk story—and you're invited to attend or livestream.
The Eddie Kamae Songbook is the work of a team brought together by Myrna Kamae—Eddie's collaborator, producer, partner and wife—with the blessing and encouragement of University of Hawai'i West O'ahu Chancellor Maenette K.P. Ah Nee-Benham. In late 2019, the "Hui Hana" songbook team of Myrna Kamae, Kapena Shim and Lilinoe Andrews set to work sifting notes, clips and sheet music with a weekly meeting to reconcile differing lyrics and translations. Archivists from 'Ulu'ulu: The Henry Giugni Moving Image Archive tackled thousands of hours of video, including digitizing eight of Kamae's 10 documentaries (the remaining two are on track to join the others).
"Aaron Sala was with us since day one," Myrna Kamae says. "Kapena Shim did so much to bring the music to life with audio and visual clips. And he's our webmaster, he made it all come together. His grandfather Alvin Shim and Eddie were close friends. Lilinoe Andrews was the one who updated all our translations; every Saturday for two years it was, 'Let's vote on that!' Robbie Omura at 'Ulu'ulu helped to get all the video ready. Takuma Itoh was in charge of all the music transcribers, Ocean Kaowili volunteered to do the chord changes for free. And it was Chancellor Benham who said, 'Myrna, you're spending so much time sending songs, why don't you do a songbook?'"
SEE ALSO: 50 Greatest Songs of Hawai'i
The result is a resource that should give a fresh boost to Hawaiian music and through its stories inspire songwriters and scholars to create their own from the stuff of their own lives, as Eddie Kamae famously did.
Performing Sunday at the Royal Hawaiian's Royal Grove Helumoa will be Paul Kim, Analu Aina, Mike Kaawa, Ocean Kaowili and the Grandsons of Hawai'i, Waipuna, the Waimānalo Sunset Band, and other guest artists, kanikapila style (ho'okani pila).
SEE ALSO: When Eddie Met Gabby
Family, friends and guests attending should use the Royal Hawaiian's Kamaʻāina Parking Promotion (spend $10 and receive three free hours of parking; thereafter, $2/20 minutes).