Dom Perignon dinner: Learning about champagne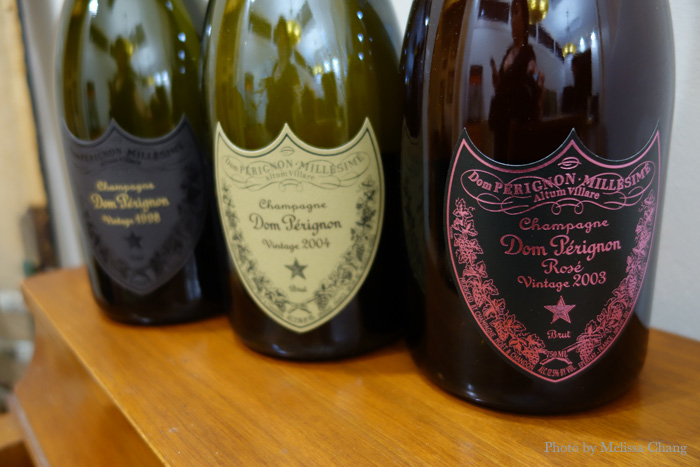 As mentioned in yesterday's blog, Sten Lilja of Moet Hennessy was in town and, through two private dinners with Yasuo Ogawa and Dr. Jeff Yeoh, gave attendees quick lessons in enjoying premium libations. The first was Hennessy cognac; the second, which I'm blogging about now, was for Dom Perignon — the premium champagne.
If I've learned nothing else from the Food Network, I've learned that unlike red or white wine, champagne is like a little black dress — it goes with everything. And even better, it is supposed to be great with salty foods, which I like. But Yasuo got Neale Asato (formerly of Vintage Cave and now with Livestock Tavern) to create a menu for this dinner to pair perfectly with the vintages featured.
Here are the bottles we got to try: We started with the Vintage 2004, the most versatile of the three, which retails for about $160. This went with the various passed appetizers, as well as the scallop and king crab dish you'll see later. The P2 Vintage, which retails for about $375, went with the salmon dish. And the Rose Vintage 2003, which retails for about $350, was for the pork belly and the dessert tofu.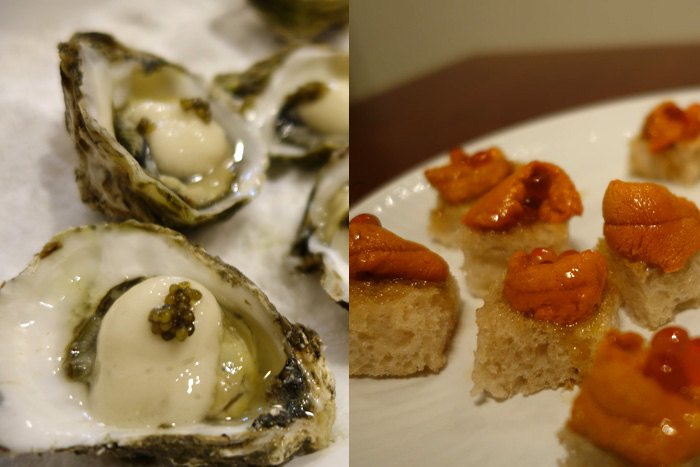 To start: Oysters with caviar, and uni/ikura toasts, all perfect for the Vintage 2004. They also passed around bacon jam biscuits, but I stuffed one into my mouth and forgot to take a photo.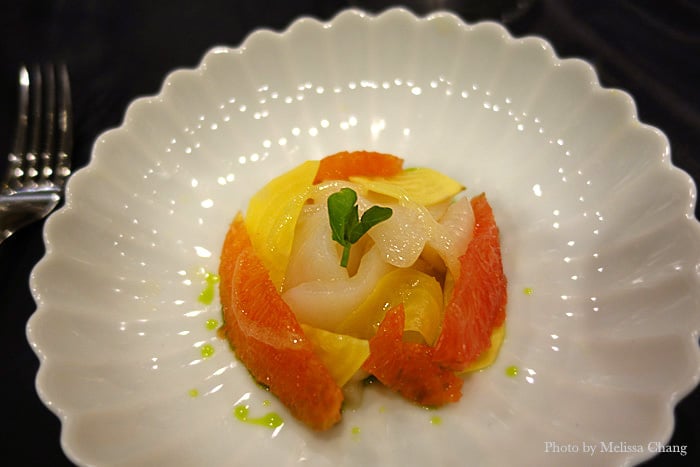 Neale's first course was a plate of sliced diver scallops with grapefruit, beets and charred citrus vinaigrette. The fresh, vibrant flavors were great against the fruity, almost floral Vintage 2004.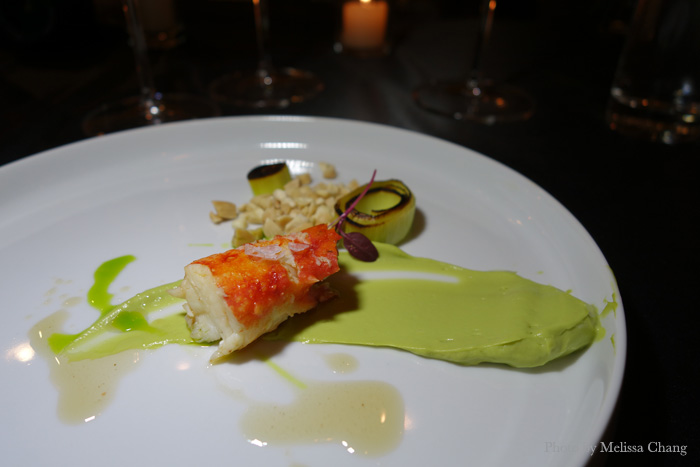 We were impressed with the king crab, served with a lime-avocado puree, Marcona almonds, charred leeks and brown butter. We were instructed to get a little bit of each in every bite, and by doing that we got a great blend of flavors and textures. This was also paired with the Vintage 2004, and gave a nice, contrasting example of another dish that brought out the floral notes.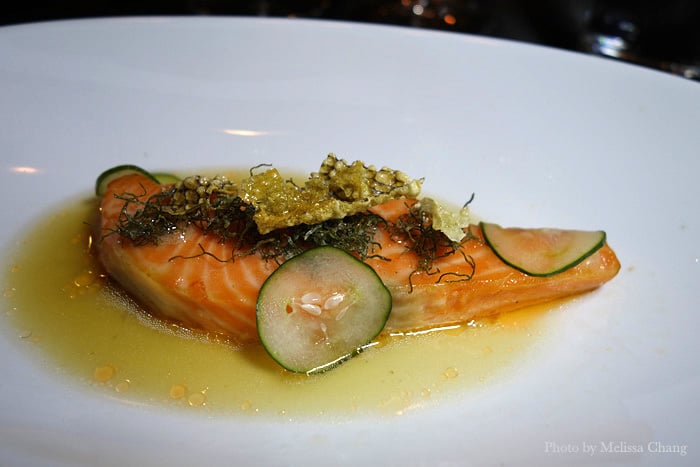 The dish that had everyone yelling was the king salmon, which Neal smoked himself. He topped it with fried seaweed, crispy salmon skin, cucumbers and bacon dashi. The fish was amazing and melty, and of course you can't go wrong with bacon anything, right? I think this would have gone with any of the champagnes offered, but he paired it with the P2 Vintage 1998, and that was fabulous.
Just a quick note on the P2 Vintage 1998: It scored 98 in Wine Spectator Magazine and is a result of more than 12 years' maturation on the lees. As you can see above, the color is a little more golden than other champagnes. It's almost creamy on the palate, fills your mouth with an almost smoky flavor, then has a zesty finish. A woman sitting across me was overwhelmed on her first sip, saying it made her feel like she was back in 1998. The couple next to me bought a bottle, since their son was born in 1998 — not to share with him, but to toast to themselves once he's graduated from high school!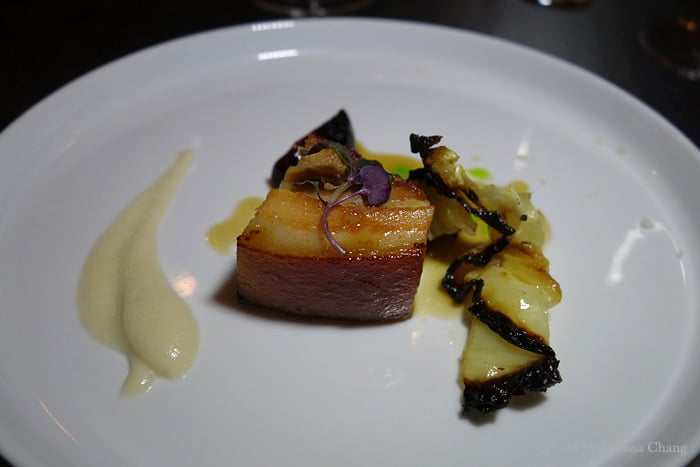 Another outstanding dish was Neale's crispy pork belly with grilled cabbage, sour cherry gel, onion puree and pork jus. The dish itself was great, but the cherry gel really pulled everything together and was perfect with the Rose Vintage 2003. The onion puree, in fact, was so good that Yasuo ran to the kitchen, grabbed the pot and doled out large portions for everyone.
A quick note on the Rose Vintage 2003: This vintage is greatly valued for its flavor as well as the conditions that produced it. The vineyard was first touched by severe spring frosts, then an unparalleled heat wave, producing a perfectly ripe and healthy but small harvest. While you can taste fruits like fig and strawberry, the primary flavor for many of us was guava and vanilla. Maybe it's because we live in Hawaii? In any case, this had the most complexity for me.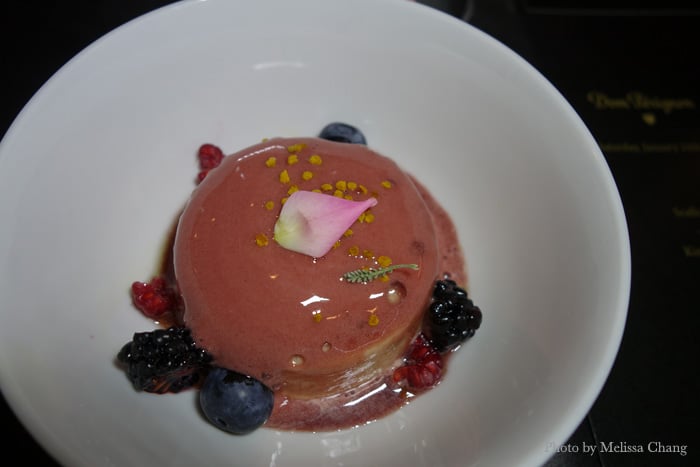 The final dish was the handmade tofu, a firm disk that was almost like cheesecake. Neal topped it with berry foam, honey, torn berries and bee pollen for added pops of flavor and texture.
What a great way to round out a decadent weekend! I did end up buying a bottle of Vintage 2004, to use as an incentive for myself for the next very momentous occasion. Mahalo to Sten Lilja, Yasuo Ogawa and Dr. Jeff Yeoh for a great event, and to Neale Asato for outstanding food.
For more photos from this dinner, click here.