Doko ga Hokkaido: Tanaka sake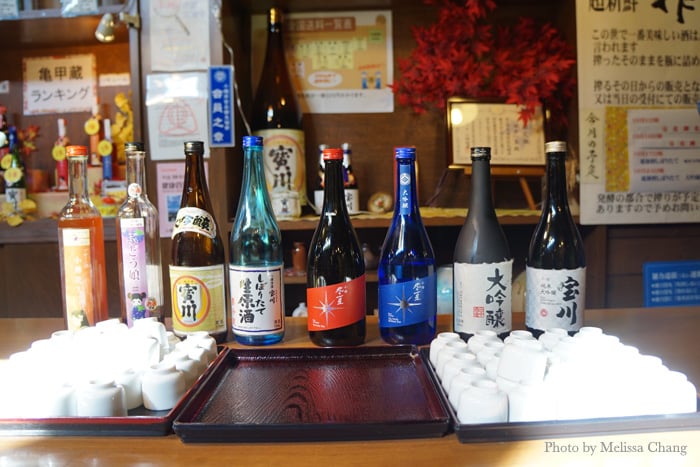 Just as various foods are symbolic of Japan, sake — their national beverage — is almost exclusively Japanese. To produce high-quality sake, you need the perfect rice and the perfect water, mixed with centuries of tradition and science.
There are several areas around the country that produce great sake, but it seems like Hokkaido is home to many of them — partly because of the abundance of quality ingredients, of course. We headed out to the port town of Otaru, which is just half an hour by train from Sapporo, and toured the Tanaka Sake Brewery. If you go, it is just a five to 10 minute walk from the train station, and they offer free public tours and tastings.
Here's a peek at our tour, but you can see the rest on Doko Ga TV when it airs on December 4 at 11:30 a.m. on KBFD (Channel 4, or HD 1004).
Founded in 1899, Tanaka brews its sake in a stone warehouse that was built in 1905 and designated an historic building by the city.
Since water is the most integral part of the process, Tanaka's facility is built above the well that provides water for their sake. Visitors can take a cup (thoughtfully provided neatly next to the barrel) and sample the water themselves to taste the difference.
Did you know that sake uses a specific kind of rice that's not suitable for eating? The grain is larger, stronger, and contains less protein and lipid than regular rice. Brewers polish their rice to half (or more) its original size to remove the oils and protein and get to the starch.
The rice is then soaked, then steamed.
Tanaka Sake is known for using modern technology with the traditional methods of brewing. Our guide, Teruo, admitted that he's not a great drinker but is good at the science of making sake.
They take the steamed rice and put it into a temperature-controlled room to prep the the production of koji — rice with mold spores cultivated onto it. The koji breaks down the rice starch to specific sugars that can actually be fermented by the yeast added, resulting in the production of alcohol.
Our film crew going through the brewing area, with vats labeled with the number of days the sake had been fermenting. Each vat needs to be mixed carefully throughout the process and eventually the clumps of rice gets smoother and the production of alcohol increases. You can see the process in better detail — with some outrageous descriptions! — when the Doko Ga TV episode airs in December.
Our favorite part of the tour, naturally, was the tasting room! We tried several of their award-winning sakes as well as their light, fruity alcohol (for lightweights). The sakes have a wide range of flavor for every palate, most with very clean finishes.
They also produce mirin, which is a sake-based sweet condiment often used in cooking in place of sugar. Tanaka's mirin seems extra sweet, but very delicate … I can't wait to cook with it, so share your recipes with me!
Tanaka Sake Brewery
3-2-5 Ironai,Otaru,047-0031, Japan
+81 120-240-390
If you watch Doko Ga TV (doko ga means "where is.."), you know that Pali films all over the country. This tour, however, was provided by Hawaiian Airlines and the Hokkaido government to tie into his being named Hokkaido's "Smile Ambassador" from Hawaii as they work to promote a sister state relationship. Hawaiian Airlines offers direct flights from Hawaii to Sapporo every other day, so it's pretty easy for us to hop over there and see what Hokkaido has to offer. Mahalo to Hawaiian Airlines for flying us there; and mahalo to Love Hokkaido television and the Hokkaido government for their help in getting us around.
Up next: Otaru glass and Nikka whisky! Thomas Obungen already covered a lot of what we saw and learned at Nikka, so I'll just brief you.
If you want to see all of the photos from this trip, click here.