Doko Ga Hokkaido: Sapporo eats, part 1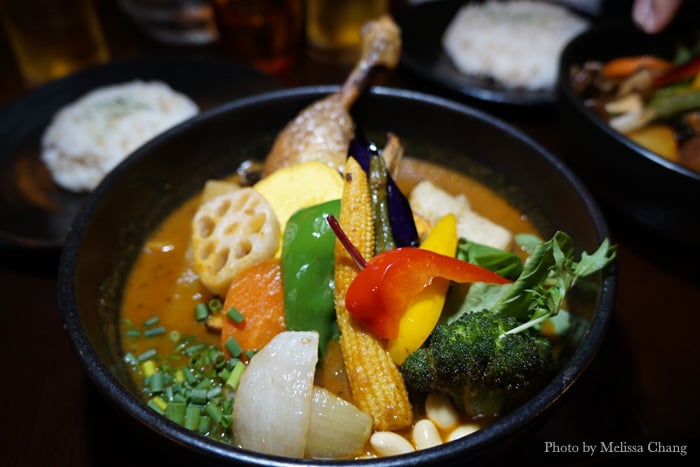 In the interest of time, I'm splitting my Sapporo restaurants into two posts and I believe these are more miscellaneous spots, whereas the ones I'm profiling tomorrow are close to JR Sapporo Station.
When you travel with Pali Kaaihue — and he does run tours to Japan with the Doko Ga TV theme — expect to eat a lot, and eat often. The great thing about traveling with him, though, is that he doesn't go to the most high-end restaurants to get a good, oishii meal. In fact, we saw quite a few college students in the places he took us to, so we knew it was going to be reasonable.
Hokkaido is known for their soup curry, which is, well, soupy curry. It is appropriate for the weather, since it's always cold, so you get something that's both hot and spicy to keep your inner warmth going.
Soup curry is everywhere, but Pali likes Soup Curry Samurai best because of the flavor ("I don't even like curry!" he said) and your ability to customize your bowl if you wish. I'll show you some of our dishes, which were about $12 to $19 each, depending on what you have and what you add to it. I love that the rice is on the side — you can customize the amount of rice, too — and they cook the vegetables separately so they can sit beautifully atop the soup for optimal instagramming.
I'd definitely go back to Soup Curry Samurai — it was hearty and filling, and the waitresses were very sweet and attentive. Be prepared to wait, as it's quite popular and there is a bit of a line in their lobby.
Soup Curry Samurai
6-1-3 Minami 3 Jo Nishi, Chuo-ku, Sapporo
+81 11-272-3671
Sapporo is also known for their superior chocolate, so be sure to bring home the famous Royce and/or Shiroi Koibito brands as omiyage for your loved ones. We visited an Ishiya chocolate store — the parent company of Shiroi Koibito — in the Odori Nishi4 Building, because in addition to their cookies and confections, they have soft serve in their famous milk and white chocolate flavors. Each cup is about $3 to $4, depending on the exchange rate.
Ishiya Shop, Odori Nishi4
Odori nishi4-chome 6-1 Chuo-ku, Sapporo
011-231-1483
Open 10 a.m. to 7 p.m. daily except January 1
One night, Pali took us to Sekai no Yamachan, a national chain that serves tebasaki chicken wings, a popular dish for drinking and parties that originated in Nagoya. Tebasaki(手羽先) literally translates to "wing tips" and is always made with bone-in chicken wings, has little to no breading, and is seasoned after it's fried. The wings are fried until the skin is rice cracker crisp before being dunked in a sweet and peppery shoyu-based glaze. People think of it as the Japanese version of Buffalo wings or Korean fried chicken. Pali gave us a lesson in eating it, here.
We were actually full from a day of eating, but we couldn't stop digging in to these wings! We also ordered other accompaniments (below), and I wish I could tell you how much they cost … but the entire meal (including drinks) was so reasonable, Pali and Kini paid for the whole thing. The photos below are just a few of the things we ate, but as with most izakayas, the price per head was about $30, which was very good.
This is a great value for both food and drink, whether you are in Nagoya or Sapporo. One tip, though: Go hungry.
Sekai no Yamachan
1 Minami 4 Jo Nishi, Chuo-ku, Sapporo, Hokkaido
+81 11-221-8280
Our Hokkaido adventures will be aired on Doko Ga TV starting December 4 at 11:30 a.m. on KBFD Channel 4, or HD 1004.
If you watch Doko Ga TV (doko ga means "where is.."), you know that Pali films all over the country. This tour, however, was provided by Hawaiian Airlines and the Hokkaido government to tie into his being named Hokkaido's "Smile Ambassador" from Hawaii as they work to promote a sister state relationship. Hawaiian Airlines offers direct flights from Hawaii to Sapporo every other day, so it's pretty easy for us to hop over there and see what Hokkaido has to offer. Mahalo to Hawaiian Airlines for flying us there; and mahalo to Love Hokkaido television and the Hokkaido government for their help in getting us around.
Up next: Eating in Sapporo, near JR Station!
If you want to see all of the photos from this trip, click here.