Doko Ga Hokkaido: Hakodate market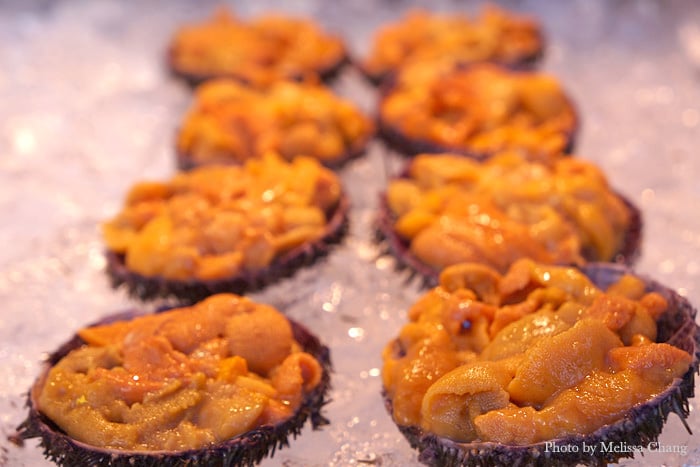 After the rest of the group dispersed to other parts of Japan or went home to Hawaii, I headed to south Hokkaido to the famous port town of Hakodate. Since it was one of the first of only five Japanese ports that was available to the Western world, you'll find a lot of American, British, French, and Russian influences, but most people here speak only Japanese — so learn a little before you go.
You'll want to make time for the Hakodate morning fish market, but be aware that all the tourists in town are doing so, as well. Chinese and Taiwanese people love seafood, so you'll find you may need to speak a little Mandarin while you're here, too. Make no mistake, the area by the water is as touristy as any other cruise ship port, so food and omiyage will be a little more expensive than inland areas.
But this stuff is very fresh … in some cases, maybe a little too fresh. One of the most famous booths in the middle of the market has you catch your own squid, then they quickly clean and slice it up for you, with the tentacles still twitching. (You've probably seen the more gruesome video on YouTube of bowls at Ikkatei Tabiji, which serves "dancing squid" with the head still on. This was easier to take.)
Since I was by myself, I couldn't video myself eating it, but trust me, I did.
Was it worth it? I'll admit, it wasn't the best ika I've eaten. Yes, it was über fresh, but various factors — like species, water quality, etc. — probably had some bearing on that. You do it for the novelty, but that's about it.
If you don't have an urge to eat a twitching squid, take your appetite to Maruhoku Hokkai Ya, located on the outside of the market, facing the train station.
They specialize in Hokkaido crabs, from the small hairy crabs up to these gigantic ones. Since I was by myself, I didn't eat this one; I had a small hairy crab, which was about $30. After paying, the stall cooks and cuts the crab for you with instructions to come back in 15 minutes. You can then eat it there, or grab a seat at their neighbor's restaurant for accompaniments.
Kuu Don is their sister restaurant, where they seem to have a relationship.
Masae-san brought me my cooked crab (above), then posed with my bowl and the Kuu Don owner! So was this worth it? Most definitely. I love that Maruhoku Hokkai Ya cuts the crab, even down to the little joints. The meat on these crabs is sweeter than others, and you can taste the distinct difference. Coupled with my lunch bowl, this was a highly decadent meal.
Here's some other things I tried in the Hakodate morning market (and no, not in the same day). Alas, I didn't get to try the black squid ink soft serve ice cream, as the stand that serves it wasn't open the day I wanted it.
That's pretty much it for the morning market. I stayed in Hakodate three days, which was actually too long. You should stay there two days, max.
I was surprised that the port area was bustling with tourists during the day, but completely dead at night, like a ghost town. I know the inland part of the city has more life, as you'll see in the next blog, but it's still sleepy compared to most other cities.
So one night, I was wandering in the dark and trying to figure out what to eat for dinner. My hostel had suggested a Japanese restaurant near the old post office, but I crossed back and forth and couldn't find it. Finally, across the street from the post office, I saw a light in a cute building that looked like a restaurant, so I thought that's what it was.
It looks very Japanese, doesn't it? It was a very quiet restaurant and maybe three tables were occupied. No one spoke English. There was no English menu. There were no photos. I was screwed! So of course I sat down to eat.
I took a photo of the menu and texted it to my friend Yumi in Osaka. (Oh, the wonders of modern technology!) She said it basically listed vague titles like "Fall set menu" but didn't say what they were comprised of. So when the waitress came, I randomly pointed to one of them and wished myself luck.
This setting makes you think you're going to eat Japanese food, right?
The first course was a delightfully rustic version of a dish you might find at Vintage Cave. It was two miniature pieces of puff pastry atop some assorted seafood, with a light sauce reminiscent of seafood Newburg.
The next course was a dreamy, lightly creamy, farm-fresh pumpkin soup with fresh-baked bread and Hokkaido butter. I don't know if the chef makes his own butter, too, but I wouldn't be surprised. Everything was so delicate, yet you could taste all the flavors it produced.
This was a very hapa dish; it perfectly melded Japanese ingredients with French techniques. The fish and vegetables were in a light, buttery sauce that wasn't overwhelmingly rich or oily, and I couldn't stop lapping it up. And the fish was cooked to perfection, needing no knife.
I wished I could speak Japanese to find out what kind of beef this was. It was lean but very tender, and drizzled with a slightly tangy sauce. The side salad served as a foil to that, with a Japanese interpretation of ranch dressing.
And finally, dessert. It seemed to be a light flan or cheesecake with pineapple sorbet, accompanied by a high-quality cup of coffee. Like everything else, it was delicate and filling to the point that I felt satisfied, not grossly full. The entire set was 2,700 yen.
As it turned out, Shizen is a very famous restaurant in Japan, and the chef is known for his French cooking. They also have an extensive French wine list, and you can ask them to make a recommendation, as I did. Even the one wine paired with dinner was perfect. I'd say this was my best meal in Hakodate, and it was so good that I wanted to come back, but felt I needed to experience more of Hakodate since I wasn't sure (and am still not sure) I'd be back. I'd come here just to have dinner at Shizen again, though.
Shizen
10-10- Toyokawacho Hakodate Hokkaido
+81-138-27-8858
Lunch, 11:30 a.m. to 2 p.m.; dinner, 5 to 9 p.m.
If you watch Doko Ga TV (doko ga means "where is.."), you know that Pali films all over the country. This tour, however, was provided by Hawaiian Airlines and the Hokkaido government to tie into his being named Hokkaido's "Smile Ambassador" from Hawaii as they work to promote a sister state relationship. Hawaiian Airlines offers direct flights from Hawaii to Sapporo every other day, so it's pretty easy for us to hop over there and see what Hokkaido has to offer. Mahalo to Hawaiian Airlines for flying us there; and mahalo to Love Hokkaido television and the Hokkaido government for their help in getting us around.
Up next: Hakodate sights, plus visiting a real yokocho!
If you want to see all of the photos from this trip, click here.