Doko Ga Hokkaido: Discovering Ebetsu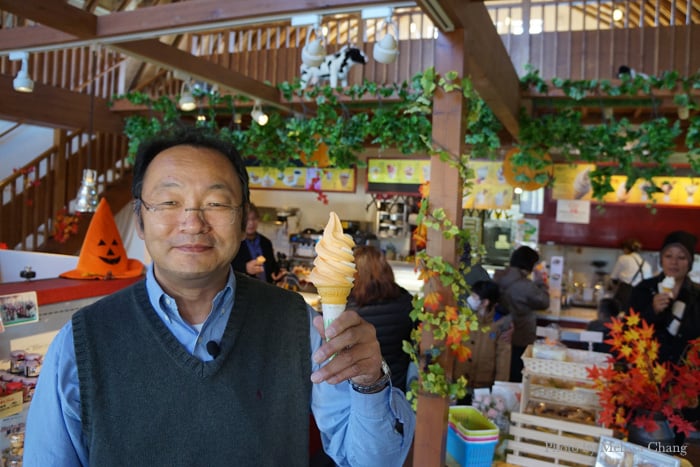 When Pali Kaaihue was working with the Hokkaido government on this trip for Doko Ga TV, he requested that we get to see the hidden gems of Japan's northernmost island, things that many American tourists might miss for lack of information or knowledge. We had no idea what a treat we were in for, when they set us up to visit Ebetsu City. (Pronounced "eh-behts" with a silent "u.")
Ebetsu is just nine miles from downtown Sapporo, and is home to four universities — one of which is Rakunō Gakuen University (the first university in Ebetsu, founded in 1949). Behind this institution is Nopporo Forest Park, a gigantic, 5,073-acre expanse of conservation land that straddles Sapporo, Ebetsu, and Kita-Hiroshima.
There are very few flatland forests like this near cities in Japan, which is what makes it an attraction for people looking to escape the urban jungle of Sapporo. Approximately 80 percent of the park is a national forest and wildlife sanctuary, where you can find 510 plant species (including 110 types of trees and more than 200 types of mushrooms), 140 kinds of wild birds and 1,300 species of insects.
We didn't have time to go through a lot of the forest, of course, but I'm hoping to go back. There were many people coming through on nature walks and photo walks, not to mention I took over my first Pokemon Go gym here (thanks, Deb!).
You don't need to understand Japanese, but it helps if you're hoping to learn more about the plants you see. For example, our guides pointed these out to us:
If you go with kids, be sure to take them to the nearby information center, where they have brochures, books, hands-on activities, and critters that the kids can look at. I'm not sure if you're allowed to hold the salamanders, but I certainly didn't want to!
They also have art projects using pine cones and acorns, which I think kids can make, as well.
We headed out to Machimura Milk Garden, a farm that has been passed down three generations. You'll see more in the Doko Ga TV episode, but Mr. Machimura, who gave us a tour, told us how his grandfather lived in Wisconsin for 10 years to learn the ins and outs of running a dairy. He fell in love with an American girl and didn't want to go home, but his parents basically dragged him and some cows back and had him get this Hokkaido dairy going. (They had him marry a nice Japanese girl, who became our guide's grandmother. We wondered how she felt about being second choice!)
Like everywhere else in Hokkaido, this farm operates sustainably and incorporates modern technology with traditional practices.
Hokkaido residents know what's up. This place is popular during the summer months with people flocking from near and far because the soft serve ice cream is so famous. I've had soft serve daily on previous trips to Hokkaido, but now that I've tried Machimura's, the others seem like watered-down versions. This is the real deal!
Healthier people may want to try the broccoli shake. It tasted … very healthy. Note that they also have milk, yogurt, cheese, pudding, butter, and various baked goods here, made with Machimura milk and butter. His milk is apparently used at Starbucks throughout Japan because it's so superior.
If you go, you don't have to buy the goods there — find out what items are sold in department stores in Sapporo. I bought tins of Machimura butter at JR Sapporo Station before departing for the airport to go home, and they packed it in ice for me so it would stay cold during my flight.
Machimura Milk Garden
183 Shinotsu, Ebetsu 067-0055, Hokkaido
81 11-382-2155
Keep in mind, we did all of the above before lunch. We headed to Earth Dream Farm for lunch and a tour, and that was a huge highlight — especially for Olena Heu, who loves animals. Our group had been talking about moving to rural Hokkaido if the U.S. presidential election produced unfavorable results, and this visit kind of clinched it.
Earth Dream owner Mr. Masao Matsuyama has almost every kind of domestic animal here, and offers his place as a petting zoo. He said he believes children should have the opportunity to feel the warmth of animals to appreciate life (that's my loose translation).
There's a restaurant on property that serves a variety of foods, with 100 percent of the ingredients sourced either from Earth Dream, or nearby farms … even the wheat! We always talk about being sustainable at home, but the people of Hokkaido really live it — and you can taste the difference, with all ingredients being so fresh and local.
We got a surprise after lunch, as the jockeys brought the work horses out for races. At first, I thought they misspoke, as the horses are huge and heavy and don't look like the sleek race horses that we know. As it turns out, ban'ei or banba races are a thing in Japan.
Ban'ei racing originated with the farming industry, where horses are/were used to pull farming machinery and sleds of wood. Eventually, the horses were tested for speed and strength in Meiji Era festivals by racing with sleds (and people) in tow. Horses in ban'ei are often either purebred or crossbred variations of Percheron, Breton, and Belgian, and their weight can surpass 1 ton, which is twice that of a Thoroughbred.
You can see how the races went on the upcoming episode of Doko Ga TV (the first one airs December 4 at 11:30 a.m. on KBFD). At first we weren't sure if the horses enjoyed this activity, since we had never seen it, but this is really what these horses were meant to do. In between races during down time, they would get antsy and insistently paw at the ground — horse talk for "Hurry up, let's go!"
If you ever try this activity, keep in mind that, um, horse farts are quite common.
Mr. Matsuyama is obsessed with Native American culture and has been to the U.S. to spend time with tribes, especially the Navajo. He's so into it that he's even participated in the Indian piercing Sun Dance ritual, where your chest skin is pierced and hooked up to tethers and you lean back as an offering to the gods (or God). His experiences with Native Americans have helped shape his life and business philosophy throughout the years.
He has an Earth Dream Festival on September 1 each year, and among the various activities, he performs a tea ceremony in his special tea house. I couldn't quite understand him, but he showed us photos and it seems to be a big event in the area. We'll definitely be back. I think Olena is packing her bags to move in. (Of course, someone needs to let him know, first, but … )
Earth Dream Farm
584-1 Kakuyama, Ebetsu 067-0052, Hokkaido
81 11-391-2500
Our final stop was at a brand new shopping complex called EBRI, a collection of boutiques and eateries in a former brick factory. It was quite different from our day of nature, but Ebetsu officials wanted us to see one of the hot new destinations of the city. It was actually pretty amazing to see how they transformed an old factory into an über-contemporary hotspot for shopping and dining. You can see a time-lapse video on their website, here.
Although I saw the magazine article on them, I didn't realize what a big deal EBRI was until after I left, and saw instagram posts from some friends who live in Sapporo attending an event there. It's probably a good place to check out on your way in or out of Ebetsu!
EBRI
3-3 Higashinopporocho, Ebetsu 069-0821, Hokkaido
81 11-398-9570
These adventures will be aired on Doko Ga TV starting December 4 at 11:30 a.m. on KBFD Channel 4, or HD 1004.
If you watch Doko Ga TV (doko ga means "where is.."), you know that Pali films all over the country. This tour, however, was provided by Hawaiian Airlines and the Hokkaido government to tie into his being named Hokkaido's "Smile Ambassador" from Hawaii as they work to promote a sister state relationship. Hawaiian Airlines offers direct flights from Hawaii to Sapporo every other day, so it's pretty easy for us to hop over there and see what Hokkaido has to offer. Mahalo to Hawaiian Airlines for flying us there; and mahalo to Love Hokkaido television and the Hokkaido government for their help in getting us around.
Up next: Eating back in Sapporo!
If you want to see all of the photos from this trip, click here.