Do good: Fight hunger with CANstruction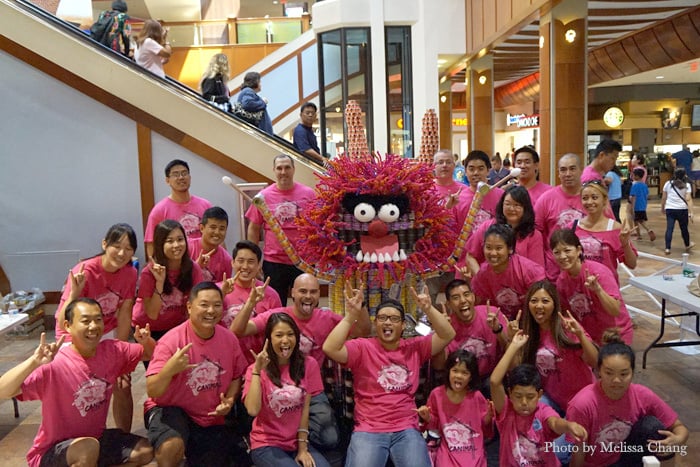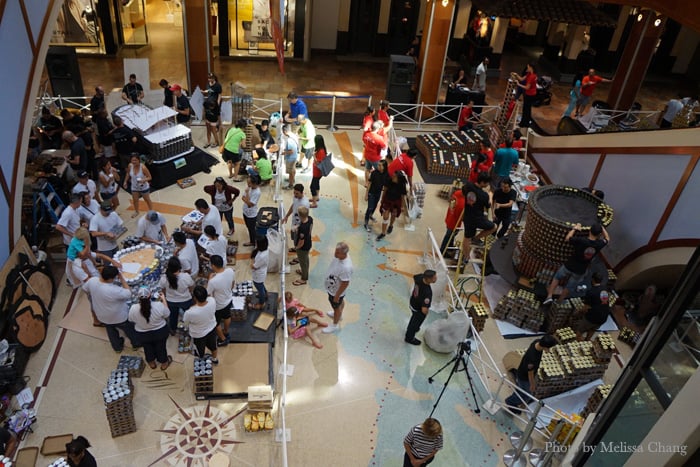 Yesterday was the 10th annual CANstruction® competition, put on by the American Institute of Architects (AIA) Honolulu, where teams of architects, designers and engineers used their talents to create gigantic structures made of canned goods to benefit the Hawaii Foodbank. If you missed it, you can still see the pieces on display at Pearlridge until October 18, and can vote on your favorite.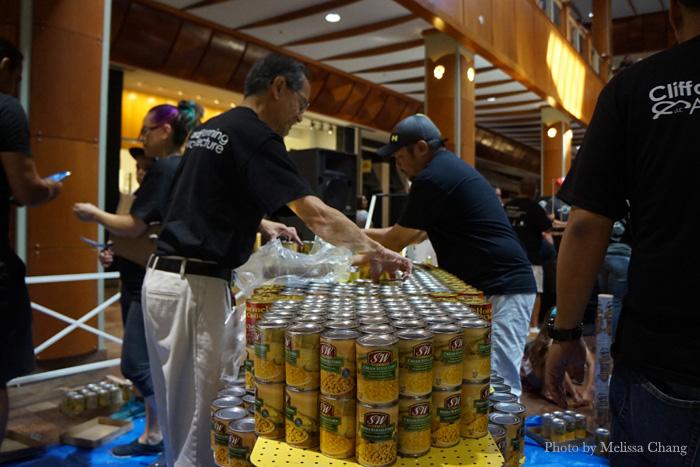 Each year, AIA Honolulu uses thousands of cans of meats, soups, meals, vegetables and fruits to create structures around a theme — this year's was "Rock-CAN-Roll" — and they stay on display for two weeks to bring awareness of hunger in Hawaii. All the canstructures will be dismantled at the end of the day on October 18, and donated to the Hawaii Foodbank.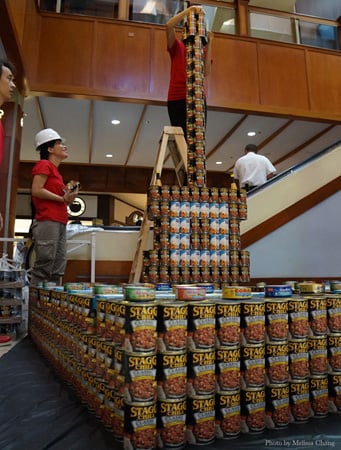 You can help while admiring the structures! Bring some canned goods to Pearlridge from now until October 18 and vote for your favorite structure, and the People's Choice will be selected on the last day. One can equals one vote, so bring a lot to support your favorite team — all your cans will also be donated to the Hawaii Foodbank.
Here's a look at what's on display: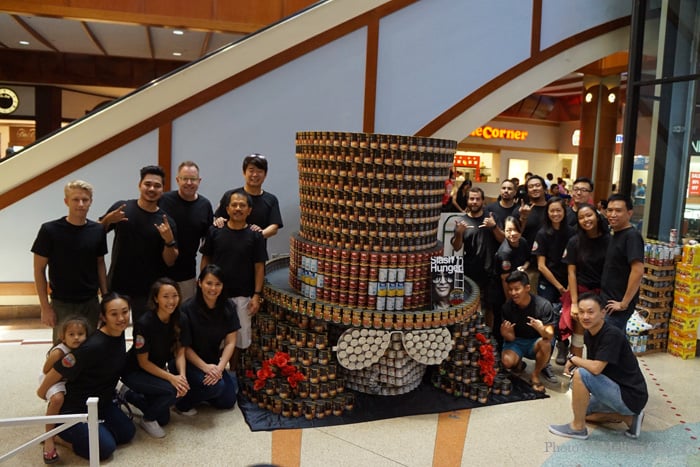 WATG's canned-food structure "Appetite for CANstruction" was named Juror's Favorite. The structure, about 8 feet by 8 feet by 10 feet, is comprised of about 2,500 cans of chili, roast beef hash, Vienna sausage and mixed vegetables to depict guitarist Slash from Guns N' Roses.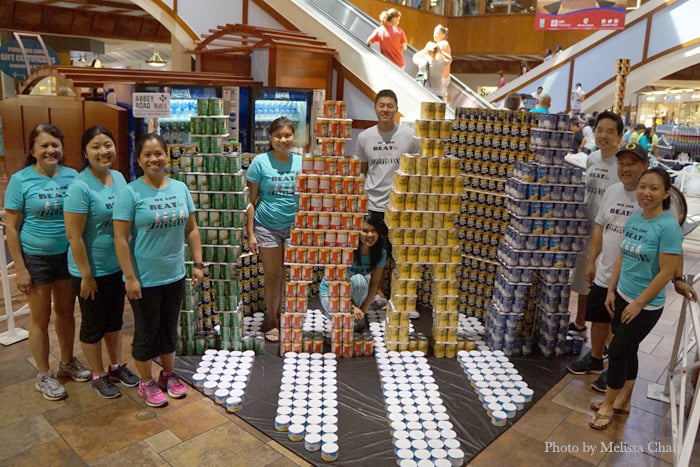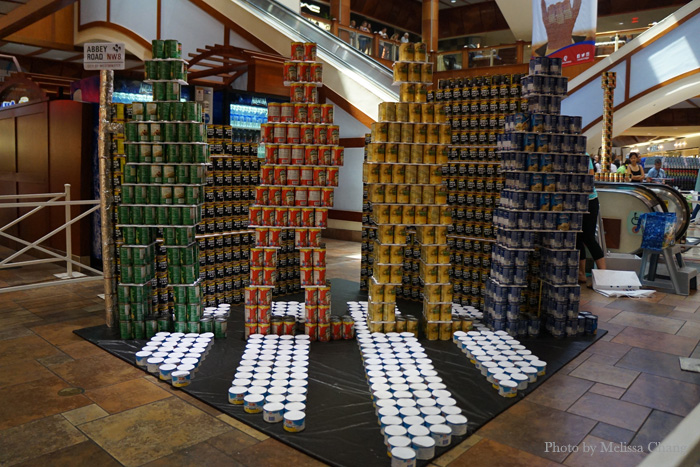 Our own Myong Choi works for Bowers + Kubota Consulting, which won for "Best Use of Labels." They recreated the famous photo of The Beatles in the crosswalk at Abbey Road with "We CAN Beat(les) Hunger!"
This is more than just stacking cans, and ADM Retail Planning & Architecture showed that with their "Structural Ingenuity" winner, the iconic hand sign of the horns. They named their canstructure "Rock Out Hunger."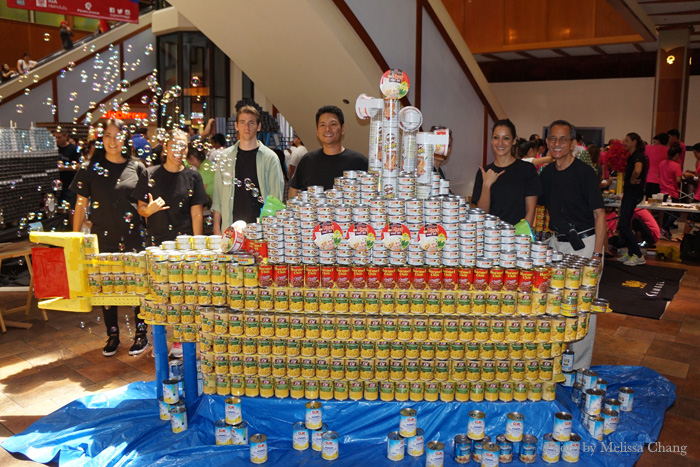 There were more people working on Clifford Planning & Architecture LLC's "The Yellow CAN-marine!," but they cleaned up super fast and left by the time I was able to take their team photo. This won for "Best Meal," meaning you can make a whole meal out of the canned goods used.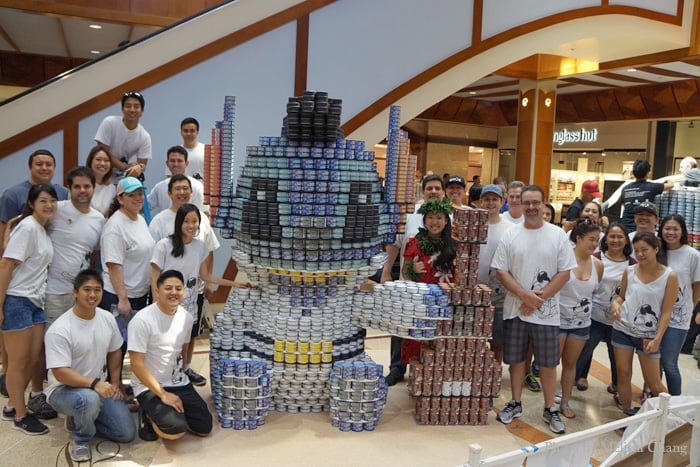 One honorable mention went to "Stitch Returns to Blue Hawaii…with a Mission!" (Stitch as Elvis Presley) by Group 70 International and Layton Construction.
Not sure if young people will get the reference, but the other honorable mention went to "The Can Side of the Van" (a Volkswagon bus) by Coffman Engineers, HHF Planners, and Mason Architects. Get it? Dark Side of the Moon? Anyone?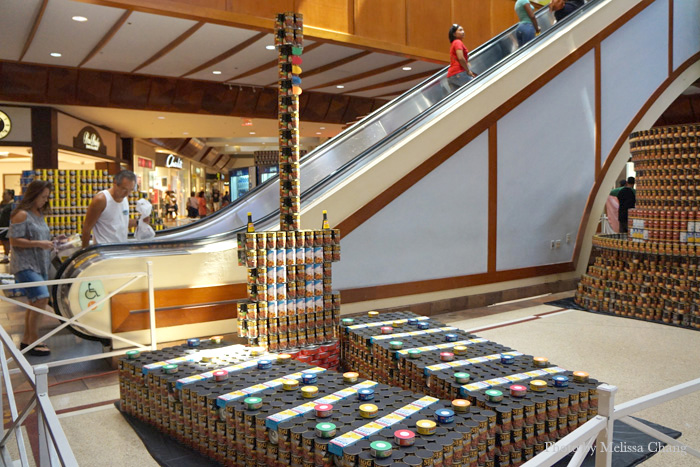 "Guitar Heroes CAN Rock!" by HDR, Inc.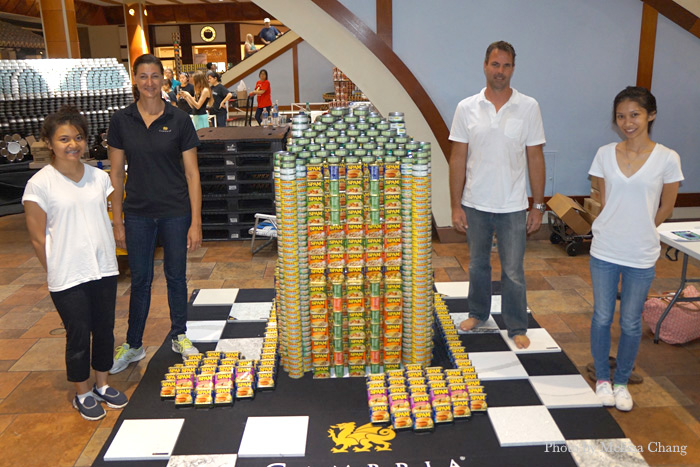 This jukebox by Cambria USA and RavProductions is called "Let the Music Feed Your Soul."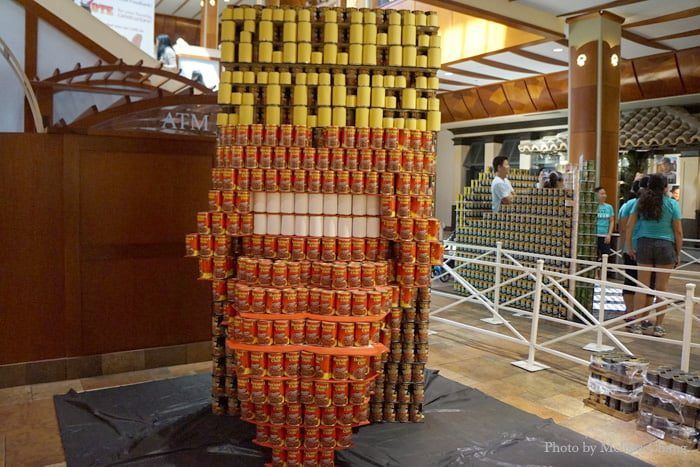 Can you see the mouth from the iconic Rolling Stones album cover? This is "…No Satisfaction, Where There's Hunger" by Hawaiian Dredging Construction Company, Inc.
"CANimal" by Albert C. Kobayashi, Inc. and Design Partners, Inc. depicts the famous Muppet and his drums.
CANstruction
Pearlridge Center, Uptown
Now through October 18
Bring a canned good to vote for your favorites, all cans are donated to the Hawaii Foodbank