Dinosaur Time at Bishop Museum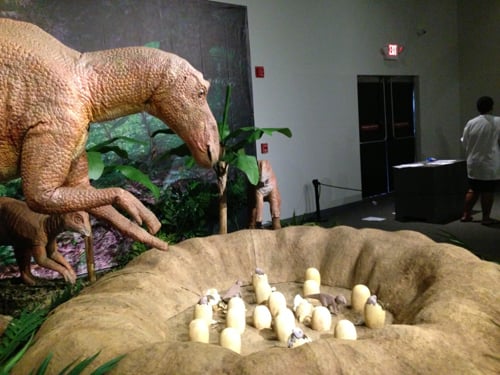 After a two-year break, the dinosaurs are back at Bishop Museum. Add some interactive activities for even the little ones, and kids of all ages were having a blast at the new, interactive exhibit "Life Through Time: Dinosaurs and Ice Age Animals".
My 7-year-old daughter, Dilan, is more Hello Kitty than Jurassic Park. So I wasn't quite sure how much fun she was going to have exploring the world of dinosaurs, especially the teeth-baring snarls and cutthroat claws. We were greeted by a moving, gentle giant, a massive Brontosaurus that swayed and nodded at us as we passed by. Girls and the younger kids seemed to gravitate towards him and the easy-going Triceratops. The big hit with boys, however, was the 27-foot tall, ferocious Tyrannosaurus Rex, which sparked several impersonations among the captive audience.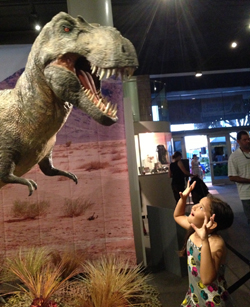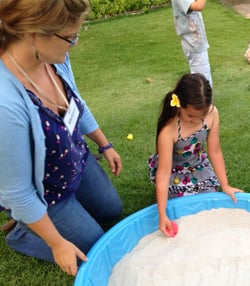 Did you know that the T. Rex lived in Texas? Dilan and I didn't, but each dinosaur also comes with its own fact sheet. There are eight other animatronic dinosaurs, including a Maiasaurus watching over her new hatchlings, a family of saber tooth tigers who roar a welcome and the wooly mammoth tossing around its monstrous tusks.
The big displays are impressive. The interactive area is smaller, but Dilan spent as much time digging around there as she did admiring the giant reptiles. She especially loved the robotic dinosaur skeleton that she could control by herself. Another big discovery were the mini hands-on stations throughout the exhibit. Kids of all ages loved getting hands into the mulch. Older ones searched for dinosaur bones while the smaller ones just loved being able to dig around. And everyone enjoyed running their fingers over dinosaur teeth to determine if they were meat eaters or just loved vegging out.
As one kid we were near put it, "I loved it all!"
Bishop Museum's gift shop offers a plethora of prehistoric goodies for you to take home. We left with a grow-your-own-dinosaur kit. I'm hoping it's not true to size.
Set aside about an hour and a half just for the "Life Through Time: Dinosaurs and Ice Age Mammals" exhibit.
But don't forget, your admission includes access to all the other great halls and centers so you can make a day of your trip to Bishop Museum. Or, take advantage of the museum's special birthday packages. $20 a head comes with facility rental, museum admission, food and beverage. Call 848-4106 for reservations.
"Life Through Time: Dinosaurs and Ice-Age Mammals" is open now through September 15. General Admission ranges from $14.95 for kids and $19.95 for adults, kids under 3 are free. Kamaaina and military receive a discount.
Bishop Museum, 1525 Bernice Street. 847-3511, bishopmuseum.org.