Dinner with a Singapore blogger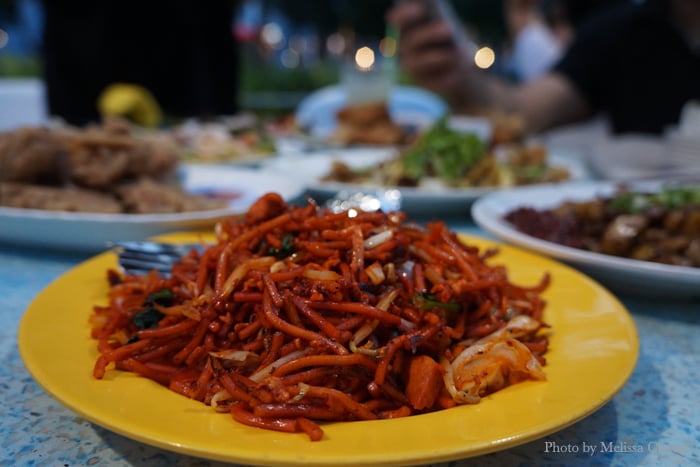 Oh, the power of social media. I follow a blogger named SingaporeanEats on Instagram and am always drooling over her food finds in The Lion City. So of course, as I was planning this trip, I pinged her to see if we could get together to eat, and it ended up being one of my favorite meals of the trip.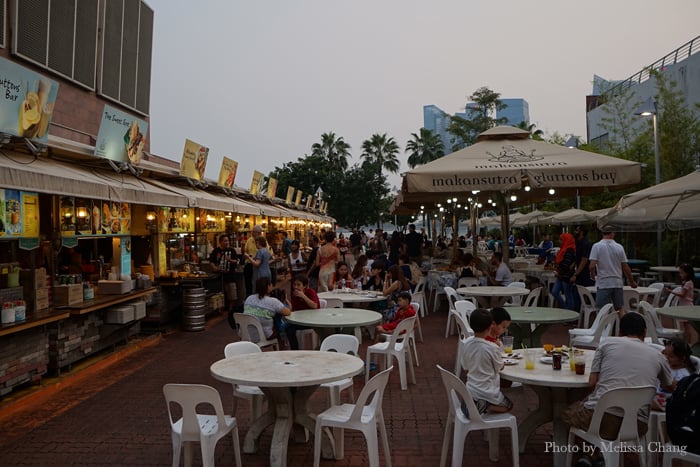 We lucked out, as the haze was not as heavy during the week we were there, so were able to eat at a popular local outdoor venue: Makansutra Gluttons Bay (on the Esplanade). It is in a tourist area, and not gritty like the other hawker stalls we had seen, so many people consider it a touristy spot to eat. But as @SingaporeanEats explained, the food is still good, and offers good examples of local fare.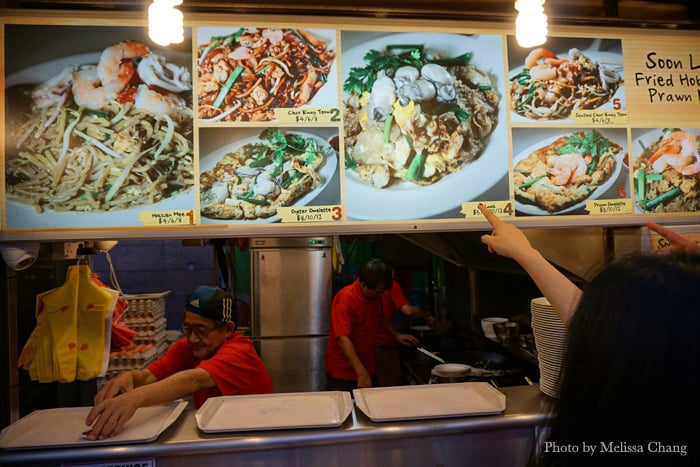 I was so excited! She had a list of specific dishes we should eat, so we followed her and picked up trays as she went down the row to order each dish from the stalls. If you normally get overwhelmed at hawker stalls, this is different because each stall has its own set of specialties, so you won't be stuck wondering which stall has the best satay or the best oyster omelette.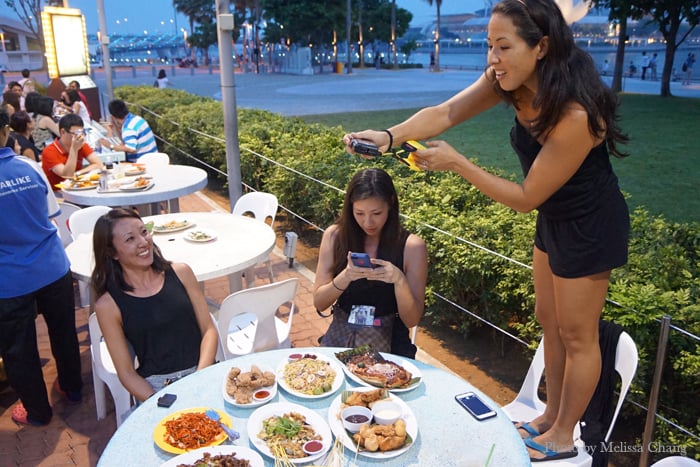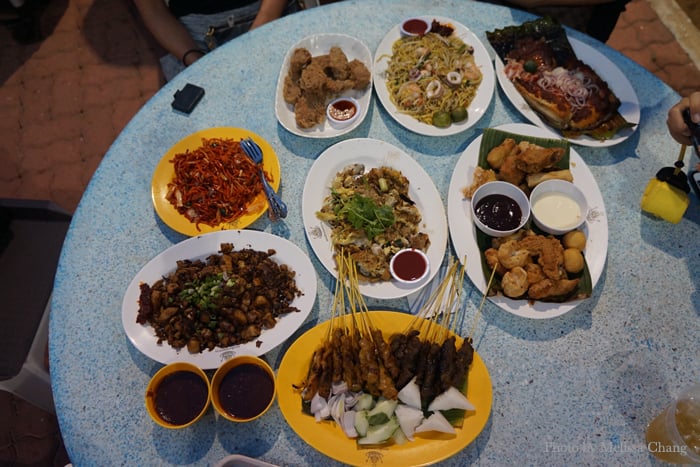 Once all the dishes came back to the table, we did our thing: take pictures first, lah!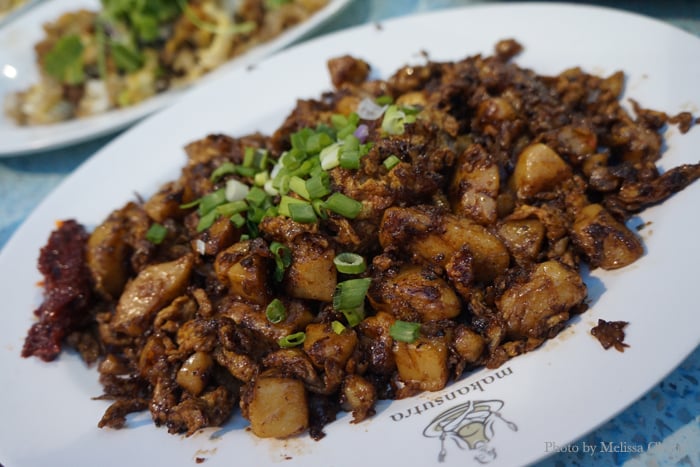 Let's start with my new favorite, black carrot cake. This is not the carrot-based dessert with cream cheese frosting normally found in the United States! It is steamed turnip cake (you've seen this at dim sum), cut up and sautéed with dark sauce, kind of a thick soy sauce. It's served with sambal on the side for a little kick. Dericious! I'm a big chow fun fan, so this was like eating salty, spicy chow fun cubes. They also serve white carrot cake, which I wasn't interested in because you can get at Fook Lam.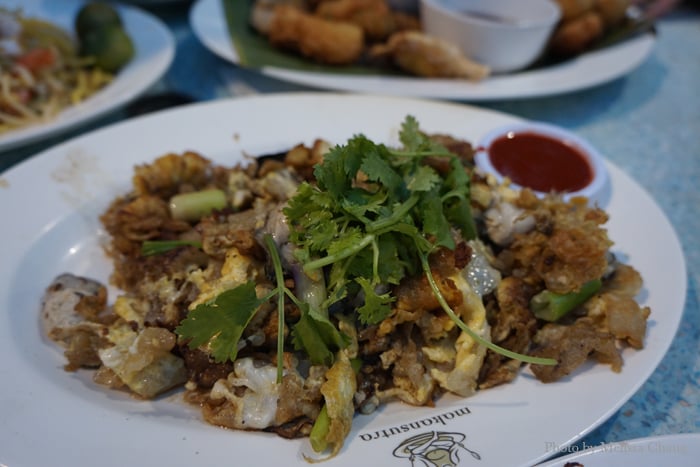 I know Singapore is known for having good food everywhere, but the oyster omelette is proof that you need to order the right things at the right places. When I first had it at Newton Food Centre several years ago with Mari Taketa, we had randomly ordered it from the first stall we saw that sold it. I was not a fan. Then two years ago, I was convinced that only Taiwan could make a great oyster omelette. Well, Singapore, I'm back. This one redeemed their rep for having great oyster omelets, made the way the Chinese kitchen god intended. It was not mushy or fishy, and strips of rice noodle gave it a nice consistency (that also made it easy to eat with chopsticks). The chili sauce on the side gave it heat, but more importantly made it mouth-watering.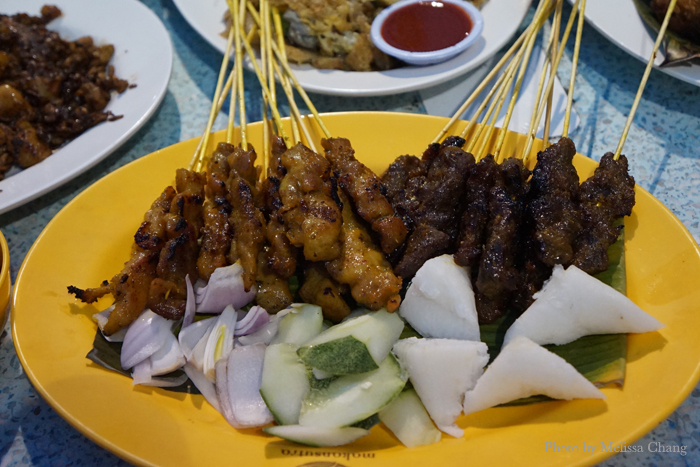 Although they cook their meats until they are completely dead, the satay here is not as dry as you would expect, and tasty to boot. I plunged my chicken skewer and veggies into the peanut sauce and the first bite was a perfect contrast of tastes and textures: sweet, savory, cool, crunchy. Also, see those triangular wedges that look like pears? That's actually rice. Malaysians steam their rice in plastic bags to create blocks of rice, then they slice them up into wedges and cubes for satay. I guess it's like having a meaty fondue.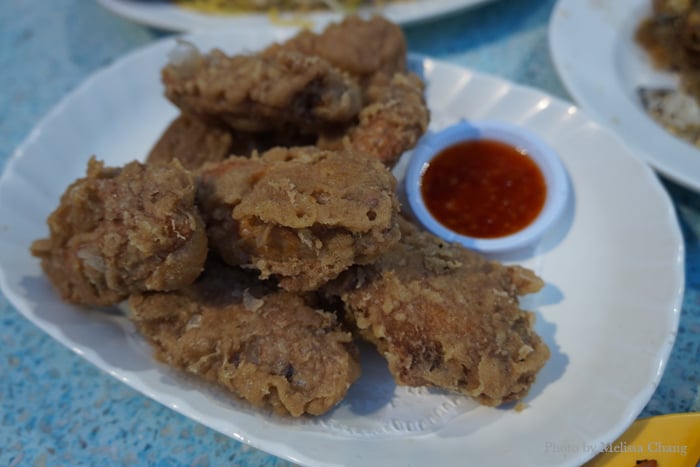 Har cheong gai, or prawn paste chicken, is seen in various places from high- to low-end in Singapore. You know that harm ha smells so bad but tastes so good! It adds depth of flavor and savoriness to everything, like anchovies do. Here the chicken is dredged in it, battered and fried, so you get wings that are super tasty. (Don't worry, the shrimpy smell gets cooked out.) It's good with or without the accompanying chili sauce, but that spice does kind of pull everything together.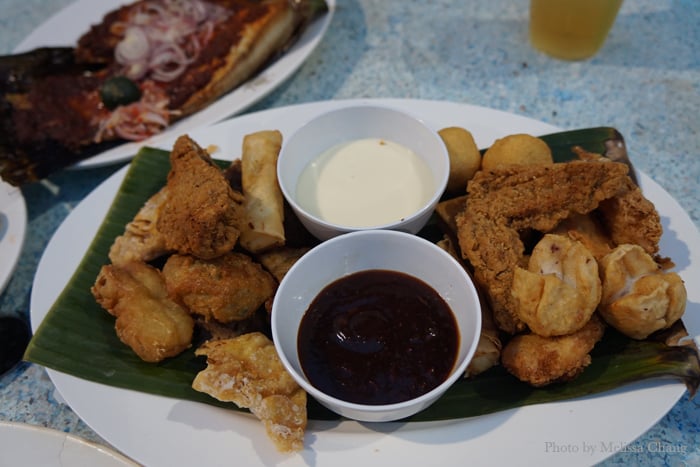 The ultimate fried pupu platter! I don't recall the variety of items on this plate but it included fried fish balls, tofu, chicken wings and ngoh hiang, which I believe are spring rolls. the dipping sauces were full of yumminess, too.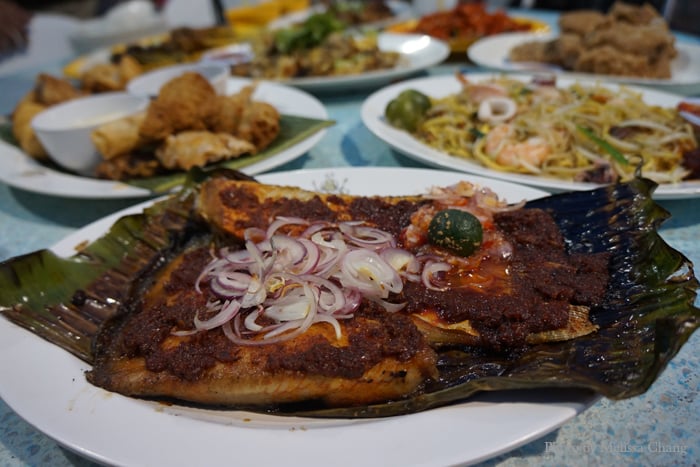 I would like sambal stingray more if it were not dry from being cooked to death! The taste itself is so good, but it's hard to find a place that can somehow preserve its moistness. Maybe one day I can get a recipe for that sauce. But, you have to try this once while you are in Singapore to understand what it's all about.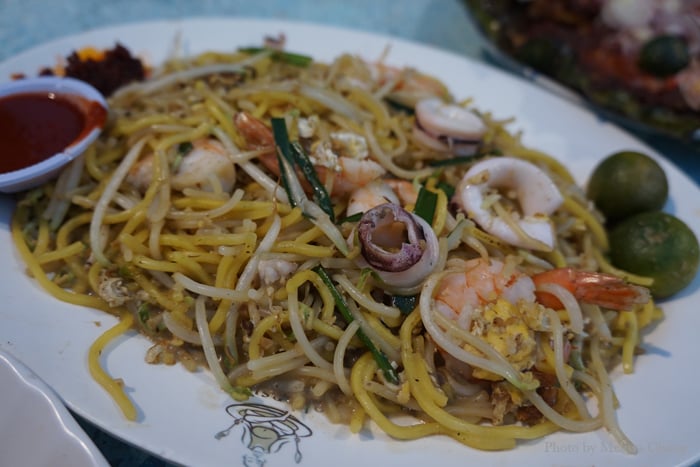 Seafood hokkien mee is a favorite with Singaporeans, and one touch that I enjoyed was the squeeze of calamansi lime over it. There's all that savoriness, then a little surprise of a bright pop. I don't know why this kind of flavor just doesn't taste the same at home. That sambal sauce on the side is also something I'd never do at home, but in Singapore I can't get enough of it on my noodles!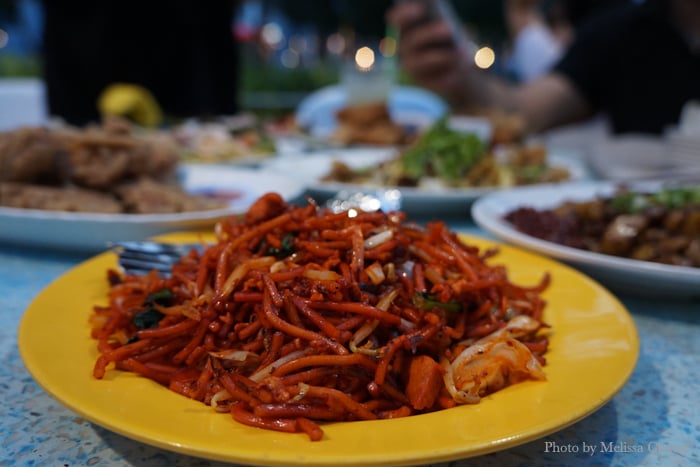 Mee goreng, more noodles but with the spiciness fried into the dish.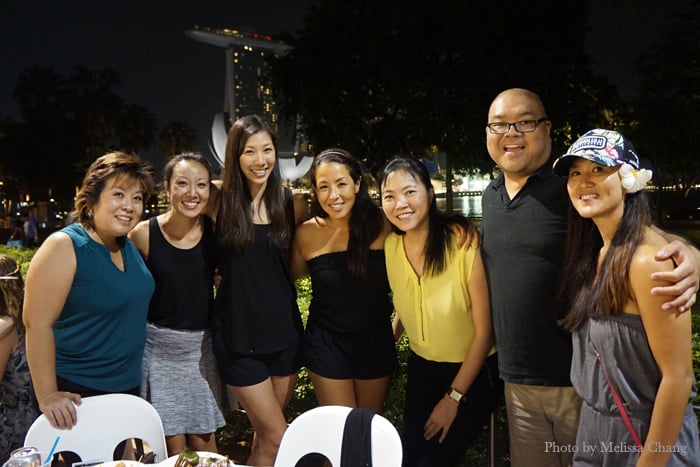 What a great group! With Tina Koike and Nadia Kouchi, who were passing through Singapore for work, Cat, @SingaporeanEats, Doug, and Edwina.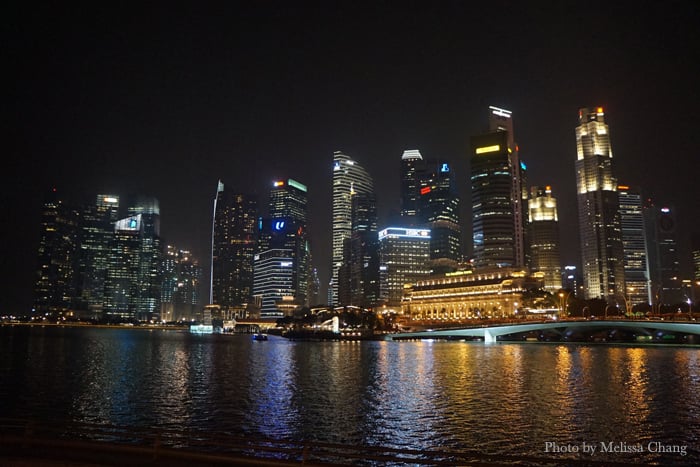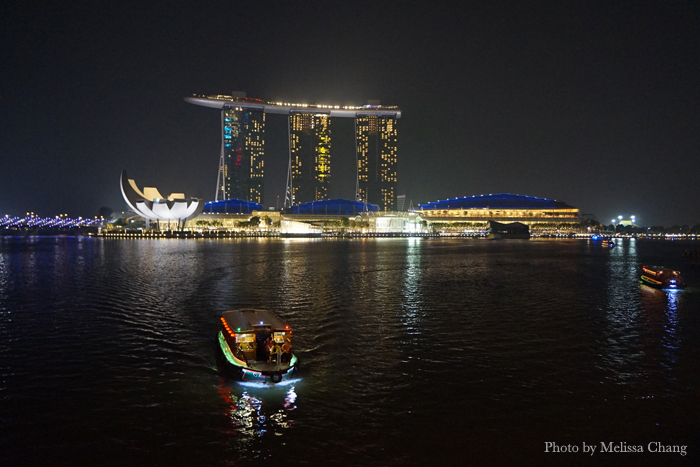 We had to walk off dinner by heading toward the Central Business District across the way. Once you get onto the bridge that takes you to the Merlion statue, you get a gorgeous view of the Marina Bay Sands. Even better with the tour boats circling the harbor.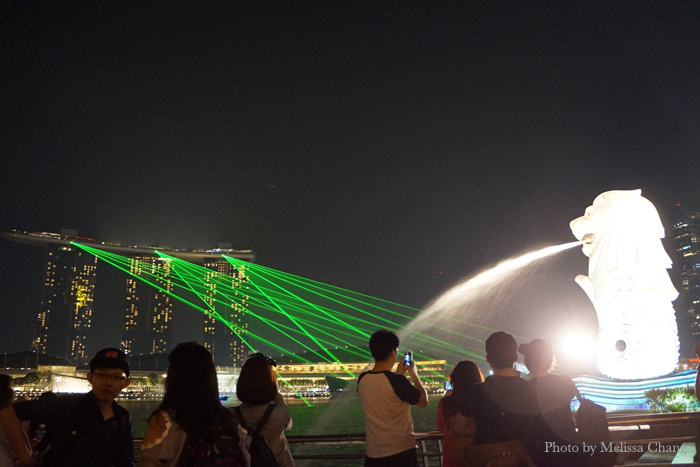 At 9 p.m. every night, there is a laser show that shoots out from the hull of the "cruise ship" atop Marina Bay Sands. It's best seen from the iconic Merlion statue, the mascot of Singapore.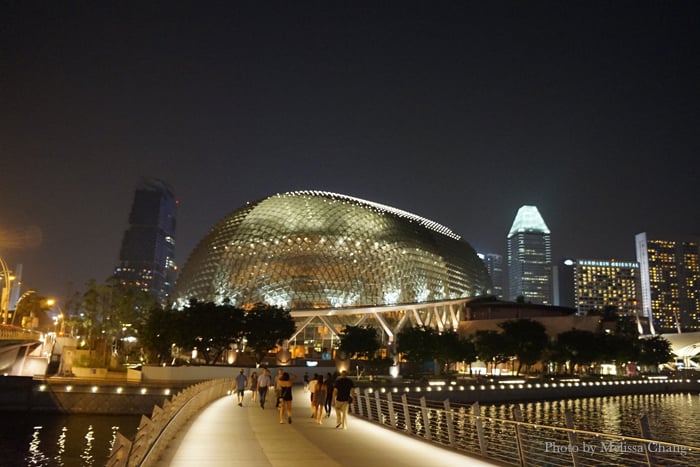 On your way back, you can get a nice view of the Theatres on the Bay Esplanade, which some say is designed to look like the eyes of a fly or — more appropriately — like a durian.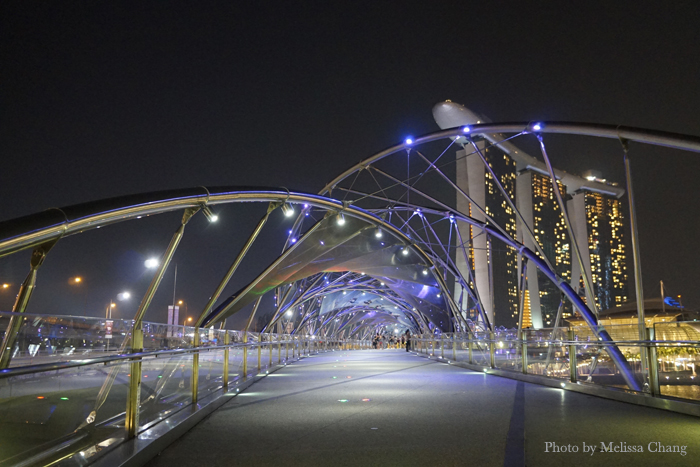 If you take the path all the way back past the Makansutra Gluttons Bay area, you'll end up at the Helix Bridge, inspired by DNA strands (but also designed as tubular trusses to resist design loads). You can easily walk across this curved bridge — which has a few lookout points — to end up at the Marina Bay Sands.
And that was it for our second day in Singapore! Now you know why I had to break it up into two posts. Up next: The dramatic Gardens by the Bay, Little India, fish pedicure, and Chinese dinner with a Flickr hero!
For more photos from this trip, click here.