Dinner & dessert at Caesars Palace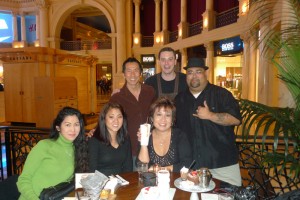 Since Las Vegas is quite spread out and traffic can get hairy, it's usually best to group the things you want to do in one spot each time you get out. In this case, Brooke, Ed, and I hung out at Caesars Palace and Caesars Forum to shop, gamble, and, of course, eat.
Ed Morita suggested Bradley Ogden, one of his favorite restaurants, since Ogden was a pioneer in the "farm to table" movement. When you look at my photos, you'll see that the portions aren't that large, and we only had two courses. Yet, when we walked out, we felt super stuffed. Even Ed admitted he was almost at his limit…but in the name of research for my blog, we pressed on to dessert.
As a pastry chef, Ed also took great interest in a shop called Max Brenner's in Caesars Forum. They have a vast collection of designer and everyday chocolates as well as scientifically created vessels in which to optimally consume them. (I know, big words, eh? I made that up just now.) He got so into the products in the shop the first time we visited, that the salespeople remembered him and lavished him with an assortment of free samples. But, I digress. Traci Toguchi and her friend Jee Teo met us for dessert. Here's what we ate, and if we get the chance, we would eat all of this again. In fact, if we have time, we may go to Max Brenner's again as you're reading this.
Bradley Ogden
Picture 1 of 20
I don't want you to think that every day is filled with decadence, but we did have to stop in at Bradley Ogden, which is one of Ed Morita's favorite restaurants. Bradley Ogden was one of the first chefs to encourage the "farm to table" movement, and has the only restaurant in Las Vegas to receive the James Beard Foundation's "Best New Restaurant of the Year" award.
Bradley Ogden
Caesar's Palace
877-346-4642
Today's lucky Las Vegas numbers, suggested by Bruce Fisher: 23 56 91 30 22
Hey, if they don't work for you, don't blame me! They're Bruce's lucky numbers.
Disclaimer: Air & hotel were provided by
Boyd Vacations Hawaii
for an assignment for InsideOut Hawaii.
========
You can read all of Melissa's blogs at www.nonstophonolulu.com/urbanmixplate. Follow Melissa on Twitter @Melissa808, on Foursquare as Melissa808, or email at Melissa@nonstophonolulu.com.
My recent blog posts:
New Year's Eve at Serendipity 3 in Las Vegas
Vegas: The day of the food coma
Vegas: Visiting the M Resort
Breakfast of champions: The Cracked Egg in Vegas
Vegas: A fun day on the Strip
Welcome to Vegas, baby
Where I'd tell the Obamas to eat
Hawaii: In Real Life ~ Midori-dori
Vegas lucky charms
Hawaii: In Real Life ~ holiday hot chocolate
Vegas, here I come!
Hawaii: In Real Life~building a gingerbread house
Tweets from the road: Marathon 2010
What's up with the knee high socks?
I want a Bit of Sugar!