Dinner by Colin Hazama and a Ho Farms Tour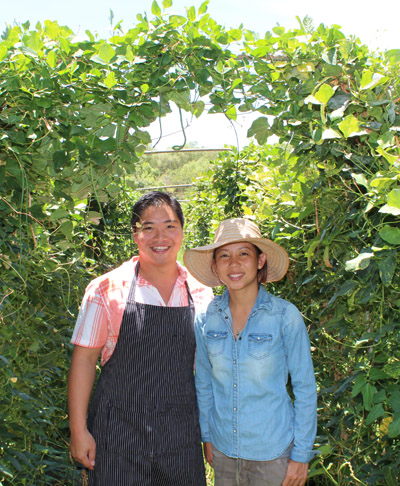 These days, any chef can put Shinsato Farm pork or Nalo greens on her menu. And while that might be better business for the farms, tasting those menus doesn't really get you any closer to your food. How would you know if Nalo were any different from the place that supplies McDonald's its lettuce?

Enter the farm dinner, which gives you a chance to get to know the people growing your food. They've been growing in popularity, from The Poke Stop's dinners at Mari's Gardens to Outstanding in the Field's series, which this year included Kualoa Ranch and MA'O. The latest comes from the Sheraton Waikīkī. Executive sous chef Colin Hazama will be preparing a Ho Farms-centric dinner in Waikīkī and then, the next day, a picnic after a farm tour in Kahuku.

"I love working with Shin Ho," Hazama says. "We're kind of in a trial period, growing things to see if they're going to work."

For the five-course menu at the Sheraton's Edge of Waikīkī restaurant, he singles out the salad as one of his favorite dishes: It's a showcase of the vegetables Ho has been experimenting with, such as butternut squash, pearl onions and gherkins for pickles. He's also excited about an onaga fish and chips, where the fries are fried long beans and the ketchup made of beets and pomegranate. "It tastes just like ketchup!" Hazama says. Produce also finds its way into the dessert, such as ice cream bananas (sure, totally reasonable) but also eggplant, which Hazama will puree and strain out the seeds, mix with white chocolate and cinnamon, and then dip in chocolate for an eggplant truffle.

For the morning after, Ho will lead a farm tour and Hazama will offer a picnic lunch box and a cooking demo. Expect five more farm dinners, the next one with Naked Cow Dairy.

$103 for dinner only/$133 with wine, $170 for dinner and farm tour only/$200 with wine. Dinner at the Edge of Waikīkī is Friday, October 3 at 6:30 p.m., and the farm tour October 4 at 10 a.m., leaving from the Sheraton Waikīkī. For reservations, call 921-4600.