Dinner at Vintage Cave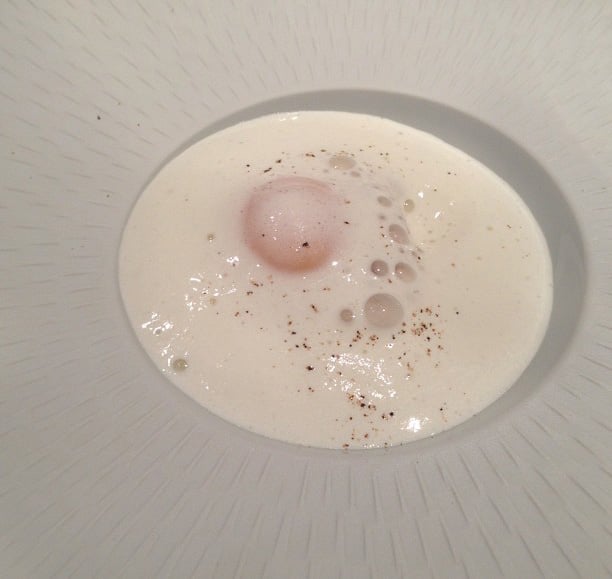 About a year ago, chef Chris Kajioka (@CKCuisine) tweeted to me, "What was the best meal you ever had?" It was probably the omakase at Morimoto's in Philadelphia, which took me through a range of emotions with each course, or Dale Levitski's Sprout (@Sproutchi) in Chicago, which showed contemporary creativity with some unlikely combinations of ingredients. In both cases, the memory of the meals have stayed with me for years, without needing to look at photos.
Chris himself is a creative genius — although he showed his talent while here in Hawaii, he really had a better stage (and audience) while working on the mainland. If you were lucky enough taste his work while he was at Aziza and Parallel 37 in San Francisco, you know he's head and shoulders above the rest in the way he thinks, his meticulous execution of each dish, and his intense desire to both learn and teach. Despite his culinary pedigree and subsequent showers of accolades, he's a really nice guy. Talk to anyone who's worked with him, and they speak of him with warmth and genuine fondness. But, I digress.
As you know, Chris is back in Hawaii, flexing his creative muscle in probably the only arena in town that can handle his game — a "motherf_____ tight game," according to Hapa Ramen's Richie Nakano — Vintage Cave. You've seen Mari Taketa's video on her media preview dinner; I actually missed that event because I was in Australia, but vowed I would find some way to get there, once I found someone who would be willing to spring $300 for dinner with me. My friend Edwina Minglana (@Eminglana), who had also met Chris at Parallel 37, said she was interested, so off we went.
Dinner at Vintage Cave
Picture 1 of 27
I know you want me to get straight to the food, so I won't take up bandwidth with the artwork … but I need to tell you, although I'm not usually into art, the collection of works by Picasso, Michelangelo, Mordecai Ardon, Anton Molnar, Ting Shao-Kuang and Zhou Ling did move me. Maybe it was because our guide was general manager Charlie Yoshida, who described each piece with flair that made us feel a personal connection to each.
So where does this meal stand? It's gotta be the best meal I've had, and I'm not just saying that to be nice. The memory of it has haunted me for the last few weeks, much like a good movie (remember the Titanic?) plays over and over in your mind long after you've left the theater. Edwina is my witness: This dinner was an amazing experience for both of us, much more than we expected.
Now, I know a lot of our readers will say that they would never spend that much on a meal, and that's okay. This place isn't meant to please everyone. I have never been to the French Laundry, but due to the exquisite little bites we had, I imagine that's what a meal there must be like. And again, the French Laundry isn't for everyone, either. You have to be the kind of person who seeks that kind of dining experience…it's not just food that tastes good, there's the quality of ingredients, the research and development, the service, the unique creativity behind the entire evening that makes it more than a meal. Did I think it was worth it? Yes.
Per the FTC rules, I'm disclosing that, although Edwina and I had set aside money to pay for our meals, we were surprised at the end with a largely discounted bill because I had missed the media preview. You know what this means, right? I'm going to take that money I set aside, to go one more time before Vintage Cave closes to the public and is available only to members. It's that good, and I'm that serious.
Other than the price, I think the most-asked question I got was where the entrance is. As Mari described in her blog, it is the bottom-most parking level of Ala Moana Center, near where the security office is. I simply drove through the maze of employee parking until I saw this, which usually will have valets to help you park your car. If you are self-parking, that's okay, too. Another way to get there is to park by the koi fountain outside Assagio's and catch the escalator down.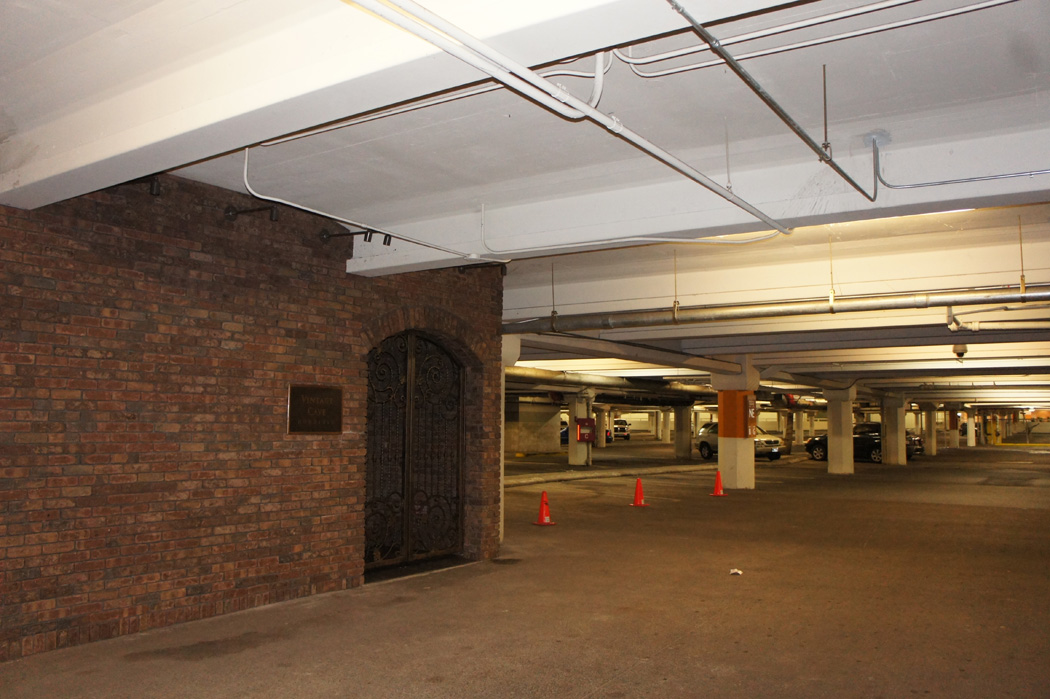 I don't know exactly when Vintage Cave goes to membership-only access, but I'd guess it's somewhere between October and December. If you decide to go, make a reservation sooner rather than later.
Vintage Cave
1450 Ala Moana Blvd. under Shirokiya
808-441-1744
vintagecave.com