Dinner at Bloomingdale's: Forty Carrots starts monthly Salon Series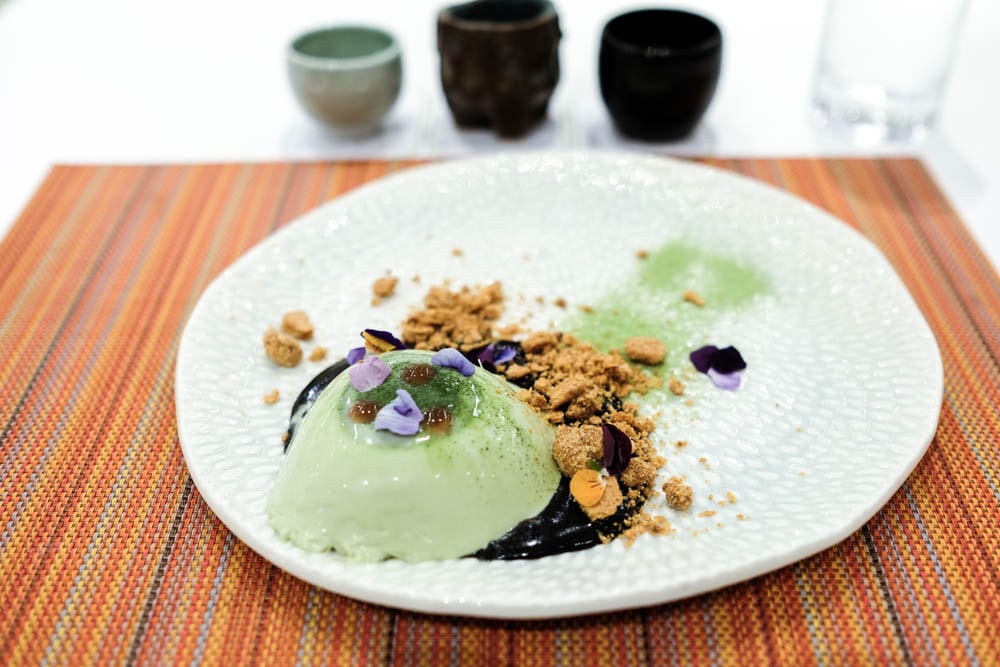 Jon Matsubara is a culinary Jedi Master in the kitchen of Forty Carrots at Bloomingdale's Ala Moana. He is able to transport you back in time to dishes of your past, except reinvented with new combinations of ingredients you've probably never had before. That right there is not only Jedi mind trickery, it's talent.
So what do you get when you pair Matsubara's food with ceramic vessels and paintings by artists from Dinner Party at ARTS at Mark's Garage? A monthly dinner called the Salon Series that benefits artists and lets them exhibit their dinnerware in action.
Frolic got to check out October's introductory dinner. Themed "For the Sake of Sake," it was based on a selection of oishii sake paired with six courses served on ceramic vessels by Daven Hee, Ashley Huang and Jon Vongvichai alongside miniature paintings by Lisa Shiroma. Two courses not on the menu were added as the meal progressed.
When the dinner is over, select pieces are offered for sale and wrapped up for the ride home. Ten percent of that month's dinner proceeds also go to the showcasing artists.
Matsubara's Clam Dip Caviar harks back to his New York cooking days, when he and other kitchen staff would enjoy leftover caviar with a schmear of clam dip on potato chips. The brininess of the dip blends with the sweetness of the ikura and pairs nicely with dry Hizo Otokoyama junmai, a robust sake good with flavorful and rich dishes.
As we progressed, the sake got better and better. Bunraku junmai ginjo, the second sake and my favorite of the three, complimented the slightly salty burrata. The crisp pear and dots of sour umeboshi syrup woke up my palate and prepared it for the second part of course two, a delicate Hokkaido scallop tartare with uni aioli.
This dish immediately took me back to the sushi bar I visited in Otaru just a few weeks ago. I love the sweetness of Hokkaido scallops, so I was happy to find they were not overpowered by the creamy uni aioli or pickled wasabi.
Smoky. Briny. Deep. Matsubara enjoys smoking a lot of his dishes and hamachi collar is no exception. I liked the pops of ikura and bits of hamachi kama, but it's the umami-laden roasted bonito bull's blood ponzu that elevated everything. Paired with the super mellow yet complex Kansansui Kitaya junmai daiginjo, the lightest sake of the three.
As much as I savored the meal, dessert by pastry chef Jennifer Malone Moss was my favorite course. The matcha panna cotta was delicate and provided the right amount of bitterness to support the umeboshi and black sesame syrup, which tasted uncannily like peanut butter and jelly. Evidence of more Jedi mind trickery going on here.
The chef-driven restaurant inside Bloomingdale's Ala Moana is not so much a hidden gem as a color-changing alexandrite stone – it's on the third floor in plain sight but when you explore it in a different light, it has mysterious qualities worth discovering.
Next up in the Salon Series: a Nov. 10 wine-paired dinner themed around "the hunt," featuring local deer and boar. Call 800-3638 to reserve your seats for $110. Expect to be wowed both visually and deliciously.
The hunt: a wine-paired dinner at Forty Carrots
Nov. 10 at 6 p.m.
Bloomingdale's
1450 Ala Moana Blvd.