Dinner at Andaz Maui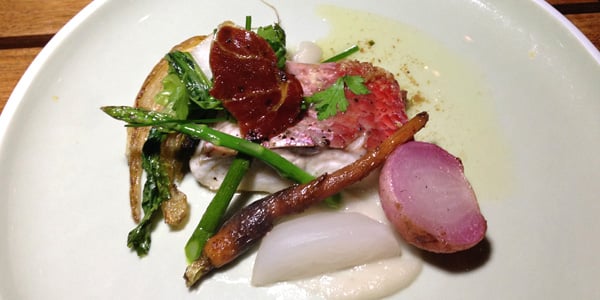 I recently went to Maui — my first time in months — and couldn't wait to try Ka'ana Kitchen in the brand new Andaz Maui. I'd seen so many photos from people who have gone to visit since it opened in August, so I knew it was an über-chic hotel with the most stylish interior and exterior designs in Hawaii.
More importantly, from a foodie perspective, I was excited to try Ka'ana Kitchen, their signature restaurant. Isaac Bancaco, whom you've seen in my blog posts, is the chef de cuisine there and has redesigned the dining experience. Instead of having appetizer – entree – dessert, the menu is broken out into themes by ingredient (click here to see a sample menu) and makes you think of your meal in a different way. And of course, Isaac sources his ingredients locally, so you eat with the seasons.
It was probably one of the most creative meals I've had in a long time. Here's what I had for dinner with Edible Hawaiian Islands magazine owner Dania Katz:
Andaz Maui ~ Ka'ana Kitchen
And, if you want to get a peek of the hotel, here are some photos of the common areas. Sorry, we didn't get to see the rooms.
Andaz Maui