Did this: The Noble Chef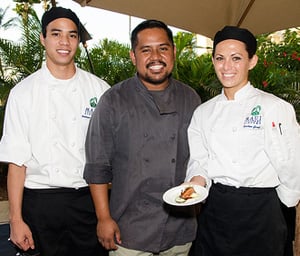 When you think about it, Maui has a lot of big food and wine events year-round. On almost any given weekend, you can go there and find events showcasing some of the most talented chefs and a bounty of farm-to-table dishes, more so than on Oahu because they have more ag land and a larger variety of produce.
Such is the case with The Noble Chef, an annual fundraiser for the UH Maui College Maui Culinary Academy (MCA) students. This past weekend marked its 16th year, and tickets (at $175 a head, no less) sold out before the invitations even went out. It's a big deal for Mauians, because it helps disadvantaged and exemplary students in the culinary arts program through scholarships and other educational experiences.
The Noble Chef is held every year at the Fairmont Kea Lani (@FairmontKealani) and showcases amazing creations from top Maui chefs as they mentor students through the event. I don't know how long the core group practices for this, but it's impressive, considering that this takes place mid-semester. Dania Katz (@DaniaEdibleHI) of Edible Hawaiian Islands Magazine invited me over to see this gala for myself, and share it with you.
The Noble Chef 2012
Picture 1 of 26
The event starts with several small plate stations presented by various high-end restaurants and their chefs, with manpower provided mostly by MCA students. Each booth is carefully matched with a wine table next to it. I didn't get to try the wines — the champagne was so convenient and matched everything — but I could hear people raving about the pairings. I regret being too lazy to get to the wine tables, but at least I got to the food!
If you want to see more photos, Peter Liu (@PeterLiu47) got a lot of nice shots. Click here to see his pictures!
There were quite a few people who flew to Maui just for this event. If you'd like to be a part of it next year, keep tabs with Ray Tsuchiyama of the UH Foundation at 808-984-3471 or email ray.tsuchiyama@uhfoundation.org.