Did this: Taste of Hawaii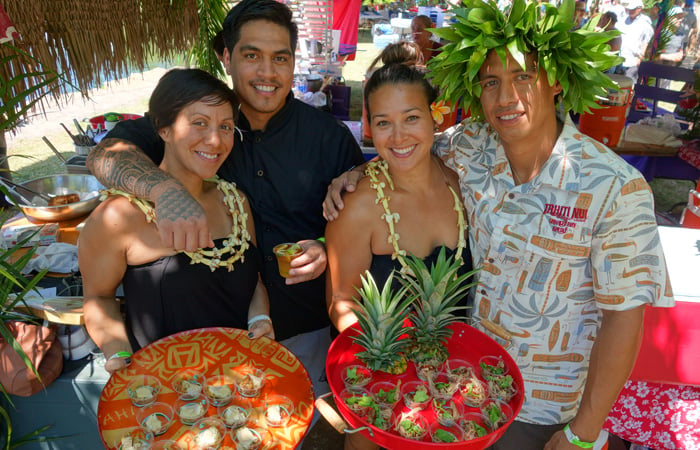 Although it started as a fundraiser in 1988 by the Rotary Club of Kapaa, the Taste of Hawaii on Kauai has grown to be one of the most recognized food events that people from faster-paced cities seek to attend. More than 40 chefs from around the state and 15 beverage companies gather on the first Sunday in June to turn out a fabulous four-hour "ultimate Sunday brunch," as it's called, where you can taste … and taste … and keep tasting. The setting isn't bad, either: the event is held at Smith's Tropical Plantation, a private, 30-acre park that shows off the island's lush environs.
It's not just a big foodie event, though. Remember, this is put on by the Rotary, so there is a service component to it. Taste of Hawaii is a huge fundraiser, where the proceeds go to various scholarships, community projects, youth programs, homeless programs and more. Click here to see the long list of beneficiaries from Taste of Hawaii.
My friend Amy Hennessey invited me to go this past Sunday, as she had an extra ticket. I had heard about the event and had seen pictures, but none of that quite prepared me for the crazy amazing feast. Before I tell you about it, I'm going to give you some tips for when you go (not if you go, because you will want to go next year).
Wear lots of sunscreen. Kauai may be home to Mt. Waialeale, the wettest spot on earth, but on this day it will be hot and super sunny.
Wear a hat, if you have one. Did I mention it's super sunny?
Wear comfortable shoes or slippers. I was okay in slippers, but you do a LOT of walking. There were some local girls in club clothes and/or swanky ho shoes, but I don't know how they did it. In addition, my feet were super dirty at the end of the day.
Go hungry. If possible, don't eat breakfast, and maybe go for a run that morning.
Go early. There's a ton of food and you can take seconds, but the food does run out. Besides, you need some time to digest if you decide to take a second spin around the event.
If you are a social media junkie, bring your own wifi. There is little to no cellular reception.
These guys have done some extensive planning, since they've been at it for almost 30 years. They have misting fans set up around the lake, ample trash receptacles (most of the waste is recyclable or compostable), lots of napkins and utensils, a good balance of cold items, and — most of all — lots of liquids. You can get whatever you want, whether it's water, beer, soda, wine, coconut water, or coffee … it's an open bar.
One of my favorite things was the tako salad from Nanea Restaurant & Bar. Instead of a tortilla bowl, they made a paper-thin, lightly crisp shrimp chip bowl. Why hasn't anyone else done this yet? It was filled with a salad of greens, edamame, tomatoes, avocado and topped with tako.
Ribs are ribs, right? Something about these called to me, and I was glad they did. The Bistro made these with pineapple BBQ sauce, and they looked firm, but were beautifully tender, with the right balance of sweet and tangy. If I weren't so full, I would have had more. Their cole slaw tasted just like my mom's, too.
Another pleasant surprise for me was the vegan sorbet and ice cream by Powerhouse Creamery. The soursop sorbet was refreshing and sweet, and it was like biting into the fruit, fresh from the fridge. And I thought the ginger ice cream would be too spicy, but it actually was subtle so you could fully enjoy the ice cream. I'll have to find this place — or is it sold on Oahu?
One of my favorite Kauai ladies! Nina Krieger of Nani Moon Mead (center) had a fun booth with a disco ball and beach accessories. Her associate Trisha is on the left and my friend Amy is on the right. Mahalo, Amy! I think I'll be back.
Here are more scenes from the Taste of Hawaii, with captions. For the full gallery of pictures, click here. (Unfortunately, there was so much food, I couldn't get a photo of every booth.)
Taste of Hawaii 2015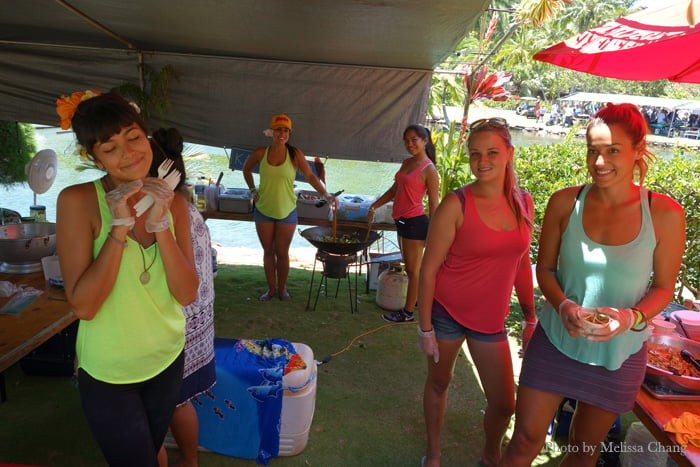 Taste of Hawaii
First Sunday in June, 11:30 a.m. to 3:30 p.m.
Smith's Tropical Paradise (catch a shuttle)
$100 online or $115 at the door