Did this: Something new Salt pau hana party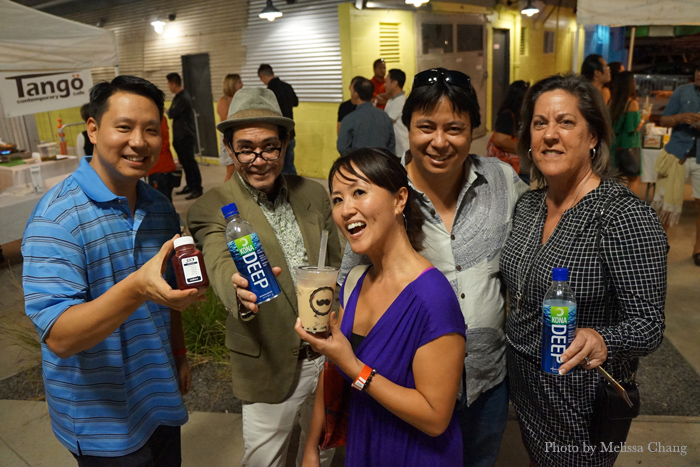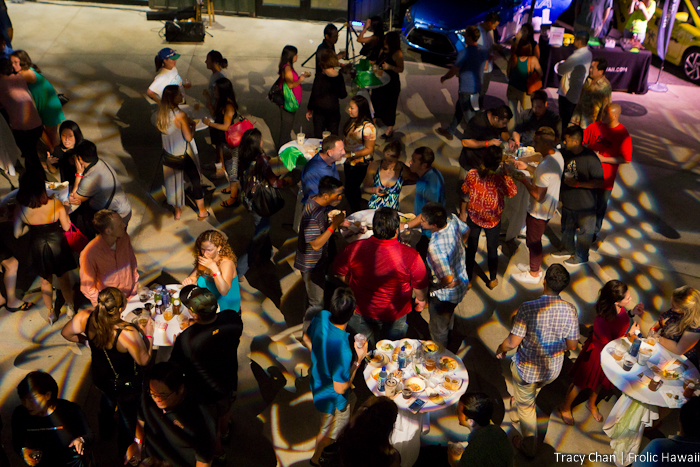 For a time last night Kakaako was the center of a budding universe, a once-dilapidated old block brought to gleaming new life under the bright lights of a Frolic party. Our Kakaako's coming Salt complex — a longtime construction site bordered by Auahi, Coral and Keawe streets — showed its refurbished self to a sold-out crowd of 400 partygoers who stayed well after the party was over, basking in the vibe.
Salt proved to be an amazing venue, its six new and remodeled buildings surrounding a central courtyard (remember the pitted parking lot?) in different shades of urban that tie together old and new: concrete, glass, corrugated iron, chain link fencing. Filling its spaces in coming months will be restaurants, shops, a craft beer shop, a yoga studio.
Filling them last night was you. To our readers who came and celebrated with us, a huge mahalo. We loved meeting and hanging out with you, we loved seeing you have a good time. Your sense of fun and excitement fuels ours, constantly.
To our sponsors and vendors, our heartfelt thanks. Your support was awesome, your food and drinks sublime, your crews amazing. Our thanks to sponsors Kamehameha Schools, Hawaiian Telcom, Red Knot and Scion Hawaii; Village Bottle Shop & Tasting Room; Bevy's Christian Self; Honolulu Beerworks, Maui Brewing Company, Lanikai Brewing Company; Waikiki Brewing Co., Ko Hana Rum, iichiko, Nalo Juice, Juic'd Life, Lanikai Juice, Kona Deep, Morning Brew, Mr. Tea Cafe, Hank's Haute Dogs, Hi Pie, Moku Kitchen, MetroGrow Hawaii and Tango Cafe, Cocina, Bloomingdale's Forty Carrots, Highway Inn, La Tour Cafe, Atmasphere Yoga, Lash Love, Orangetheory Fitness; Pow Wow artists Matt & Roxy Ortiz of Wooden Wave and Kamea Hadar, all presented by Bloomingdale's Hawaii; Super CW, DJ Toki, Yoza, Mark Tarone, Paul Mawhar, Moment Romance and Events International.