Did this: Pearlridge's 3D roller coaster and Eurobungy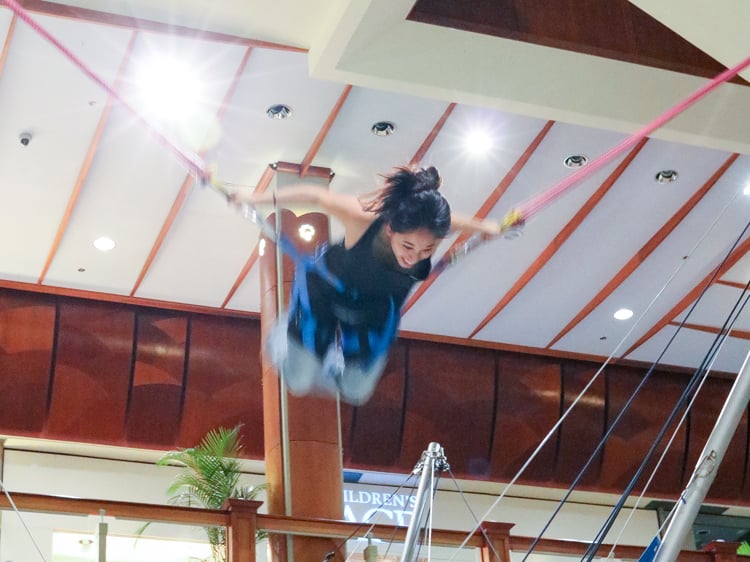 Let's rewind a bit. My family didn't really do summer vacations when I was a kid. Disneyland, Seaworld, Universal Studios…just a bunch of expensive dreams. I settled for the 50th State Fair and Hawaiian Waters Adventure Park (now known as Wet'n'Wild), but even those were spendy.
Today I can have the fun of an amusement park ride in the confines of a mall for cheap. The only travel required is to Pearlridge Center's Uptown. No joke! As part of the E-magine Fun exhibit, Pearlridge worked to bring in activities for the summer including a bungee-trampoline and the world's first virtual reality roller coaster.
Eurobungy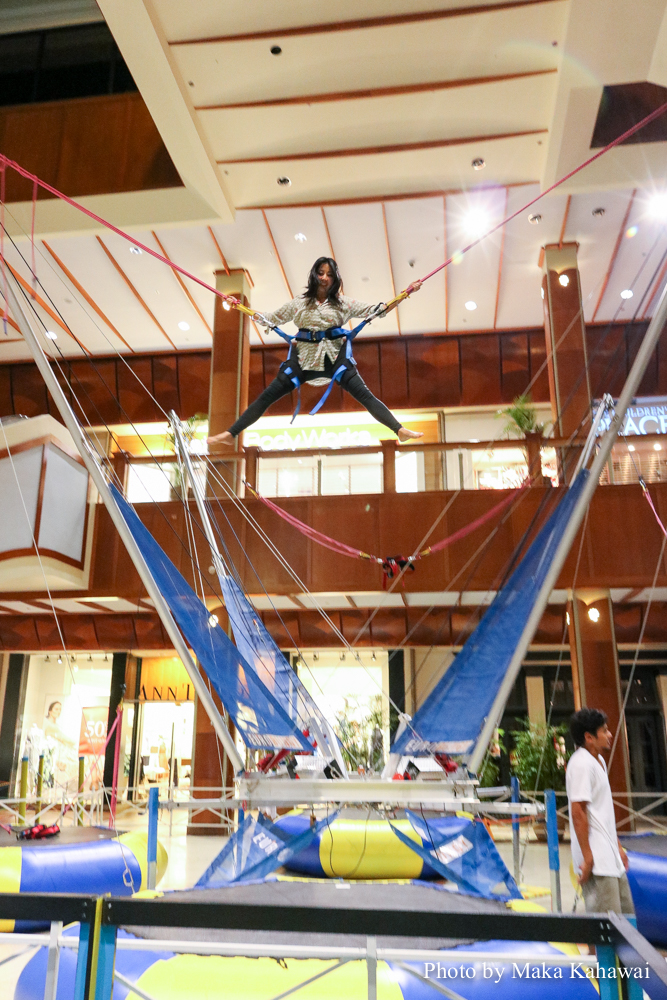 Who doesn't love a good jump on a trampoline? Eurobungy takes backyard fun up a notch. Forget the fear of jumping at the wrong angle and ending up injured from a not-so-soft landing as they harness you to thick bungee cords that not only keep you safe from jumping astray, but add extra power to your jumps. If you've got the nerve, go for the flip!
It's $10 per person for five minutes of as many jumps as you can jump. You just have to be between 20 and 220 pounds. There's no age limit, but those under 18 years old will need a parent's signature.
If you want to see the Eurobungy in action, there's a video right here.
Smaaash Fingercoaster
I love roller coasters; the faster and loopier the better, with bonus points for dangling feet. I was a bit skeptical about how a virtual reality coaster would stack up to the real thing. See how it went:
For $5 per rider, you get to create your own virtual reality roller coaster at the swipe of a finger and have a good two to three minute experience. With a fan programed to blow when going "downhill," a realistically shaking seat and some powerful Oculus Rift 360 goggles, it made for a really fun experience that actually had my stomach turning.
The E-magine exhibit is only available until July 24, so get on it if you want to have a go at a cheap roller coaster thrill this summer!
E-magine Exhibit Activities
Pearlridge Center, Uptown
98-1005 Moanalua Rd
Mon.-Sat., 10 a.m.-8 p.m.
Sun., 10 a.m.-6 p.m.
Pearlridge Center website