Did this: Ocean Vodka's Ultimate Cocktail Showdown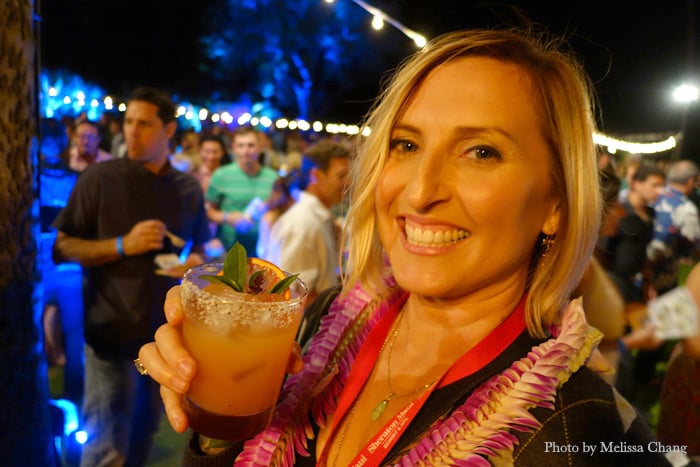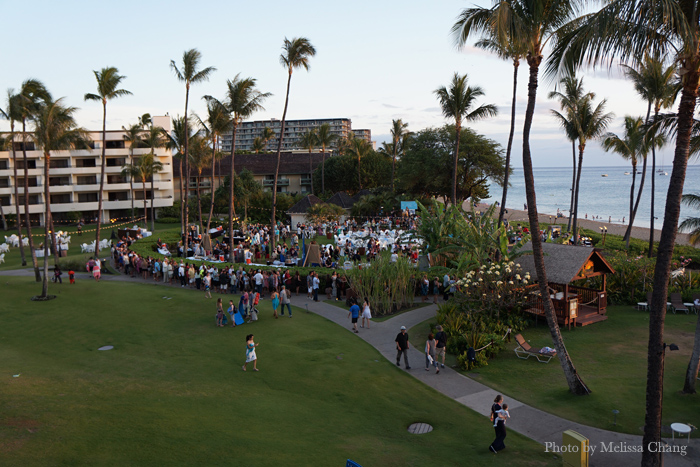 Last year, Sheraton Maui Resort & Spa had their first Ocean Vodka cocktail recipe contest and had an intimate, sit-down dinner with their finalists and a handful of people. I'm sure it was nice, but in keeping with the fabulous events the Sheraton usually puts on, this year was an all-out bash with six chefs, six mixologists, and 1,500 people. Since our very own Will Chen was one of those celebrity chefs, there was no question that Olena Heu and I had to tag along to cover it.
The chefs were paired with a finalist mixologist and were challenged to figure out a dish that would pair with the winning cocktail. Then somehow Olena and I rose to the challenge of maneuvering through 1,500 people to get you photos of those dishes and drinks: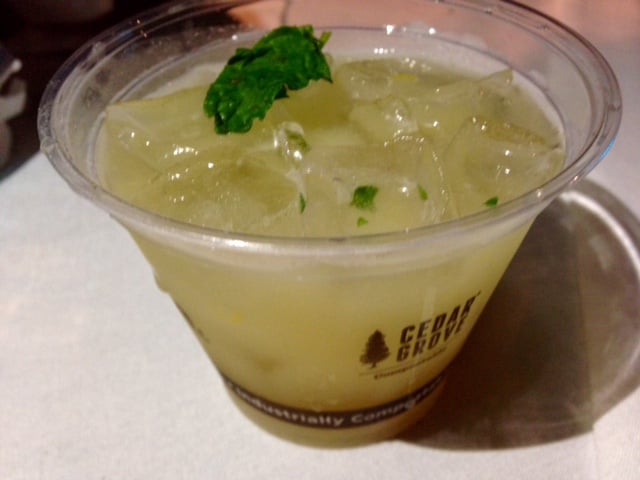 Amie Fujiwara made a cocktail called Wai'ona: Ocean Vodka, Hawaiian Ginger simple syrup, Fresh lime, Local Mango, 6 Mint leaves 3 Basil leaves & Coconut Crème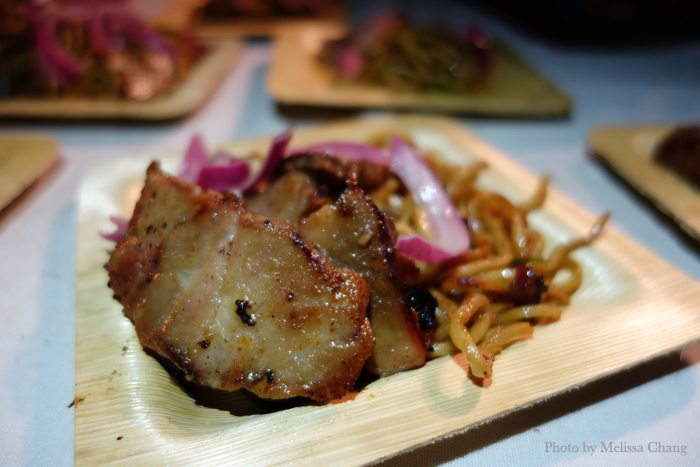 Migrant Maui chef Sheldon Simeon paired it with Ay Kudeshi garlic noodles and Tocino sweet pork.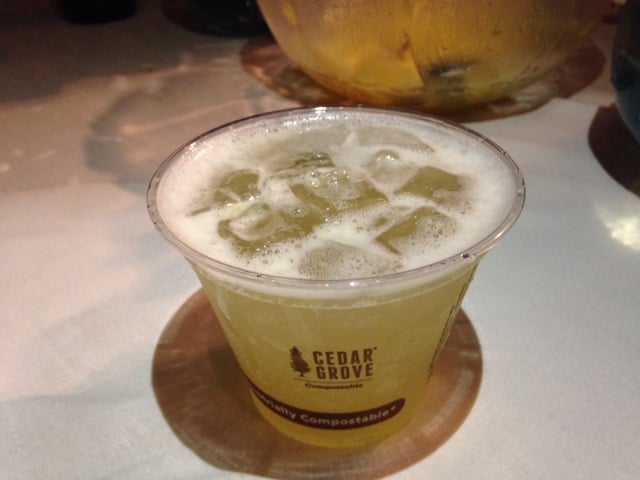 James Shoemaker made a Pineapple Express: Ocean Organic Vodka, Fresh lemon juice, Upcountry Honey, Maui Farm fresh Thai basil, Maui Gold pineapple & Gossling's Ginger beer. Click here to see a short video of him making it.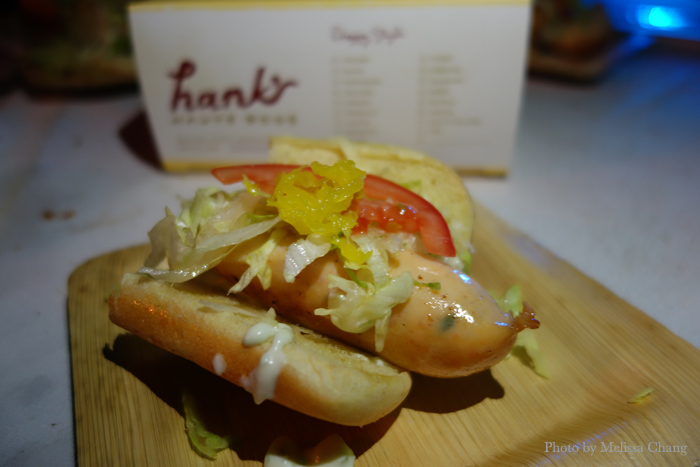 Hank Adaniya, who has a Hank's Haute Dogs concession at the Sheraton Maui now, brought his lobster sausage dog to match it.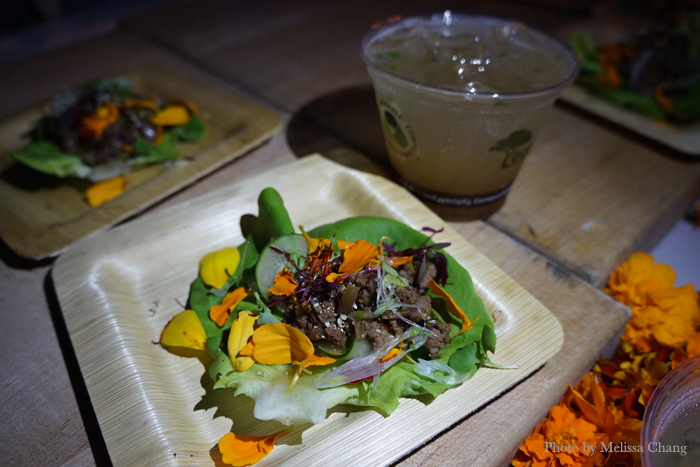 One of our favorite cocktails was Ocean Vodka's National Contestant, Daniel Vincent, who flew in from Texas to present the cucumber cooler: Ocean Vodka, cucumber diced, pineapple diced, pineapple juice, Agave, Pinch of Chinese five spice, Pinch of Cinnamon, 6 leaves of Cilantro, Seltzer, Squeeze of lime wedge and Ice. This was very refreshing. Lee Anne Wong expertly paired it with a spicy lamb larb. Hands down, a perfect pairing.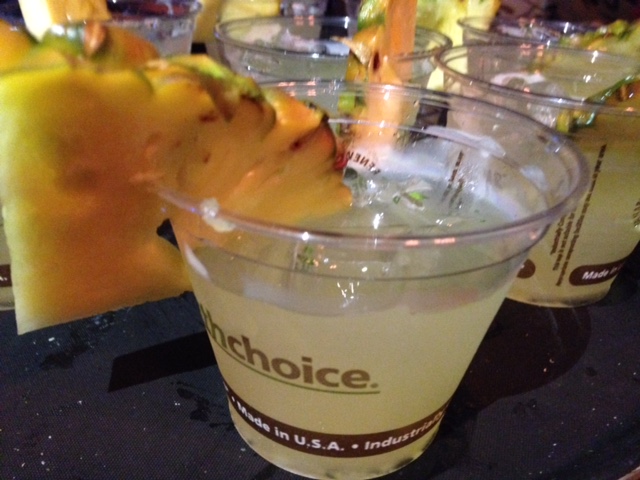 Allison Bellows created Pele's Pineapple: Ocean Vodka, Combier L'orange, 2 Lime wedges, Coconut Water, Pineapple Juice, Serrano Pepper, Handful of Cilantro & 2-3 Cubes of fresh Pineapple.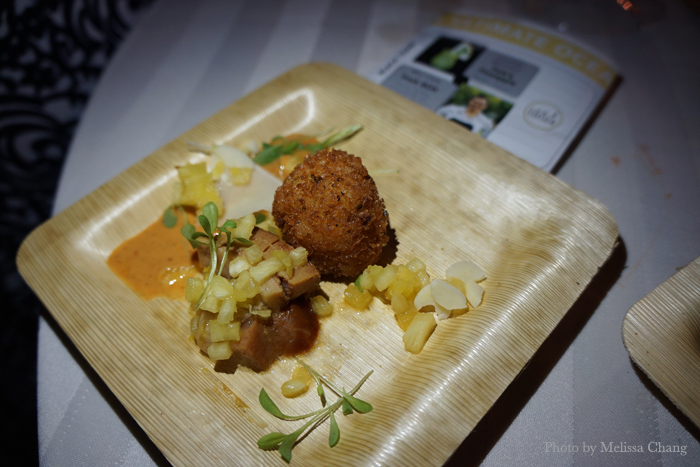 Will paired it with braised pork belly with pineapple salsa and a fried risotto ball, one of our favorite dishes of the night.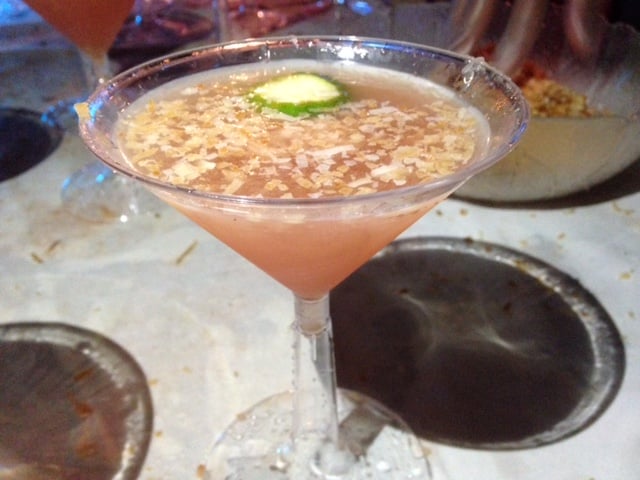 This fancy drink is a Napili Tini by Victor Mendoza: Ocean Vodka, Muddled Watermelon, Napili Flo Liliko'i, Coconut Water & a Splash of Soda Water.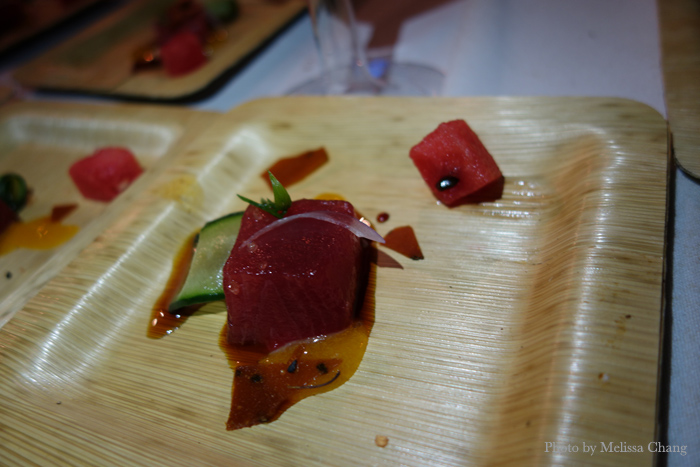 Shawn Gavin of the St. Regis Princeville made poke bites with tiny watermelon cubes to match. Cute!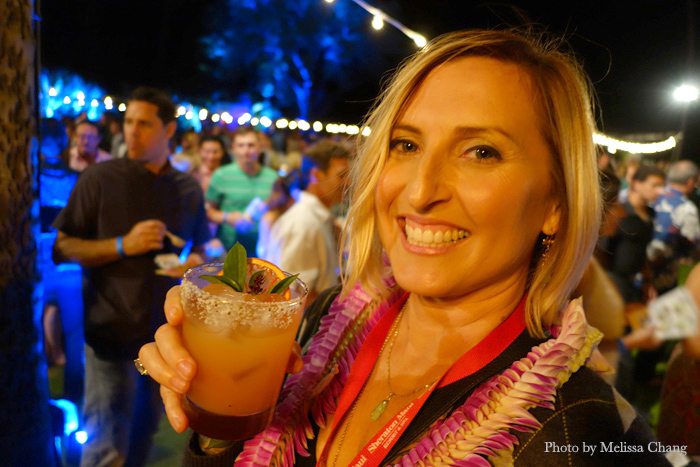 Maui's Jen Russo, who was a judge that night, is holding our favorite drink of the night, Ross Steidel's Salty Poi Dog: Ocean Vodka, Thai Basil & Black Peppercorn Syrup, Yuzu Citrus, Fresh Squeezed Pomelo or Grapefruit Juice, Kosher Salt and Black Pepper Rim — it tasted like POG. (When Olena wasn't looking, drank half her drink, too!)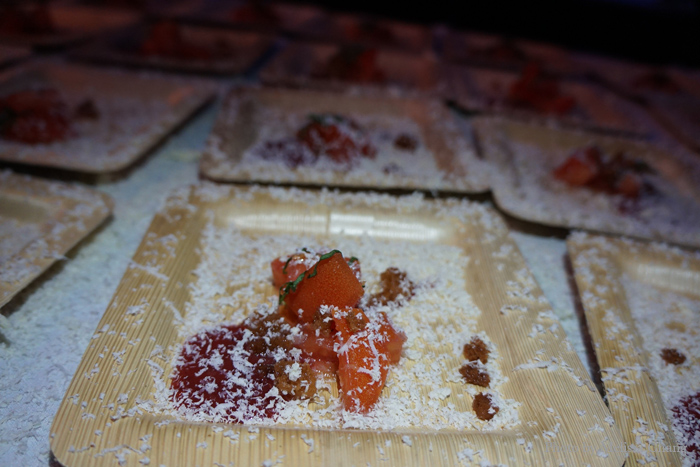 Brandon Lee from Pig & The Lady made a local tomato salad with sorrel burnt strawberry vinaigrette, fried bread, and grated white chocolate. Chocolate? Yes. And yum. Click here to see him making it.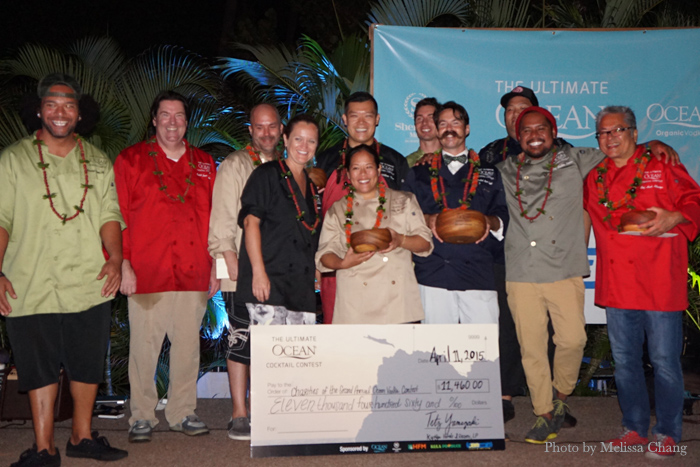 The winners were:
Best Pairing – Lee Anne Wong and Daniel Vincent
Best Dish – Hank's Haute Dogs
Best Cocktail – Ross Steidel's Salty Poi Dog
Each of the winning teams were paired with a charity, and each charity benefitted from the prize money won for them.
These were just the highlights. To see more photos, click here.
Mahalo to the Sheraton Maui Resort & Spa for hosting our stay this weekend!