Did this: Maui Chef's Table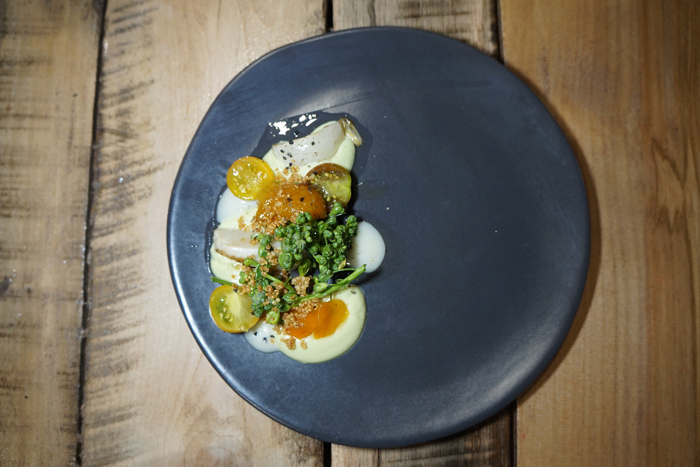 A few months ago, fellow blogger Olena Heu went to The Mill House at Maui Tropical Plantation to experience Executive Chef Jeff Scheer's intimate Chef's Table dinner. Jeff had taken over the restaurant six months earlier, and brought his popular pop-up concept from Haiku to the venue in Waikapu.
I had the honor of being his guest at his Chef's Table dinner last week, at the same time that The Mill House operation expanded its menu and its space. Can you imagine dining with this unique view of the West Maui mountains? Whether you make it to the Chef's Table or just dine at the restaurant, you'll have a great time and a meal to match the ambience.
Olena did all the hard work and provided Jeff's background on her blog. Here's a quick look at my experience, since the dishes change each time, according to the seasons and availability.
Dania Katz of Edible Hawaiian Islands Magazine had brought me to Maui for the Hawaiian Island Land Trust's "Buy Back The Beach" event, so I got to experience Maui Chef's Table on the evening prior.
First bites: Cassava chips with edamame spread, local orange slices, and local micro greens. Perfectly light but a good teaser.
Usually in Spain, boquerones are anchovies marinated in vinegar and olive oil with herbs. Jeff made these with local akule, and added a piperade with ground beef for a heartier flavor. People who normally wouldn't eat anchovies were raving about this, since it was robust and meaty but without a very fishy flavor. I could have just eaten this all night with a nice glass of wine.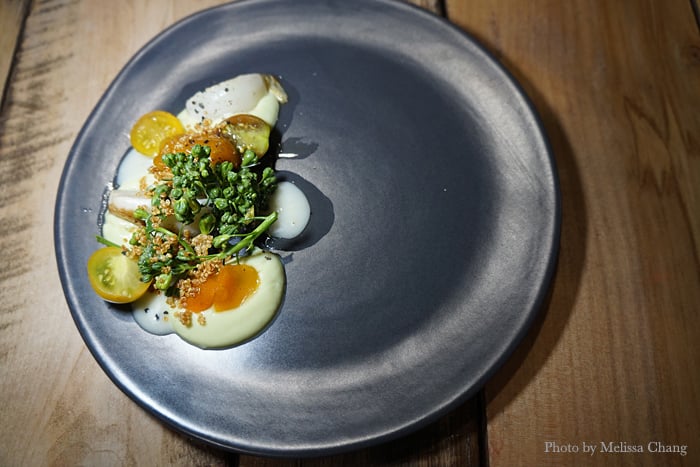 One of my favorites of the night was a vegetarian dish that would actually appeal to omnivores. Turnips, tomatoes, kumquats and broccolini were sprinkled with toasted quinoa for a little crunch in each bite. You had to mix them all together with the broccolini puree underneath, making sure to get a little of everything in each bite. Somehow Jeff had worked his kitchen magic to make this seemingly simple dish full of different taste sensations and textures, and very crave-able.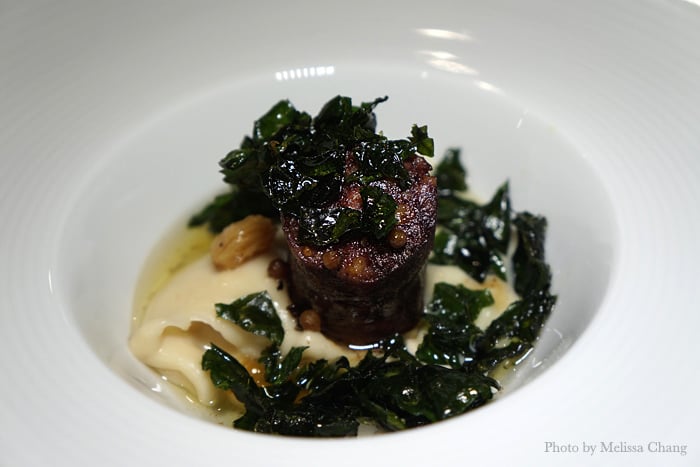 The main focus of this was the blood sausage, but the mashed 'ulu really pulled it all together and impressed the guests — especially those who were visitors, and had not had breadfruit before. The hint of sweetness with the savory sausage was a good marriage, and the golden raisin escabeche added a little more intense surprise on the palate with each bite.
One of our favorites of the night was the roasted poblano agnolotti with fried onions, pickled corn and micro greens in a corn stock, with mustard seeds. The corn was fresh from the farm, so it had that super sweet pop that you just can't get from the supermarket kind. Although it was pickled, it wasn't really that sour; it was just sweet-tart enough to tickle your tongue.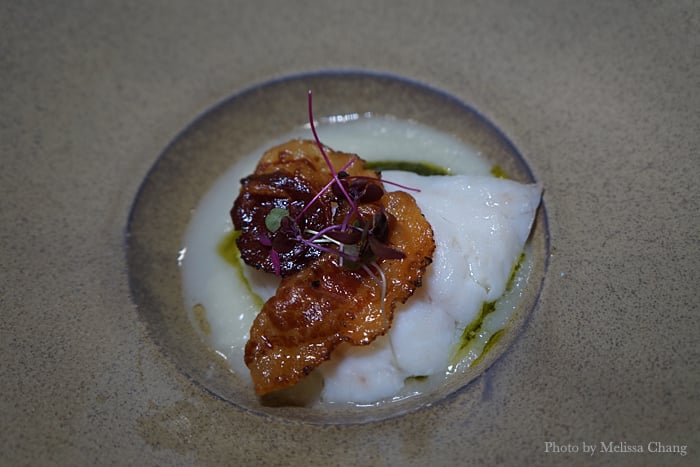 You don't see too many restaurants using kalekale, as it's considered a great surprise that occasionally shows up at the fish auction. It's extremely light and moist, with all the best qualities of a snapper. Here, Jeff poached it and served it with chayote, parsley pesto, and pig head pancetta. The pesto was perfect with this fish, giving a subtle herbaceous kick, while the pancetta … well, it was like bacon. Who doesn't love bacon?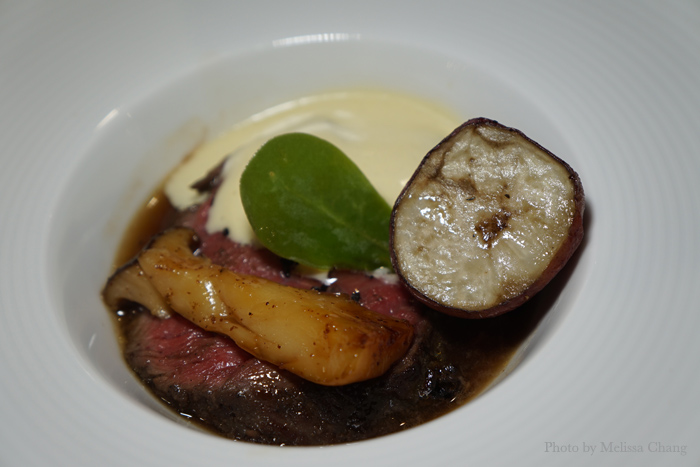 Maui beef strip loin with sherry sabayon, fingerling potato and pickled ali'i mushroom. The beef was okay; I was most intrigued by the pickled mushroom and wondered how Jeff decided to do that. Brilliant move.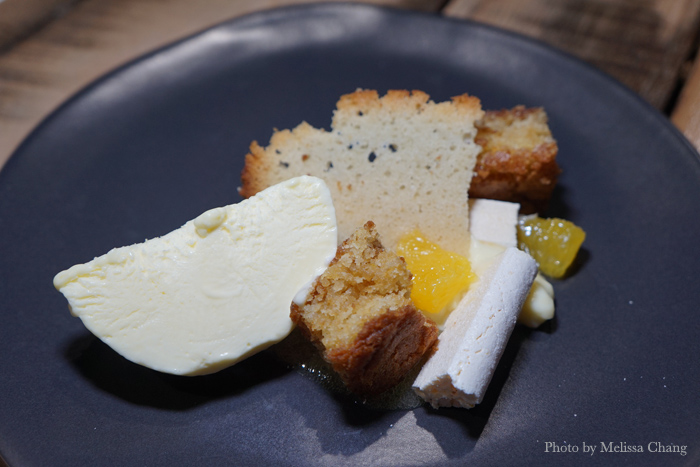 Their take on creamsicle flavors with local oranges, meringue, ice cream and pieces of olive oil cake, which I loved. I actually have attempted to make olive oil cake, without a lot of success, so I can appreciate this perfect creation.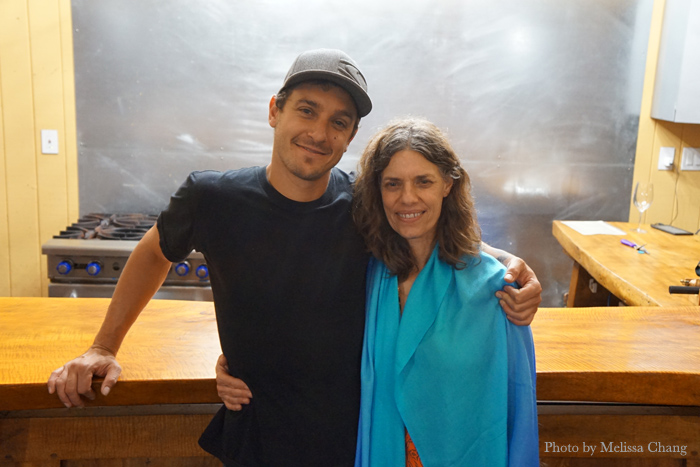 Jeff with his mom, Ann, at the end of dinner. Mahalo for a great meal!
Maui Chef's Table at Maui Tropical Plantation
Friday and Saturday Evenings, beginning at 6 p.m.
$150 per person includes dinner, tax & gratuity
Click here for information and reservations