Did this: Hennessy pairing at Chai's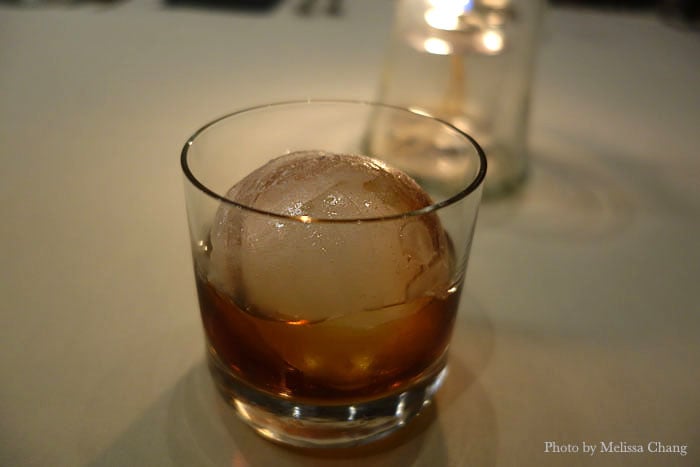 I always love the chance to see how new wines and spirits pair with different foods, so when Sten Lilja of Moet Hennessy — who presented a cognac dinner earlier this year — came back to Honolulu, I had to go to the event. My friends Yasuo Ogawa and Dr. Jeff Yeoh hosted a dinner at Chef Chai this weekend for the rare chance to taste very high-end cognacs and see how they match Hawaii's cuisine.
Since Sten also represents Dom Perignon, the evening started with a glass of bubbly from 2004. One thing to remember about champagne: It's like the little black dress of wines. It goes with just about everything. With the variety of appetizers we had, this was perfect for tickling the palate.
Before each course, Sten would talk to us about what we were about to drink and the aromas and flavors we would be experiencing.
The original Hennessy XO goes for over $200 per bottle. It was created by Maurice Hennessy in 1870 for his group of friends, and is blended using 100 kinds of eaux-de-vie aged up to 30 years. Did you know that XO stands for eXtra Old? Due to the long aging, you end up with a cognac that is very bold and rich, full of fruits and caramel. The ice cube in the glass made it softer on the palate, but I think I would prefer it neat.
Hard to photograph, this was a kataifi macadamia nut-encrusted black tiger prawn on a bed of organically grown Big Island rainbow greens. Who would have thought that cognac and salad would be a nice pair? Since the Hennessy XO had fruity notes, it was nice against the saltier kataifi prawn.
The next one we tried isn't even in Hawaii stores yet: Hennessy 250 years collector blend. Hennessy Master Blender Yann Fillioux created this to commemorate the company's 250th anniversary with a blend of eaux-de-vie aged 15 to 35 years. The blend completed its aging in ideal conditions: resting in 250 specially crafted barrels of 250 liters each, carefully stored at ground level near the banks of the river Charente. Look for it soon at fine liquor stores in Hawaii for a little more than $600 per bottle. This was stronger than the XO in flavor, but very easy to drink.
The 250 years collector blend was paired with lemongrass poached Kona lobster. We didn't taste the lemongrass as much, but the curry and the buttery lobster was nice with the various herbs and spices that you could taste in the cognac, especially the saffron.
Hennessy Paradis Imperial was created at the request of the Imperial Court of Russia in 1818 by the Empress as a birthday gift to her son, Tsar Alexander I. This special blend is made from the most exclusive eaux-de-vie from the 19th and 20th centuries, aged up to 130 years and matured in old casks. This was, of course, even more complex, with notes of vanilla, flowers and smoke. The flavor is strong and lingers for a long time on the palate.
Something as bold as the Hennessy Paradis needed to be paired with something just as strong, so Chai served grilled Mongolian style lamb chops with brandy demi-mashed potato, haricot vert and baby carrots. The lamb didn't distract from the Paradis; it was just strong enough to stand up to the bold flavors of the cognac.
For dessert: Waialua chocolate mousse cake with fresh berries.
I didn't get a shot of Yasuo and Jeff with Sten, but I did get a photo of Sayaka Mori with Chai Chaowasaree! Mahalo for creating a great menu for pairing with cognac.
For more information on Hennessy cognacs, click here.