Did this: Hawaii Island Rancher's Dinner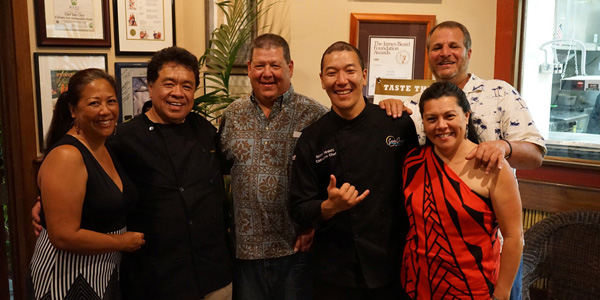 The "farm to table" movement has been a bit of a trend in more metropolitan cities like Honolulu, but in many parts of the state, that kind of eating is a way of life. On Hawaii Island, where most of the island is used for producing food, it's natural to see items from less than 100 miles away (maybe even 50) listed as regulars on restaurant menus.
As shown in previous blogs throughout the last year, Kamehameha Schools leases a lot of that land and works with their various partners and farmers to promote their local-grown products. It's not just to help these businesses thrive; it's to help Hawaii as a state build its sustainability.
On the heels of the Kona Coffee Festival and the Taste of the Hawaiian Range, chef Scott Hiraishi of Sam Choy's Kai Lanai in Keahou had an idea to have a "Rancher's Dinner," where the restaurant would create a full menu and event that showcases the island's ranchers with other ingredients from their neighbors. This is an idea that is pulled off by hotels, but not individual restaurants. With help from Tracey and Les Apoliona of Kamehameha Schools, they brought this first rancher's dinner to life this past weekend, featuring a menu that used about 98 percent local ingredients — most within 75 miles of their kitchen.
Not only was it a beefy meal, you could actually meet many of the ranchers and farmers who supplied the ingredients for the night. As a city girl, I appreciate locally-grown foods, but there really is nothing like tasting the sweetness that comes from freshly-harvested produce in a colorful palette on your plate. If you get a chance, check this event out next year.
A locavore dinner
The dinner was pulled off smoothly, but I know from watching my social media stream that this took months to plan and execute, which made the food taste even better.
Before the event started, I did get a few minutes with Sam Choy and Scotty Hiraishi. Here is a short clip of them getting ready for dinner: