Did this: Gudetama feast at Plan Check in LA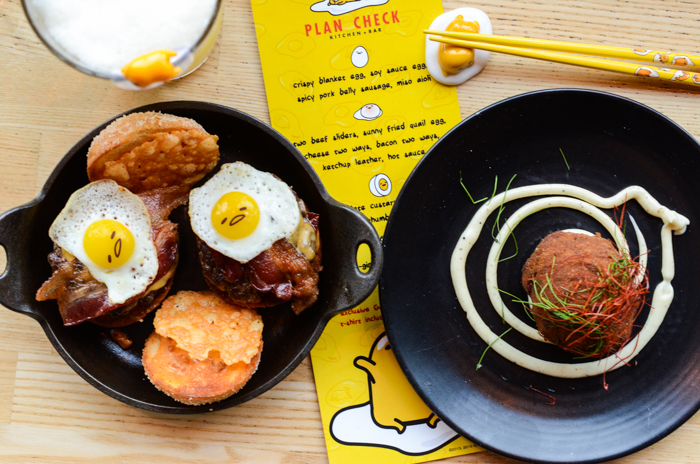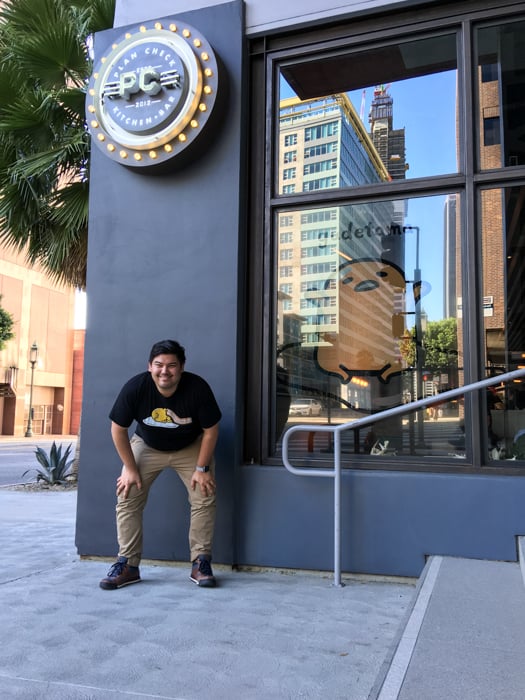 Being an adult is pretty fantastic. The thought never crossed my mind that I would be so invested in a cartoon, let alone one from the Sanrio universe. So now that I have the means and independence to do what makes me happy, like traveling to eat a meal inspired by Sanrio's lazy cartoon egg Gudetama, I realize that being an adult allows you the opportunity to be a kid when you want to be.
That feeling alone is worth the price of admission.
I was Gudetermined to make this last-minute weekend trip to Los Angeles happen, and it all worked out in our favor, eggcept for a couple of minor hiccups. The first being that the Plan Check Gudetama dinner location my friend and I initially went to, after waiting nearly an hour to sit, was completely out of Gudetama faces for the sliders. (Um. OK. I can still put a stamp. No biggie.) But as we ordered, our server was interrupted by the kitchen staff saying that they were beginning to swap out the first course (a scotch egg) with french fries (oh, hell naw!) and were already out of the egg creme soda.
Angry face emoji here. At this point we called the Fairfax location 15 minutes away and, finding that they had the same special menu, headed over there.
My friend snagged a Gudetama plush from the hosts' booth to sit with us as we devoured our Gudefeasts. I brought along my Gudetama hashi and a little Gude gashapon (capsule toy) to perch on the rim of my glass.
The contrasting textures of oozing yolk and crunchy exterior made the crispy blanket egg a standout dish. I would eat this again!
If you couldn't tell already, I'm a burger dude. Plan Check chef Ernesto Uchimura makes several mean burgers for his standard and daily specials menus, so when I heard he was making one with Gudetama in mind, I knew it would be good.
The pudding had two layers, a malty milkshake-like top over a rich chocolate pudding bottom. I had two bites and had to stop. It was too sweet for me. I found solace in the apricot thumbprint cookie.
Overall the meal was awesome and I'm so happy I got to do it. In addition to the food, we also received these awesome special edition T-shirts. Unfortunately for me, they were completely out of my size and I had to settle for a women's medium (yay?). Mehh.
And now that I've spent my entire weekend in L.A., all I want to do is hit the snooze button on this week and sleep. That's so Gudetama!