Did this: Grown on Maui collab dinner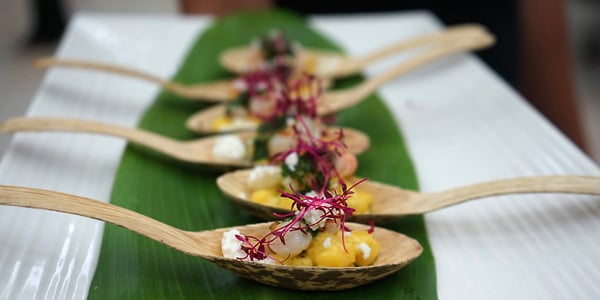 I can't believe it's been a whole year since I attended the Maui County Agricultural Festival for the first time. Last year, I just flew in and out so I could check out the event itself for the day; this year, I get to attend the various related events, courtesy of the Maui Visitors Bureau (MVB).
I work a lot with the Hawaii Farm Bureau, so I can say that Maui puts on better ag events than Oahu. Their events are shorter (the Agricultural Festival itself is just one day), but they present more by virtue of having more farm lands on the Valley Isle, and their chef community works exceptionally close with the Maui Farm Bureau and the farmers themselves. I once made a comment about how well-educated Maui chefs are on agricultural issues, and Grand Wailea's Executive Chef Eric Faivre explained that a lot of that is due to Charlene Kauhane, who does the public relations for the farm bureau, the MVB, and various other tourism-, food-, and agriculture-related organizations. If you haven't attended the Maui County Agricultural Festival — which takes place on the first Saturday in April every year — consider checking it out.
I got to attend a collaboration dinner last night, Maui County Farm Bureau's first "Grown on Maui" fundraiser. They featured local chefs like Sheldon Simeon of Migrant Maui (and Top Chef fame), Lyndon Honda of Laulima Events and Catering, Ryan Luckey of Leilani's on the Beach, Tylun Pang of Ko at the Fairmont Kea Lani, and Faivre. The highlight was their added collaboration with guest chefs from Calgary: John Jackson and Connie DeSousa of Charcut Roast House, Jessica Pelland of charbar, and Pierre Lamielle of Foodonyourshirt.com.
Grown on Maui dinner
The Maui County Agricultural Festival happens this Saturday, April 5, at the Maui Tropical Plantation in Waikapu. There's a $3 admission fee for adults; children get in free.