Did this: Beard Foundation celeb chef tour at the Grand Wailea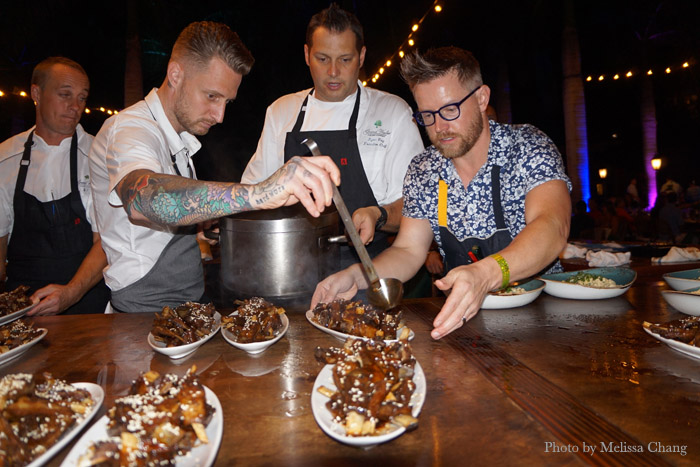 We got up close and personal last weekend with some of our favorite celebs from Top Chef as they got cooking at the Grand Wailea for the annual James Beard Foundation Celebrity Chef Tour.
Grand Wailea chefs Ryan Urig and Michael Lofaro served as hosts for the two-night event featuring award-winning chefs from around the country. I went to the event on Saturday, which brought James Beard Foundation Award winners Hubert Keller and Jonathan Waxman together with rising stars Kristen Kish, Michael Voltaggio and Richard Blais to create a memorable dinner around the resort's mirror fountain. Mixologist Manny Hinojosa selected wine pairings and created cocktails with Cazadores tequila.
While the event gave us a chance to watch the chefs at work and (sort of) talk story, it was an opportunity for the chefs to see what Hawaii has to offer. Ryan and Michael of the Grand Wailea introduced their chef guests to the unique seasonal ingredients found around the state and our style of cuisine so they could create something distinctively local. Each chef introduced their dish and the inspiration behind it, told us personal stories of experiences in cooking and with the James Beard Foundation, and gave us a glimpse of how they work in the kitchen.
The James Beard Foundation is a national not-for-profit 501(c)(3) organization based in New York City. Different chefs are featured in each city on the Celebrity Chef tour; to see the schedule, click here.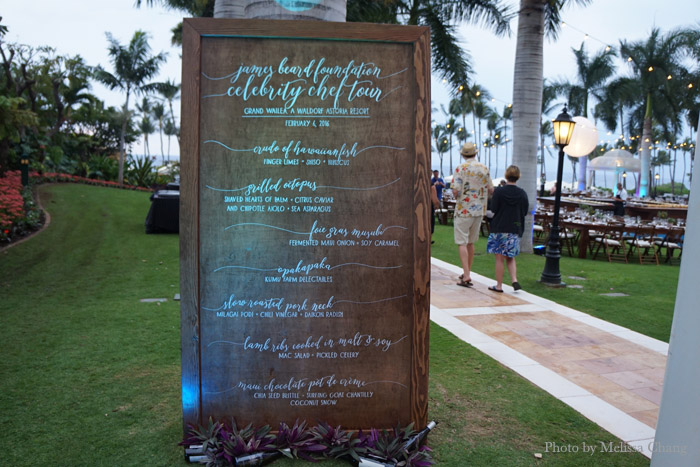 The menu for the evening.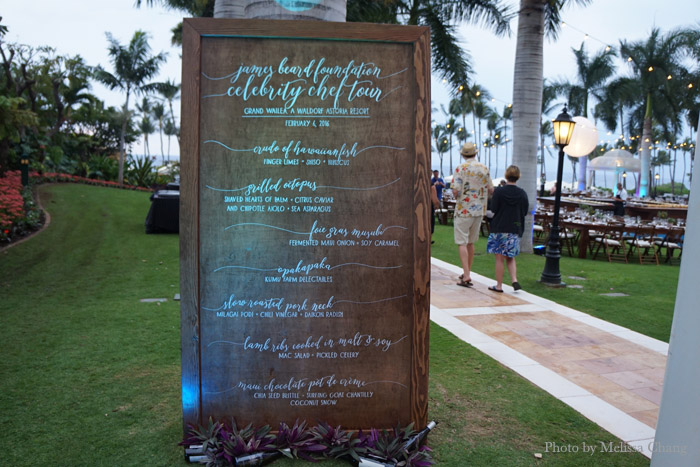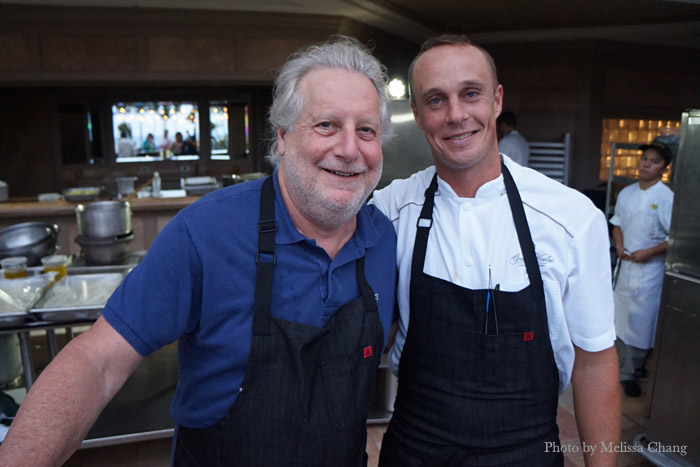 Chefs Jonathan Waxman and Michael Lofaro.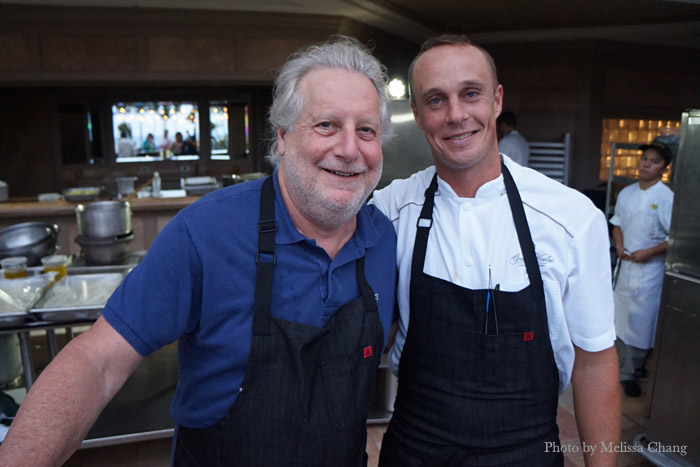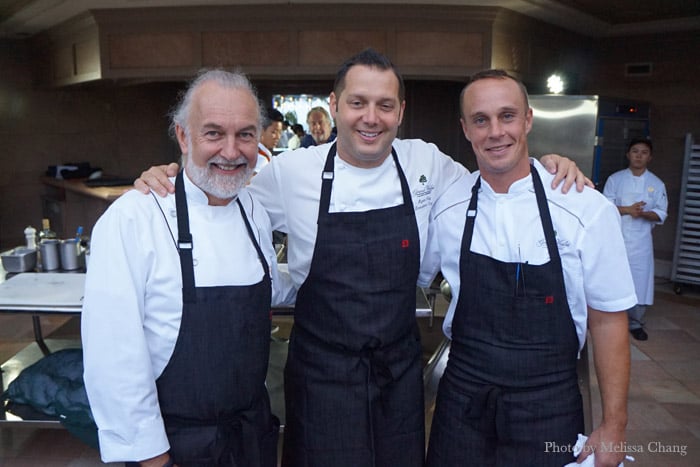 Chefs Hubert Keller, Ryan Urig and Michael Lofaro.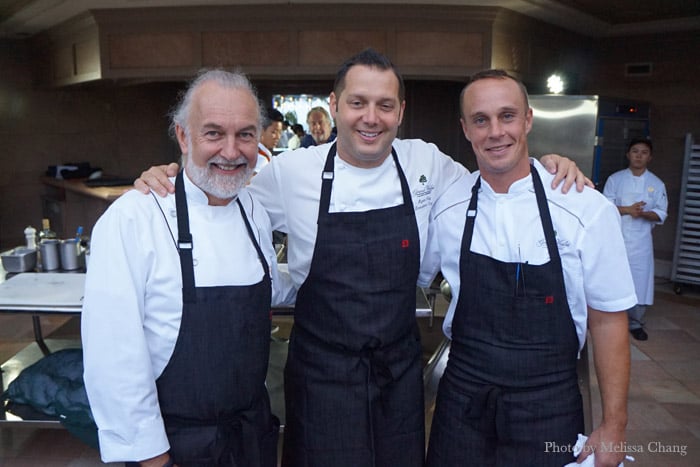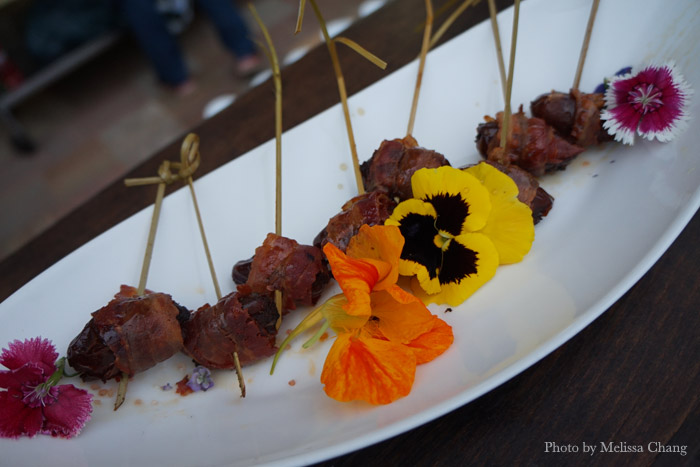 One of the passed appetizers of the evening, Devils on Horseback.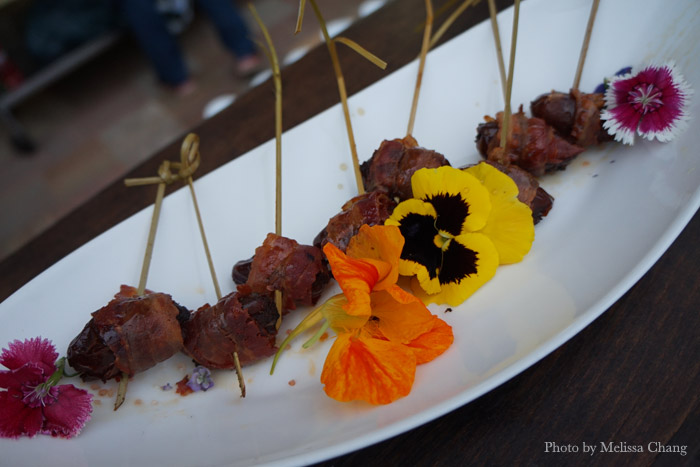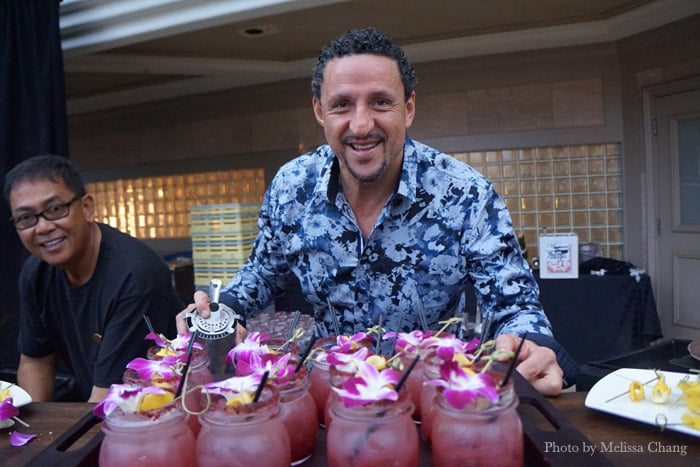 Mixologist Manny Hinojosa from San Francisco, of Tequila Cazadores and Tequila Corzo. He made a beautiful cocktail of Cazadores tequila, reduced pomegranate, spices, and some other secret ingredients.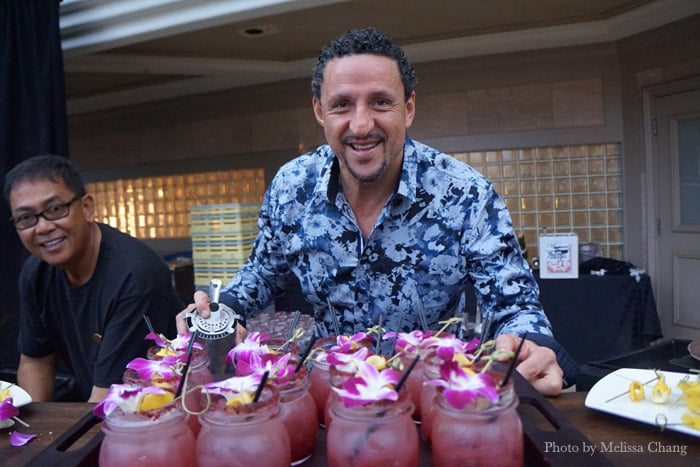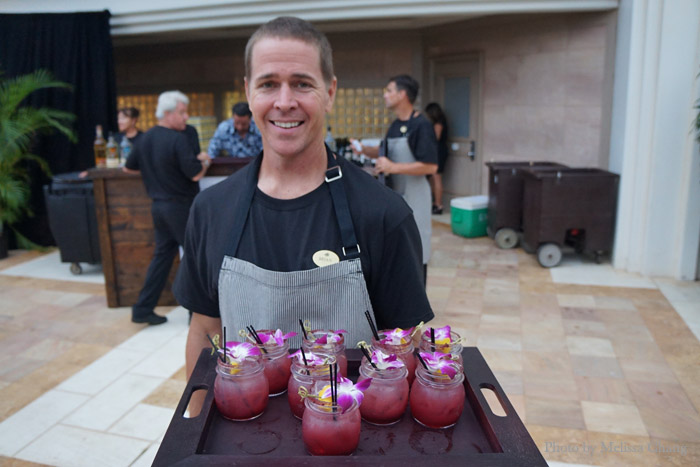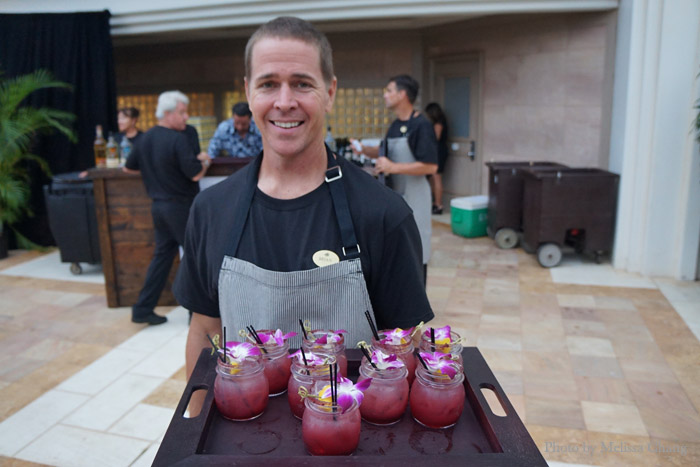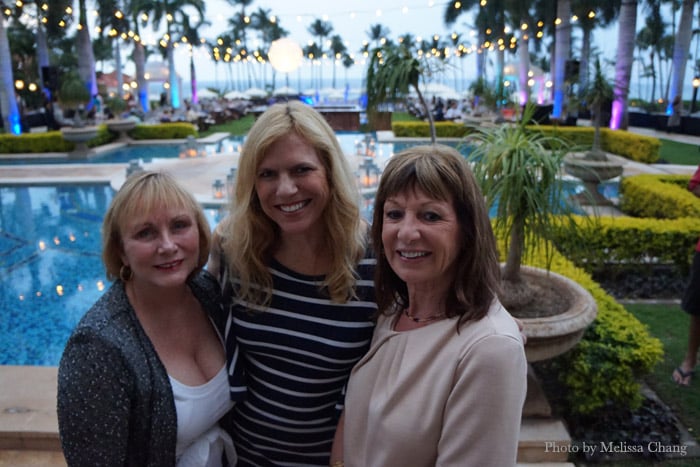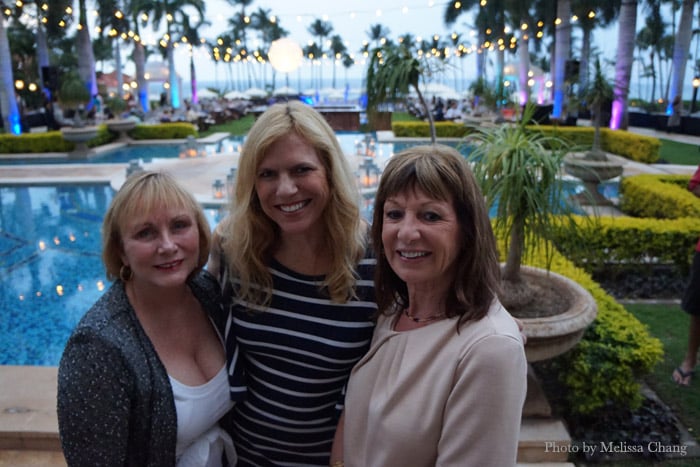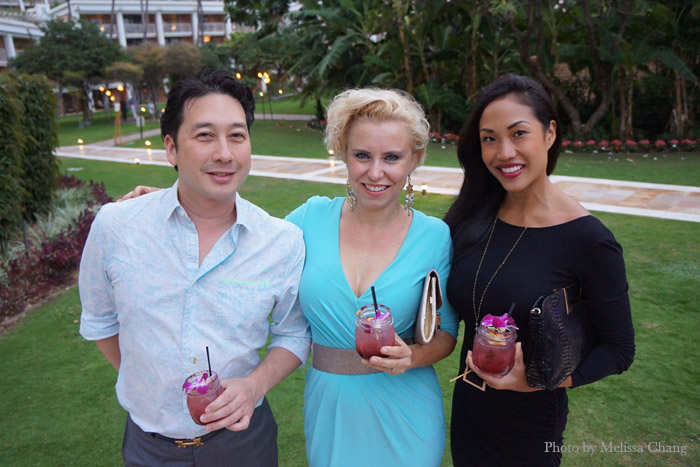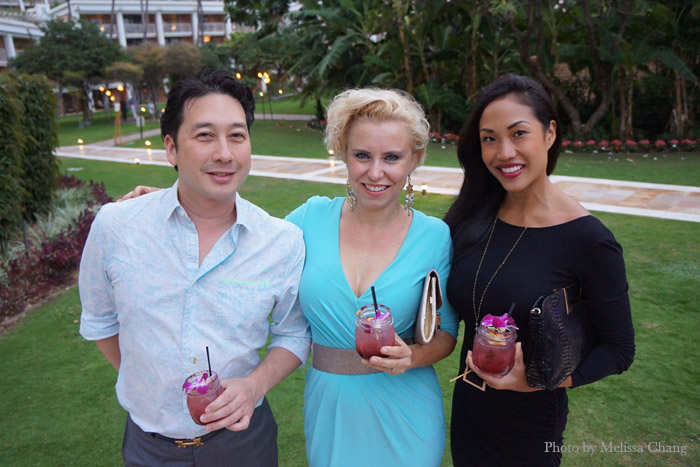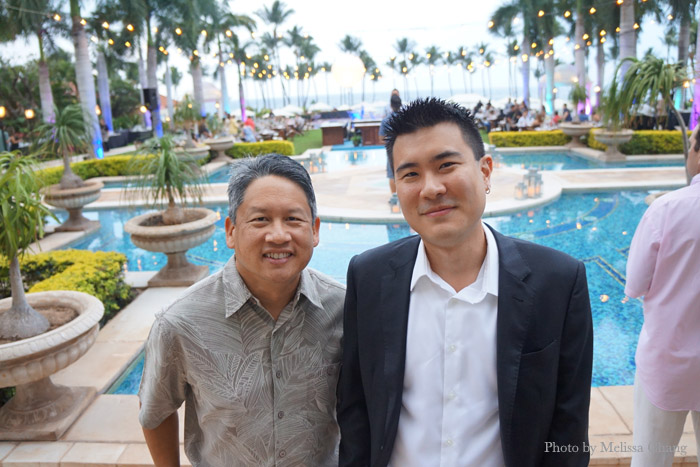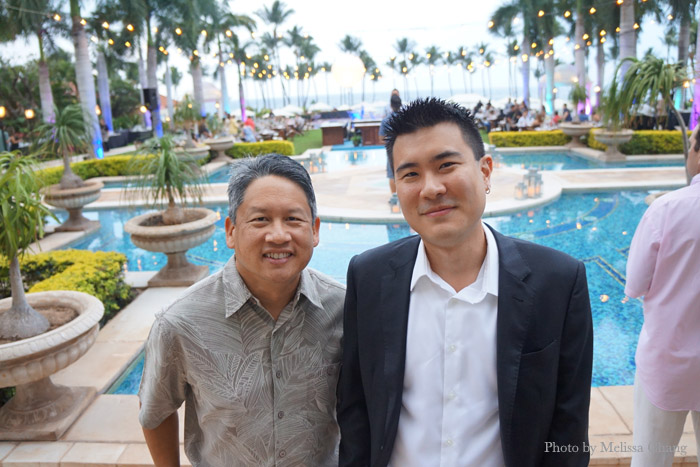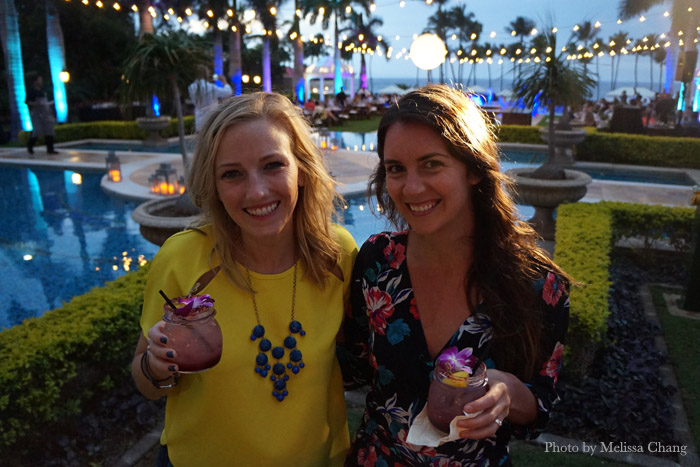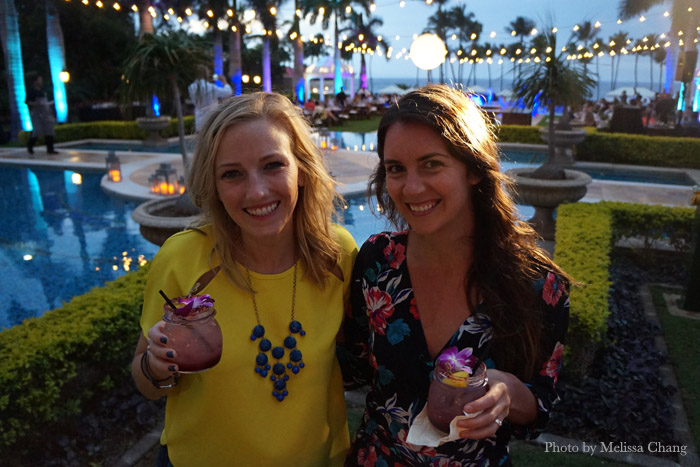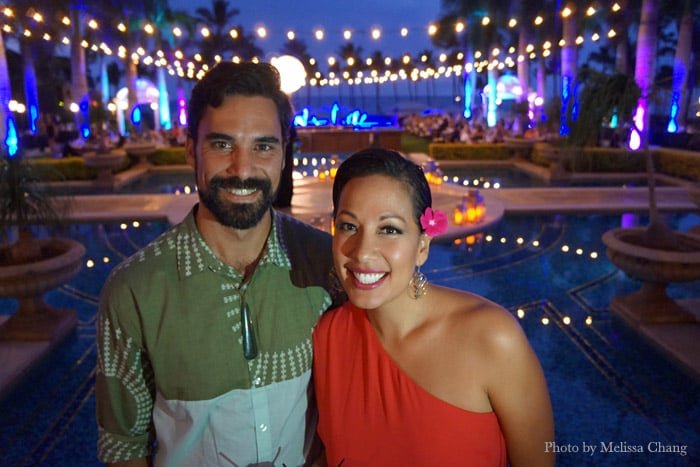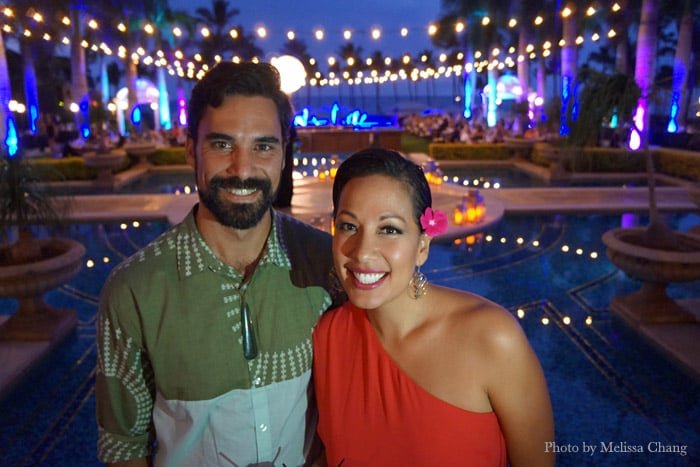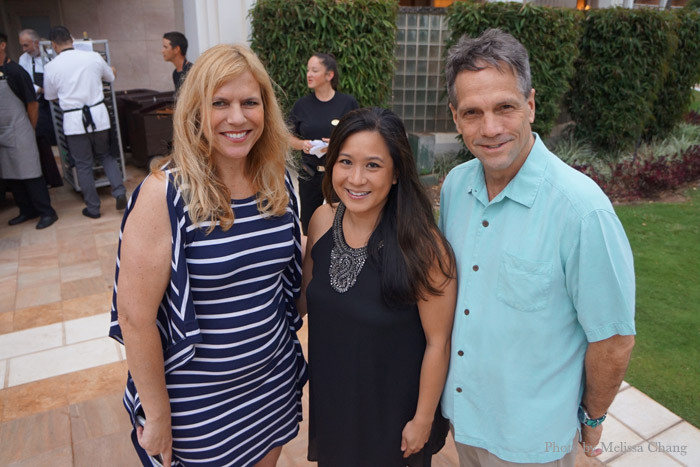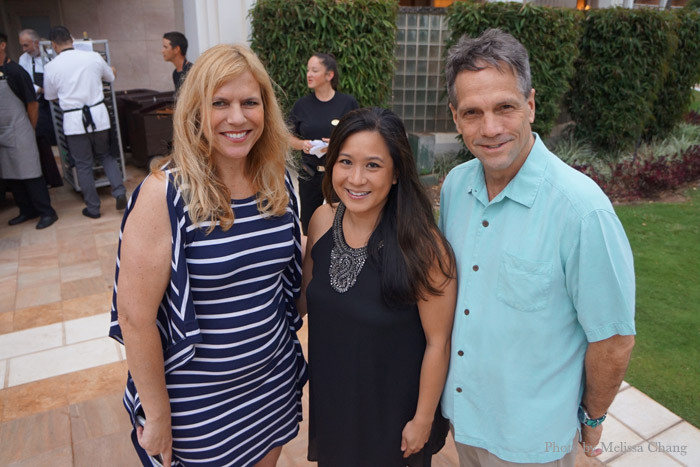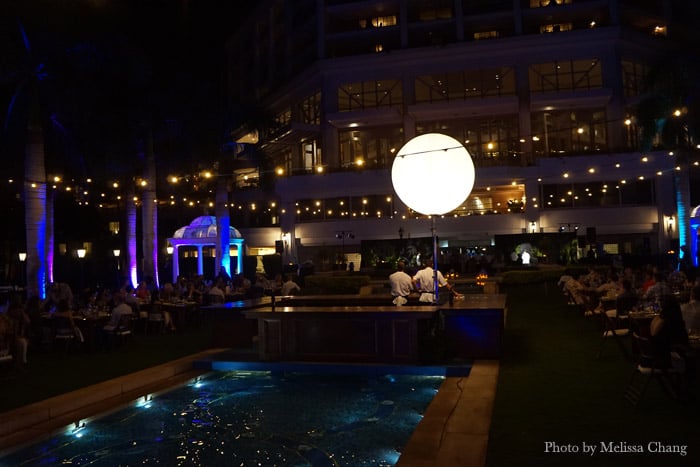 The setting: open-air seating around the Grand Wailea's signature mirror fountain.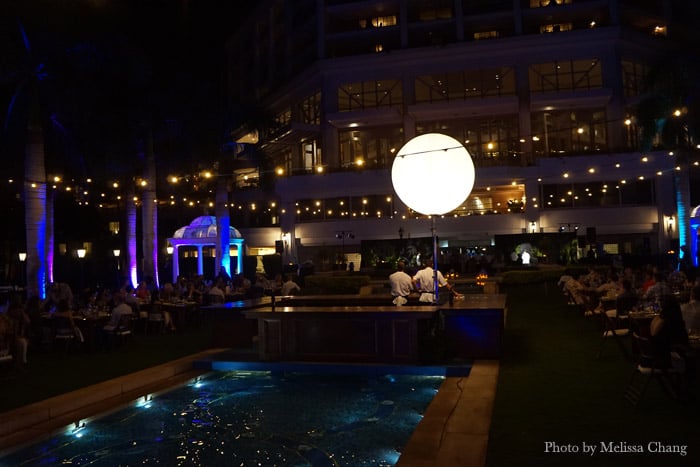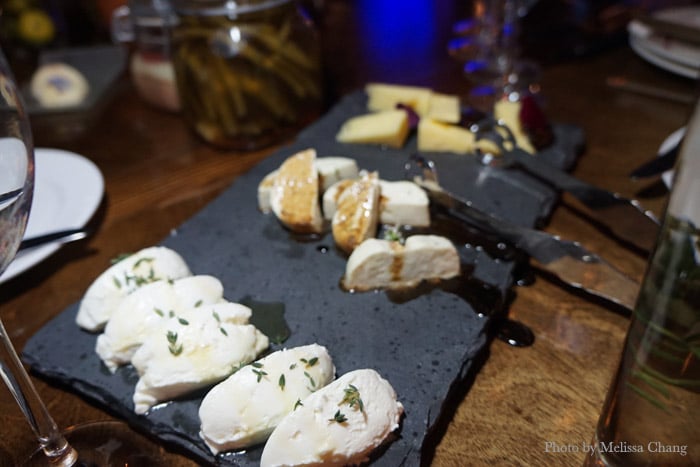 Sadly, this was the only photo I was able to get of the various small bites around the table. We had cheeses, breads, pate with strawberry guava compote, pickled green beans, and more.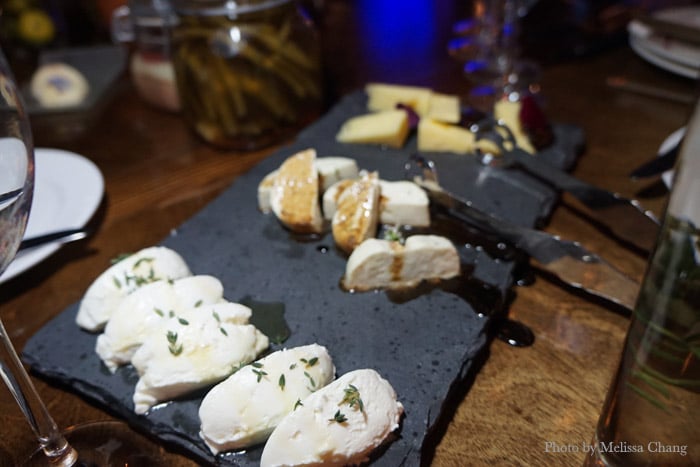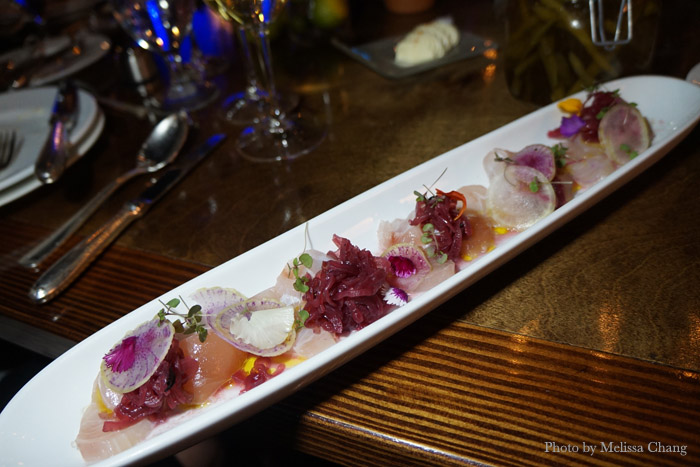 Ryan Urig started us off with a crudo of Hawaiian fish, served with finger limes, shiso, hibiscus, radishes and pickled onions.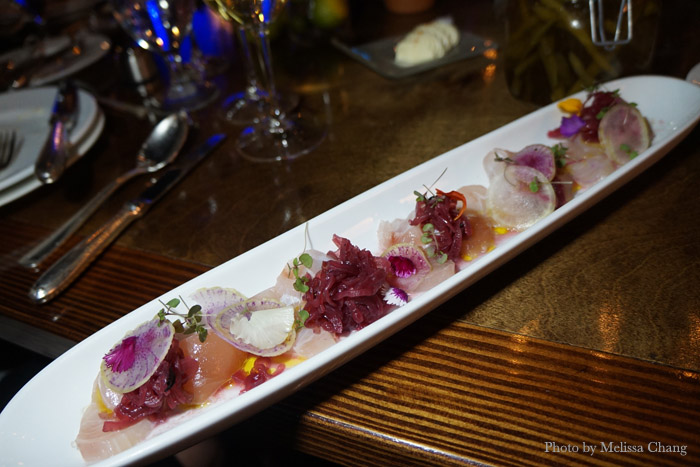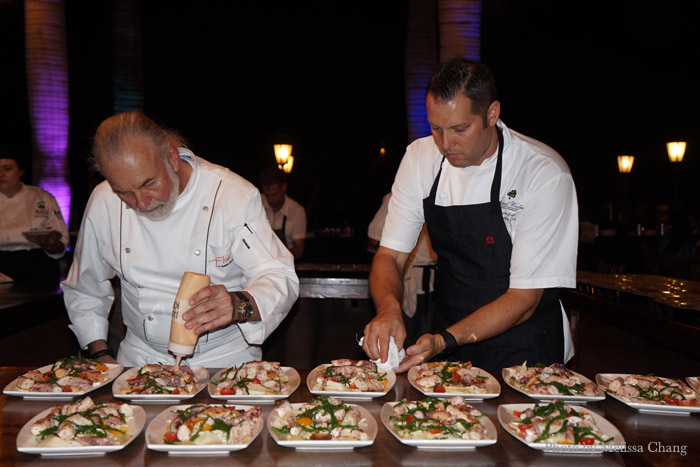 Ryan Urig plating with Hubert Keller.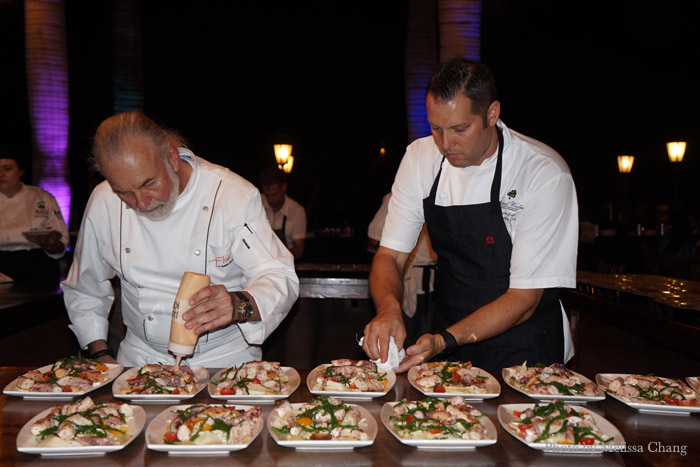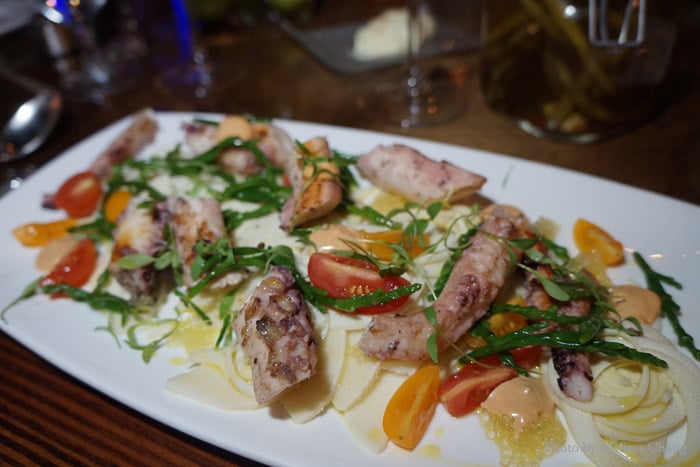 Hubert Keller's grilled octopus with shaved hearts of Big Island palm, citrus caviar, sea asparagus and chipotle aioli.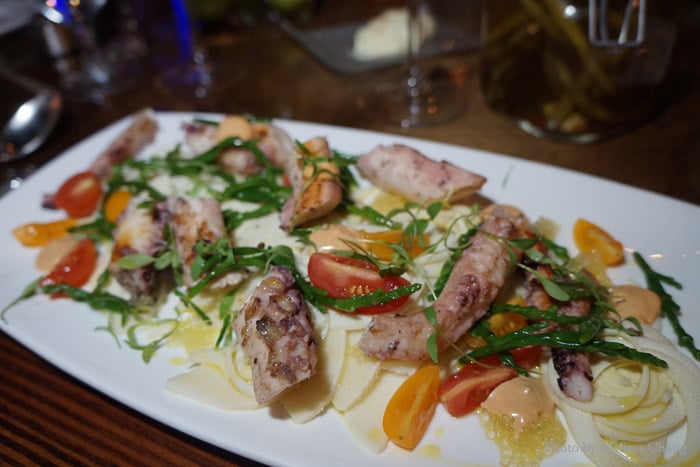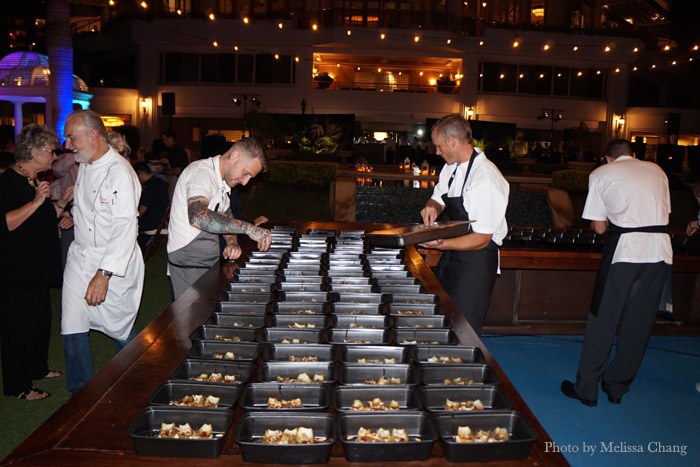 Michael Voltaggio went to a Maui 7-Eleven to get inspiration for his dish, which was served in plastic bento boxes for local flair.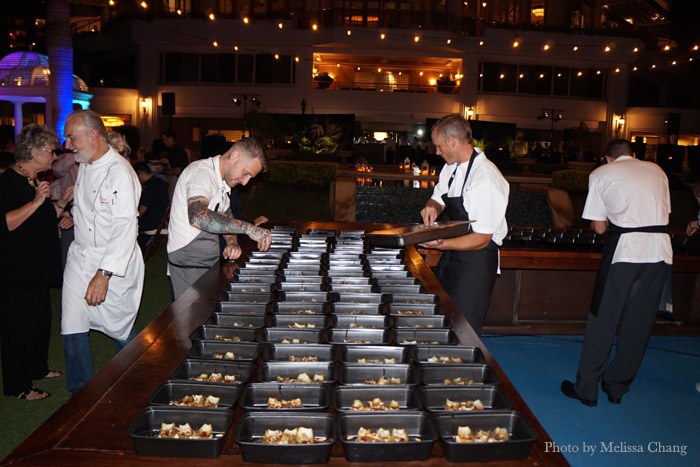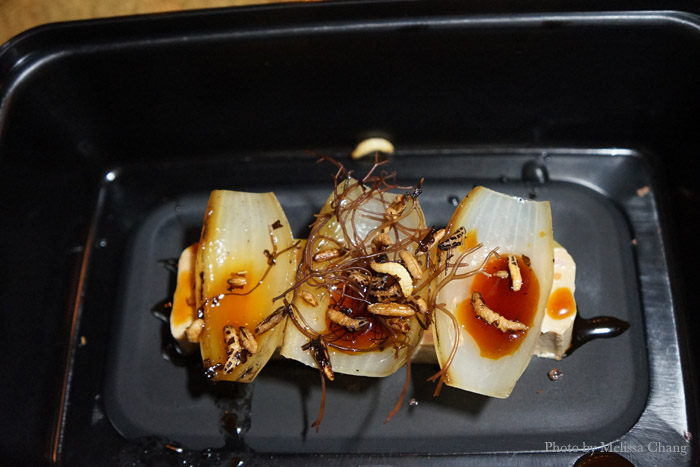 Michael Voltaggio's foie gras "musubi," slices of foie topped with fermented Maui onion, soy caramel, and ogo. Instead of regular rice, he sprinkled it with puffed rice.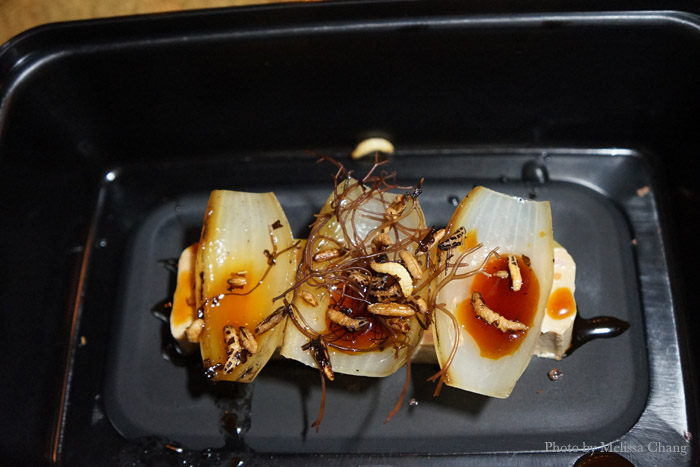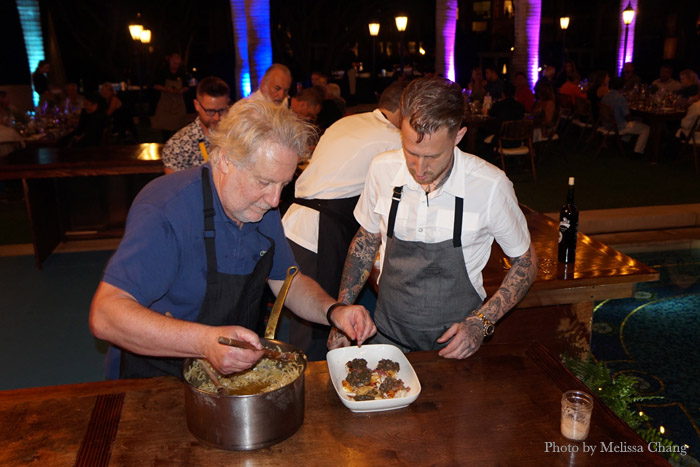 Jonathan Waxman, who actually knew James Beard, showing Michael Voltaggio how to plate his dish.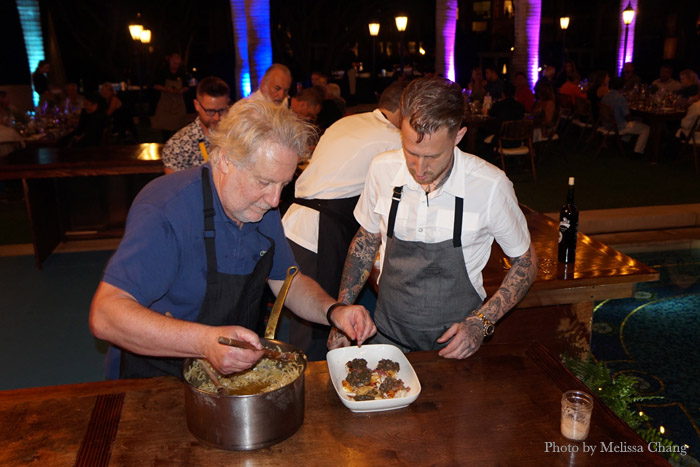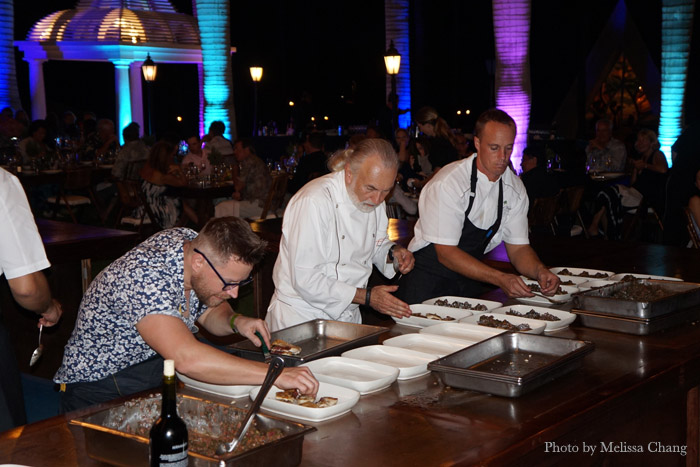 All chefs got on board with plating each dish, similar to the all-star assembly line we see at the Hawaii Food & Wine Festival.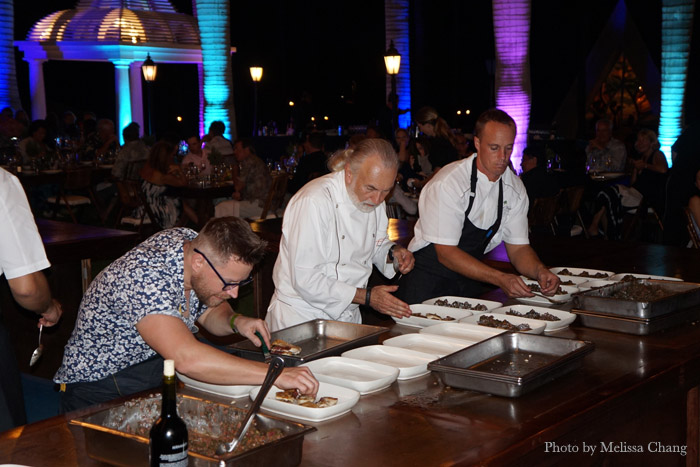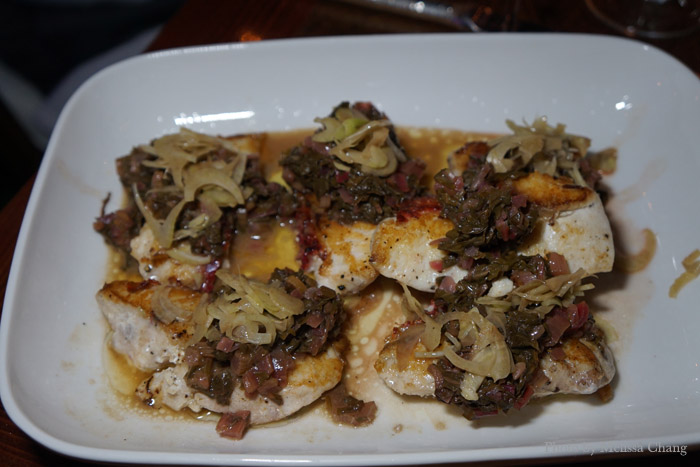 Jonathan Waxman's grilled opakapaka with various vegetables from Kumu Farm.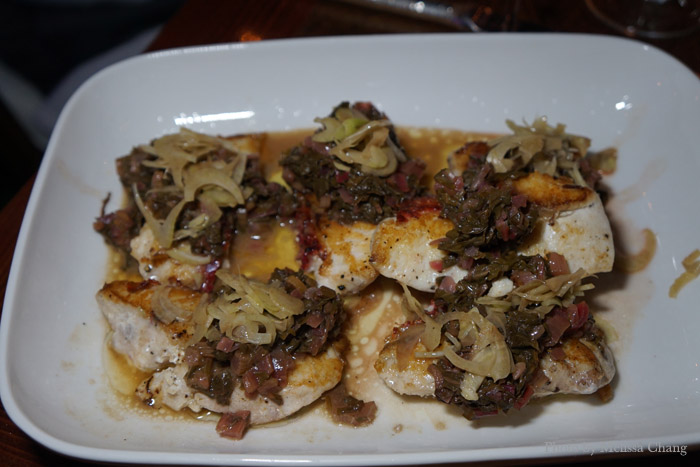 At this point, although we had wine pairings for each course, Manny Hinojosa worked the crowd with his tequila and offered "Mexican chardonnay."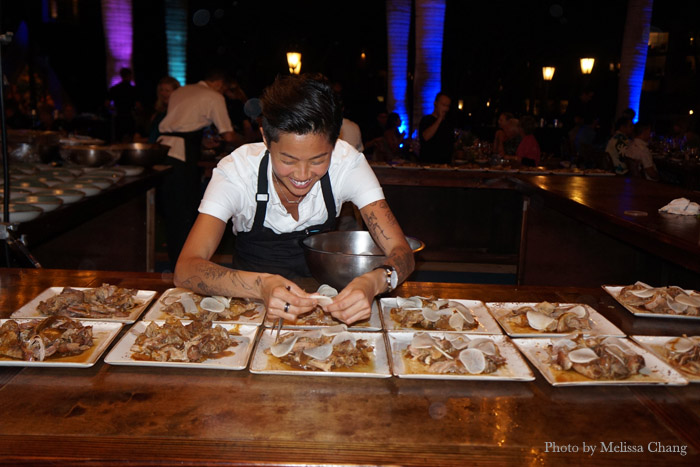 Another Top Chef favorite: Kristen Kish from Minnesota.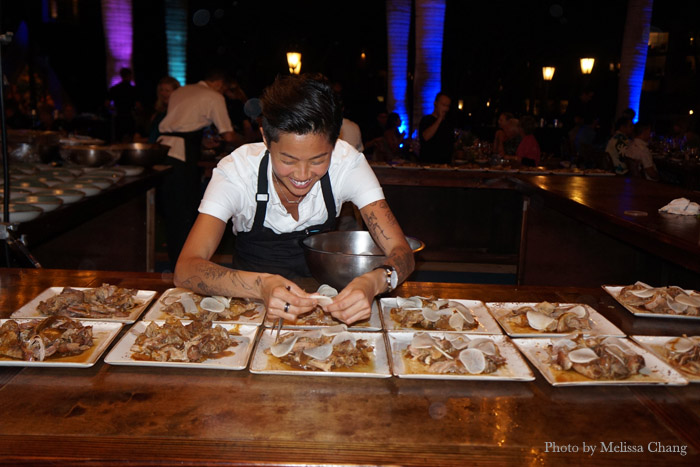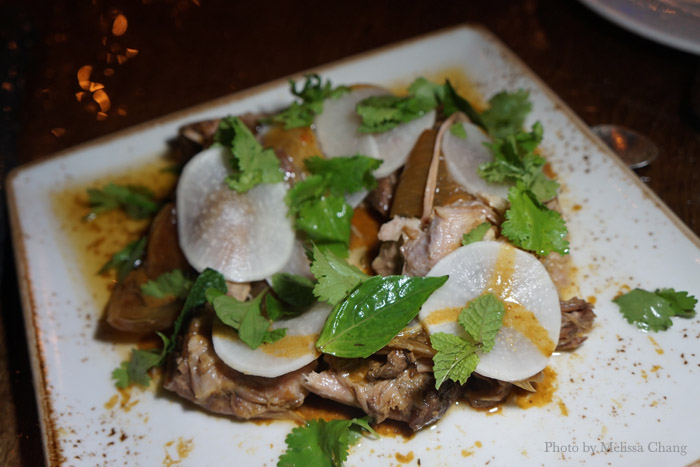 Kristen Kish's slow-roasted pork neck with milagai podi, chili vinegar, daikon and herbs.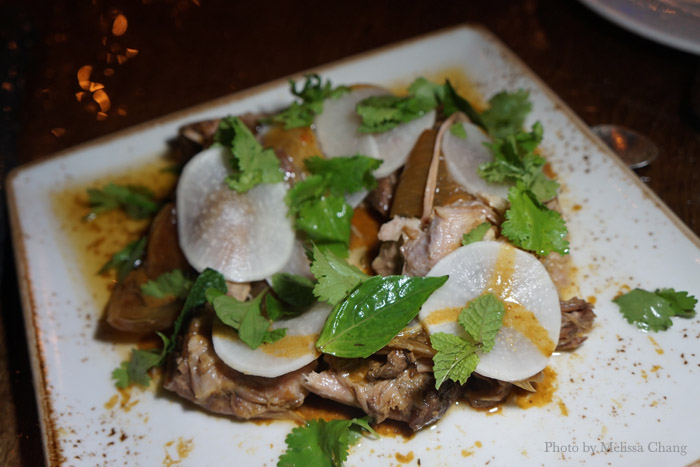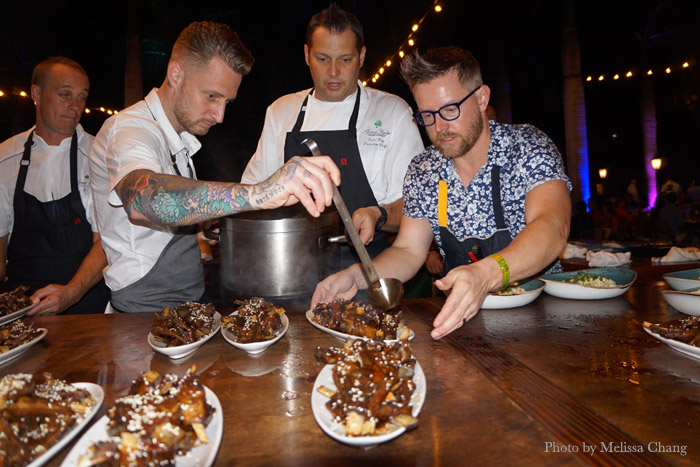 Richard Blais getting assistance from Michael Lofaro, Michael Voltaggio and Ryan Urig in plating his Niihau lamb ribs and macaroni salad.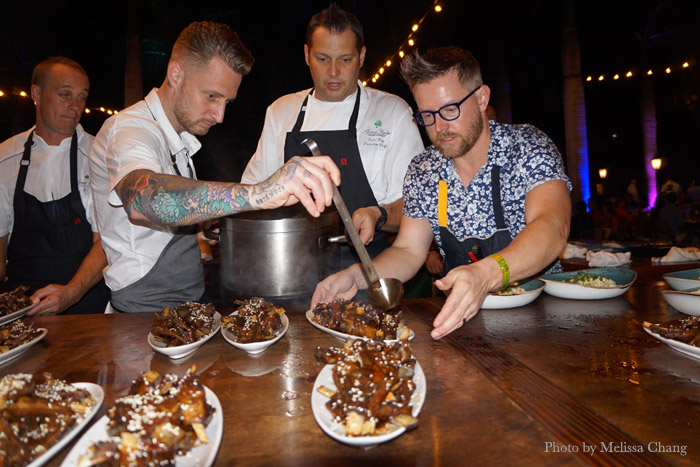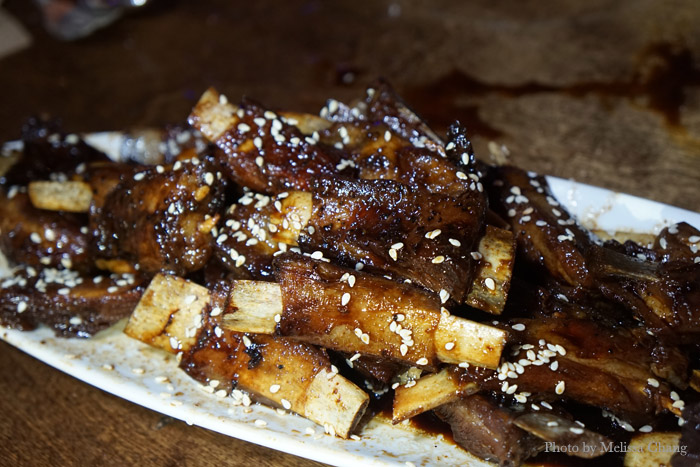 Richard Blais' Niihau lamb ribs cooked in malt and soy. Not shown: macaroni salad tossed with pickled celery and uni mayonnaise, which was being passed from table to table.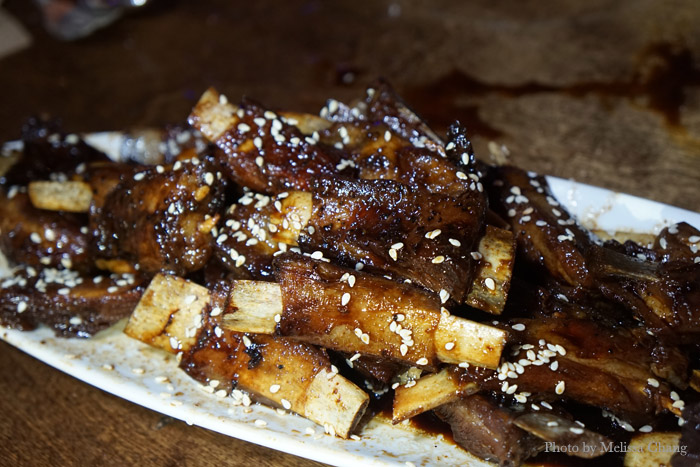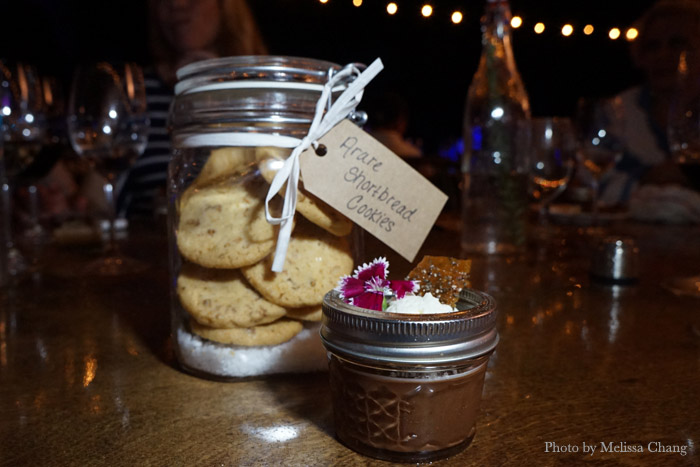 Maui chocolate pot de creme with chia seed brittle, Surfing Goat Dairy chantilly, and coconut snow. This was served with a jar of kakimochi shortbread cookies, which I should have stolen.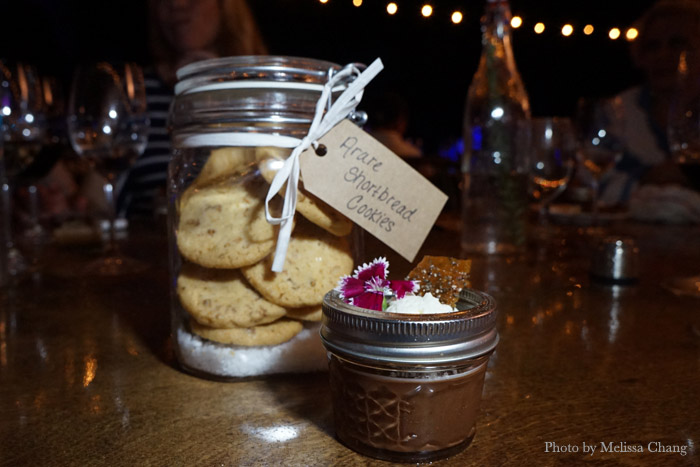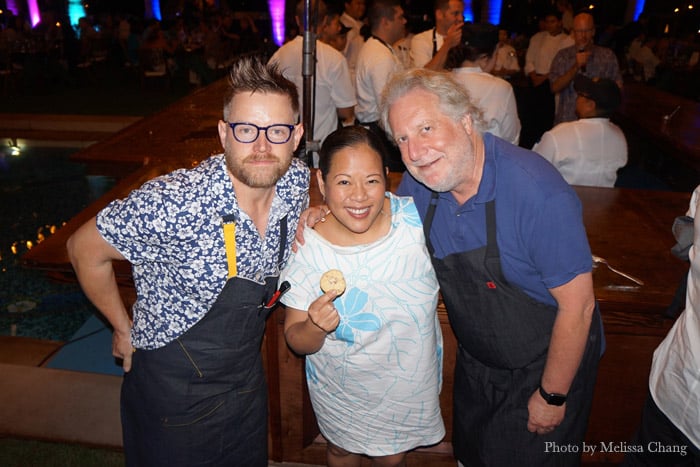 Lee Anne Wong tried to steal the cookies, too! Reunited here with her friends Richard Blais and Jonathan Waxman.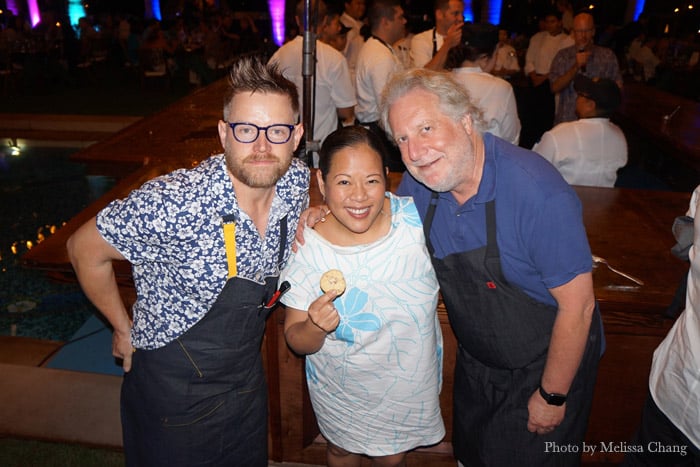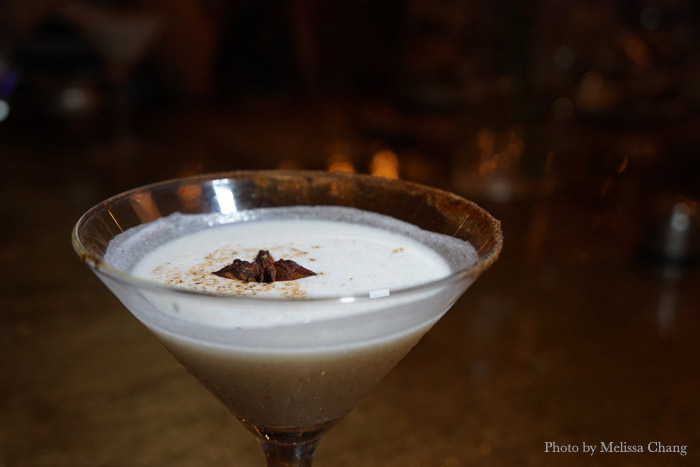 Manny Hinojosa created a tequila dessert drink to finish, sprinkled with star anise.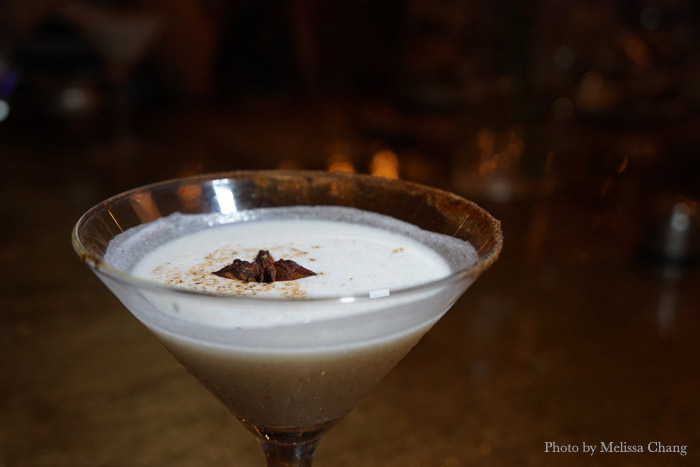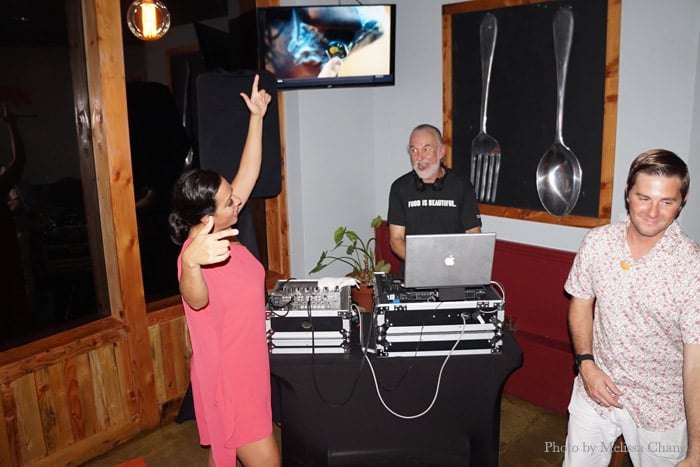 The festivities continued with an after-party at Cow Pig Bun, where Hubert Keller showed us his DJ skills.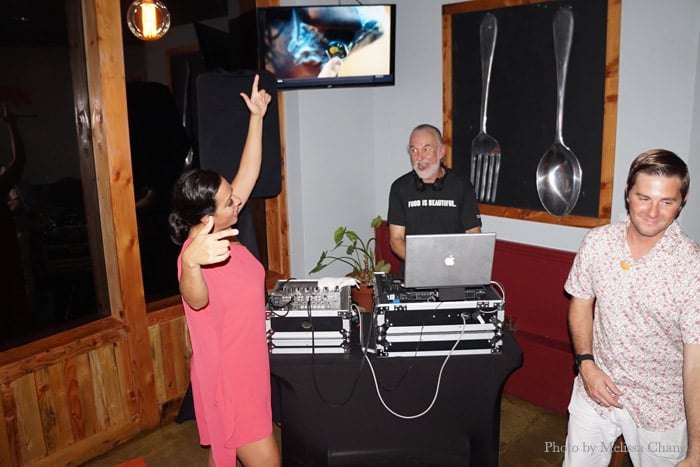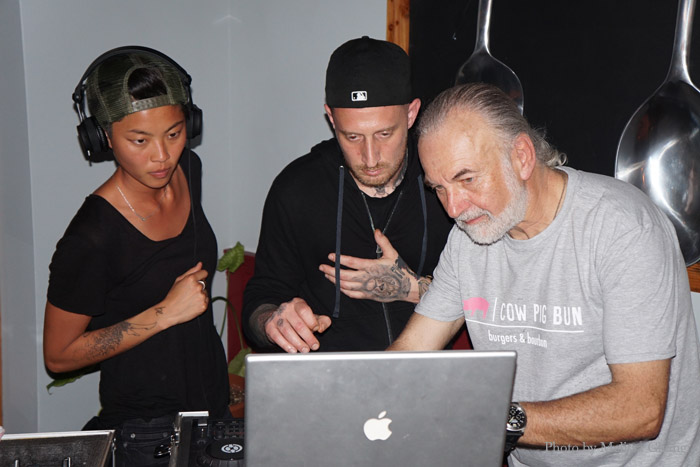 Toward the end of the night, he taught Kristen Kish and Michael Voltaggio how to DJ for the first time. The cutest moment was when Hubert walked away to leave them on their own, and they immediately needed help. Every chef has to start somewhere, right?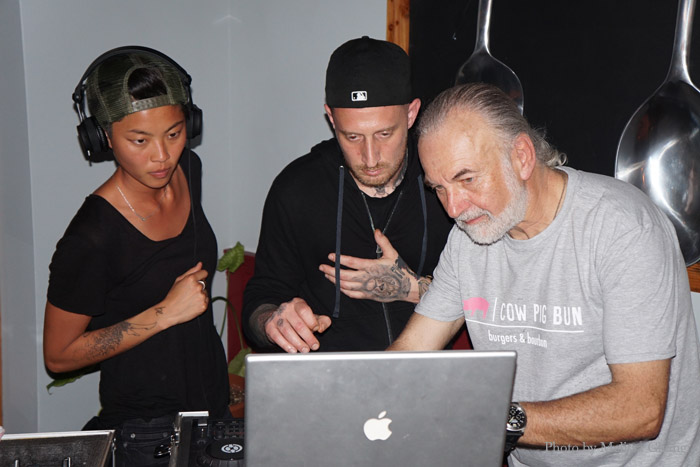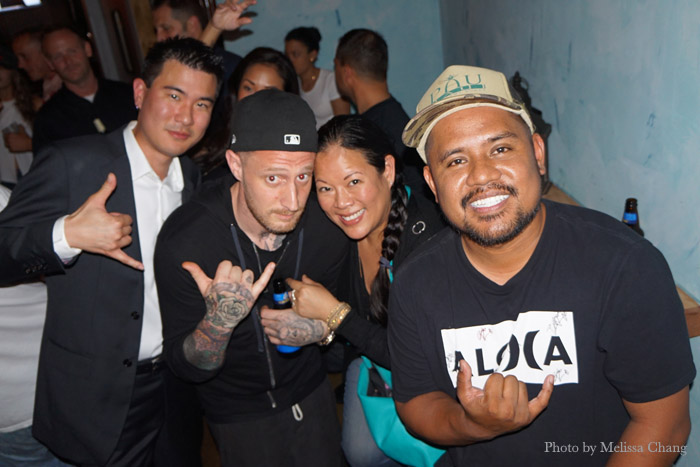 Sheldon Simeon stopped by to try to get people to take an excursion to Haleakala to watch the sun rise.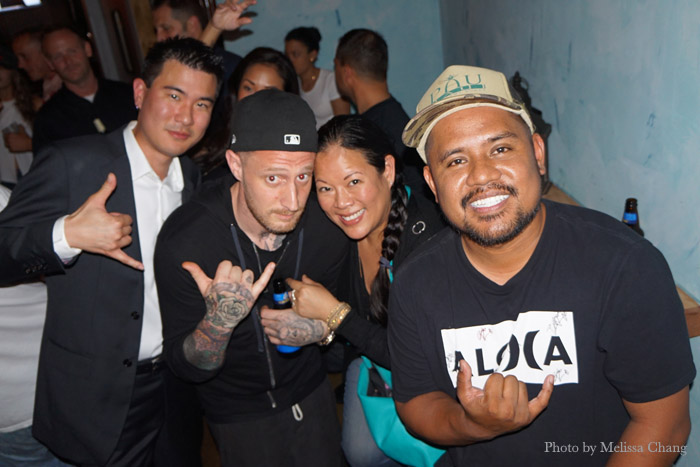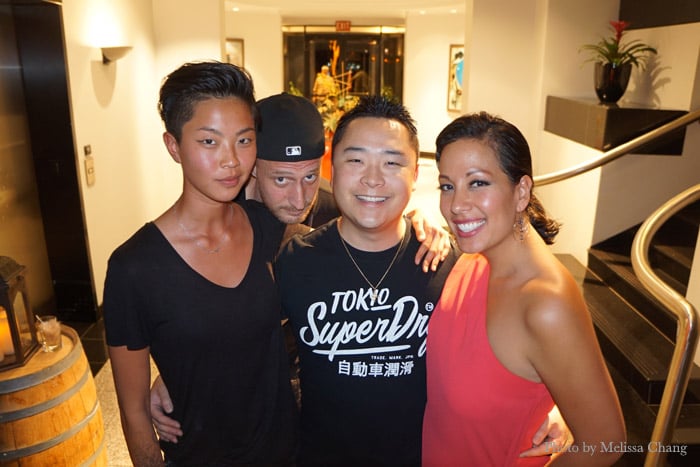 Kevin Fujinaga and Olena Heu getting their fanboy and fangirl excitement on with Kristen Kish and Michael Voltaggio.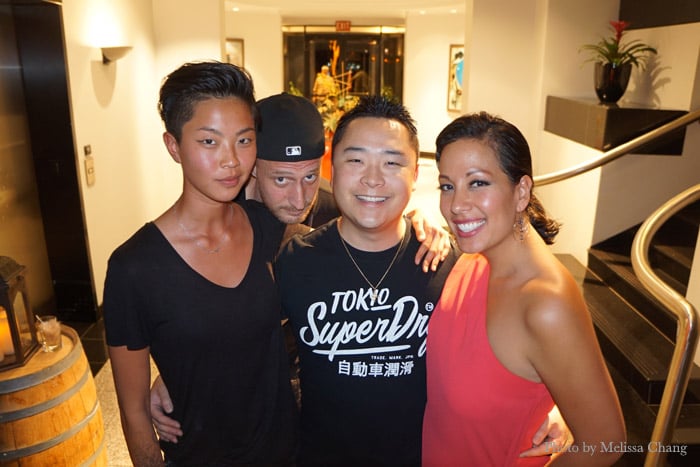 Mahalo to Yvonne Landavazo Biegel for flying me over and hosting me at the Grand Wailea!