Did this: An evening with Osteria Di Passignano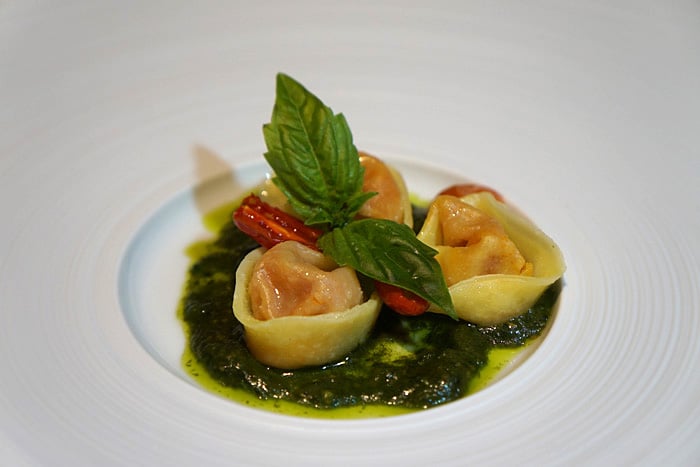 It's not every day you get to taste what a Michelin-star chef can do, especially in Hawaii. The Halekulani Hotel brought in Michelin star chef Nicola Damiani and his sous chef Nearco Boninsegni from Osteria Di Passignano, a restaurant just outside Florence, Italy, for a special dinner in their Hau Terrace last Friday. (In a more casual setting, this would be called a pop-up.)
It's not just that Damiani and Bonsegnini are exceptional chefs; the Antinori family, a famous dynasty in Italy known for their wines, owns the vineyards around the Osteria Di Passignano and its Abbey, from which the Chianti Classico Reserve wine "Badia a Passignano" is produced. With 600 years of winemaking under their belts, it's only natural that they would own an exquisite restaurant, as well. While Vikram Garg was executive chef at Halekulani, he met Damiani and was so enamored by his talent that he arranged for him to come to Hawaii to do this special event with Southern Wine & Spirits.
The cacciucco soup is another version of cioppino, but here it was simple, subtle, and very gentle on the taste buds. This was probably one of my favorite dishes, not just because of its sweet, springtime flavor, but because of the brilliant cuttlefish "noodles." They take fresh cuttlefish, sous vide at 55 degrees Celsius (about 131 degrees Fahrenheit), freeze it, then shave the frozen block into razor-thin noodles. The Halekulani has a similar dish, but their cuttlefish strips are a little thicker and more like curling ribbon. Damiani's "noodles" were so thin and tender, I could cut them easily with a spoon.
This was served with a Tenuta Guado Al Tasso, Vermentino Bolgheri D.O.C. 2014. The color was almost clear, and the taste was as light as it looked. It resembled a sauvignon blanc in flavor, but not as boldly grassy, so it went well with the seafood without overpowering it.
Another favorite was the gnocchi. I like tender gnocchi, but this one was so soft, it dissolved in my mouth. Damiani said he had his first taste of gnocchi when he was five, and if you grow up with the right technique, it stays with you. The chefs didn't have to bring any outside ingredients to make this; it was simply their skill that made their dumplings so great. The squid and clams were very tender, and with the clam-based broth, this dish was filled with rich, savory bites.
It was paired perfectly with a Castello Della Sala, Cervaro Della Sala 2012 (100 percent Chardonnay grapes). In contrast to the first wine, this was golden, and had a bolder flavor that made the lemon in the gnocchi pop with bigger brightness in our mouths.
Tomatoes and basil, how can you go wrong? Especially when the tomatoes are super sweet and in these fresh pillows of pasta. The chefs showed me a video of how they made these — very quickly, like making won ton, but they could make various shapes, even little rosettes.
This was paired with the Antinori's Badia a Passignano Chianti Classico D.O.C.G. "Gran Selezione" 2009, which was very smooth (I know that's not a chianti term) with light, fruity notes. It was actually a little too easy to drink — no food pairing was really needed for it.
I was a little alarmed at how rare the veal was, but it was still super tender, with the fattiness of the meat contrasting well with the more acidic peppers and eggplant. This was actually a very nice play on contrasting textures, as well.
This was paired with two wines: Tenuta Guado Al Tasso Bolgheri 2010, and Marchesi Antinomy Solaia 2012. Both paired nicely with the veal, but in different ways. The Tenuta Guado was more subtle, letting the veal and vegetables shine through. The Solaia was bolder, taking the lead in each bite and making the meat be the contrasting element. Well, for me, anyway.
Clafoutis is a French dessert, interestingly enough, baked with fruits in a thick batter so the filling becomes a cross between pudding and pound cake. This was perfect as it wasn't too sugary (even with the candy veil), but still imparted the essence of a sweet ending to the meal. You can see the wine pairing in the background, the Tenuta Marchesi Antinomy, Vinsanto Del Chianti Classico D.O.C. 2010. Although the dessert was good, I could have left it for seconds on the Vinsanto! I loved the intense flavor, with a pronounced sweetness but not at all cloying.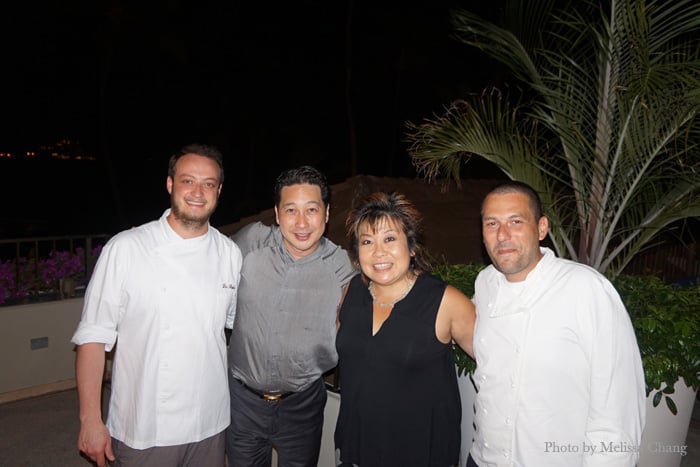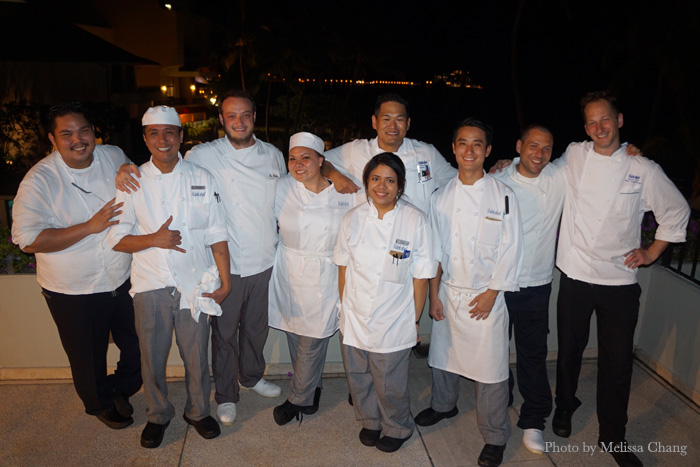 In the top photo with my foodie friend Sean Morris, chefs Nerco Boninsegni (left) and Nicola Damiani. The bottom photo shows the kitchen crew at the end of the night. Mahalo to everyone who made this amazing dinner happen!
One last note, to show how things have come full circle: I had the honor of reconnecting with Mr. and Mrs. Nathan Tran, who own Cream Pot in Waikiki. My very first review for Metromix was of Cream Pot (don't worry, it was good overall), back when I used a $200 Casio camera and the photos on our website were 250 pixels wide because we were focused on text. They pointed out that it was eight years ago! I haven't been back, simply because there have been so many restaurants to try since then. I guess it's time to revisit. Stay tuned.