DesignU does it up with a new approach to fashion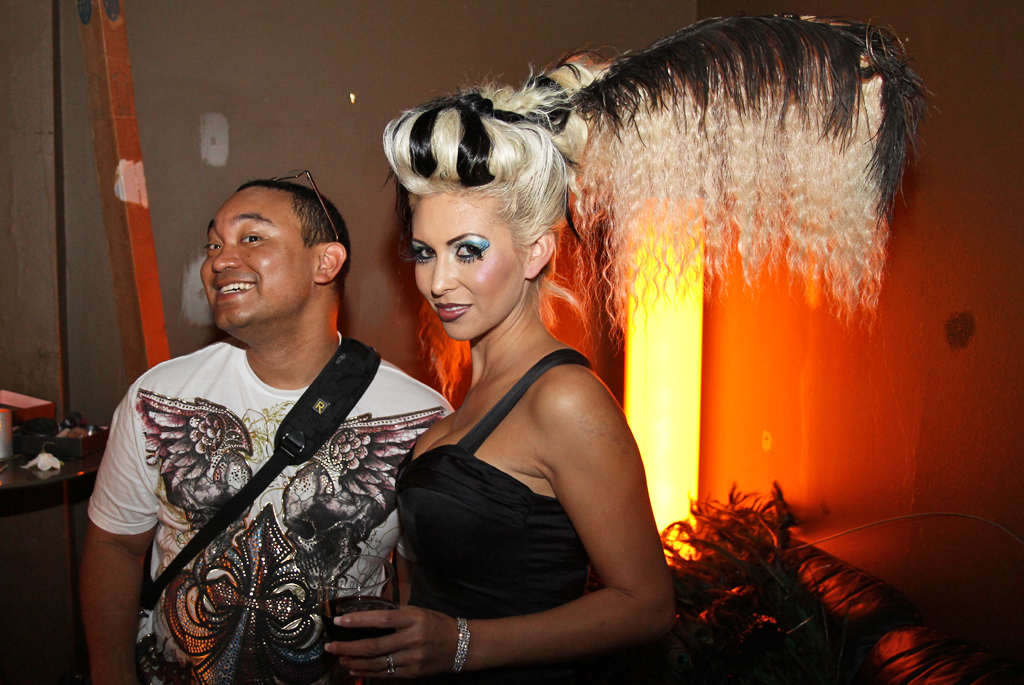 Another nightclub fashion show? Big deal, right? Well, actually, there are a few things different about this one. First, anyone can participate in the actual show (you do have to sign up beforehand). Also, although there's a monthly guiding theme, no style is too fantastical or flamboyant for this runway.
DesignU is the brainchild of Showdown in Chinatown promoter and emcee Cyrina Hadad and photographer Ikaika Arnado, two of the local fashion scene's most outgoing,enthusiastic and interesting characters. The monthly fashion show (every third Friday at Bar 35's Fashion Couture Fridays), is modeled after the Showdown in Chinatown concept of a networking event and showcase. There's also a competitive element to the shows. Entries will be judged, and one team from each night chosen to display their work at a final showcase. The finalists will also get the chance to participate in a show during Hawaii Fashion Week.
Last month's event was the trial run, and after the great turnout and amazing costumes on the runway, DesignU's promoters are buckling down for the long haul and planning great things, including this month's Harajuku-themed event.
I got a chance to sit down with Cyrina and Ikaika over some pupu at Brasserie du Vin. Here's what they said about the DesignU concept, changing the face of fashion and what's next for the local scene.
Friday Fashion Couture & DesignU Fashion Show at Bar 35
Friday, Feb. 18 at 9 p.m. (Visit the DesignU Facebook group for more information and to enter the show)
—
How did the concept of DesignU start, and what's your goal with it?
Cyrina: Well, originally, DesignU came from the fact that I've been asked to do a lot of nightclub fashion shows. Bar 35 asked me to… organize a night for them. Ikaika and I want to educate people as to what fashion really is. Fashion isn't just a designer or a label, fashion is a motivation of the heart. I really enjoyed Ikaika's eccentricity and enthusiasm, and it was so easy to collaborate with him.
It's based on the Showdown in Chinatown thought process, taking the formula of Showdown in Chinatown and applying it to fashion. With Showdown, the mission is to strengthen and unify the film industry and community. The mission behind DesignU and Friday Couture is to bring together the fashion industry.
Ikaika: We want people to come with their vision. That's what I like about art; it's not only about technical skills, it's also about creativity. I think right now there's a buzz in the Hawaii fashion scene, and it's a great time for people to get out there. We're trying to get people to work on a higher level, too. If we can get the best designers, the best makeup artists, the best photographers together… our hope is to get something good going, not only for us, but for everybody.
Can somebody who's completely uninvolved or has no experience with the fashion scene enter?
C: Absolutely! That's the whole point of it. The door is wide open, and we want people to open up to the art director inside themselves. This is an outlet for people who have always wanted to try working with this industry. It's not a runway to be scared of, it's a platform for people to increase their creativity.
Are there team requirements, like number of people to a team?
I: No, there's no team requirement. We're trying to encourage teamwork, but (for the first one) people entered on their own and did an amazing job on themselves, or met someone at the event to help them.
What's the purpose of the monthly theme?
C: The theme is to encourage peoples' creativity, but it's also very open to interpretation. At every event we'll announce the next theme, and also post it online, and people will have a month to think about it and then show off their work.
How will entries be judged?
C: It's not going to be judged on a point system like Showdown in Chinatown. It's going to be judged by commentary, so we're going to bring people who are driving forces from the local fashion industry and ask them for their comments. We'll select a specific look to show off in the media as well. Our first one was kind of a trial. Ikaika and I were the judges for it, but the next one, I'm hoping to get Andy South and some other people.
Any last words?
C: Here's the idea with holding the event in Chinatown: Originally fashion meant a high-end, urban scene with lots of lights and stuff, but Chinatown to me is like the meat packing district in New York. I think DesignU and Friday Couture need to start in Chinatown, because this is where people want the fashion hub to be. With all the cool little boutiques and such, there's so much potential.
We want to see peoples' creativity grow. We both know so many people with so much talent here, and we want to show it off. I'm in this industry because I absolutely love to work with this talent, and Ikaika loves to photograph it. It's a win-win if we can show them off, help them out, and have fun and network.
—
See some pictures from last month's DesignU fashion show: