Deodorant review: TLDYEU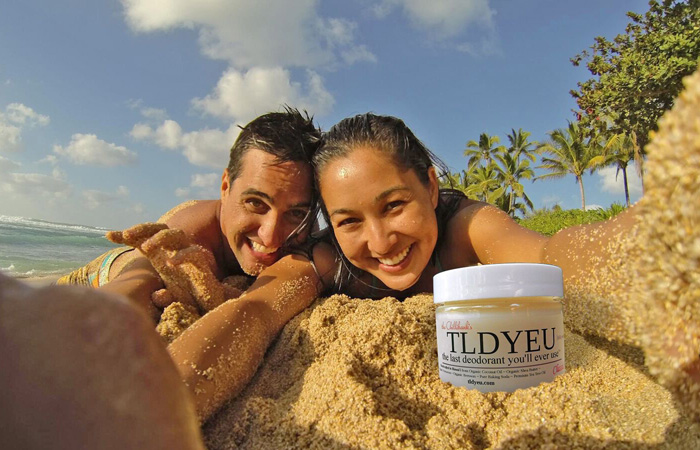 My family has some distinct genetic quirks, and unfortunately one of them is our body odor. It's kind of difficult to not be aromatic, since we live in Hawaii and love being active.
So on our recent trip, when my beautiful but pungent niece Ahnya was raving about a deodorant she was using, I paid attention. Her classmate, actress/model Jennifer Fairbank Chillingworth and husband Sam Chillingworth developed a natural and organic deodorant and named it TLDYEU (pronounced "told you," The Last Deodorant You'll Ever Use) made of a blend of tea tree oil, coconut oil, pure baking soda, arrowroot, beeswax and shea butter. Ahnya had been using it during her entire European adventure with good results.
I skeptically tried it one sunny day on our trip, and I was surprised that I didn't stink at the end of the day. So when I got home, I got a couple of samples to try with some of my active friends in different activities. For me, every day is a whiffy gamble. But I used it on days I worked out, went walking, covered events, etc., and especially on hot, sunny days. I also used it on my feet a couple of times. The upshot for me? It works. I love the smell of tea tree oil, too, so that is a plus. Out of the two times I used it on my feet, it only worked well once, but I'm not sure of the difference in conditions under which I tested it.
Pam Davis, who just started paddling season, has used it and loved the tea tree oil smell, as well. As far as she could tell, it worked for her, but she did develop some redness in her armpits (she isn't sure if it was the deodorant — she hopes not because she loves the smell). I was told that some people are allergic to baking soda, so that could be it; I also noticed some redness sometimes, but only on my left armpit. That's probably because I'm a weirdo. (Actually, I had just waxed my pits at the new European Wax Center in Pearl City, so that could have been part of it.)
Our Olena Heu tried it, but she actually doesn't have body odor. The only day she did smell herself was when she went from activity to activity all day without showering. I mean, that's a pretty good and intense test, but not typical of most people! She also lent it to her friend Biancha Yalung, who does have body odor, and like Jennifer and Sam, they spent a day hiking and smelling each other to be sure. That's dedication. Biancha loved TLDYEU.
The one drawback of TLDYEU is that you need to apply it with your fingers. Everyone kind of made a face over that concept, but once I started doing it I liked it because it allowed me to control the amount that I used.
Overall assessment? Like any other product, you won't get it to work on 100 percent of the population, but for the most part it works. I am addicted to the smell of tea tree oil, so that makes it even more attractive to me. It seems a little pricey at $12 to $15 for a five ounce jar, but it lasts a long time (thanks to your controlled application with fingers) — I think it lasted Ahnya the duration of her trip, which was about three months and change. And don't forget, it's natural and organic.
Most of all, though, it keeps me from being pungent. Guess what everyone in my family is getting for Christmas?
You can get TLDYEU online or at various stores around the state like Kokua Market, Kailua General Store, Celestial Natural Foods, Sweet Cane Cafe, Massage Studio, and Leilani Mālie Esthetics. It's also at Family Tree Nutritional Health & Wellness in Chippewa, WI.