Decoding Cancer
A genetics counselor talks about how she helps patients strategize to stay healthy.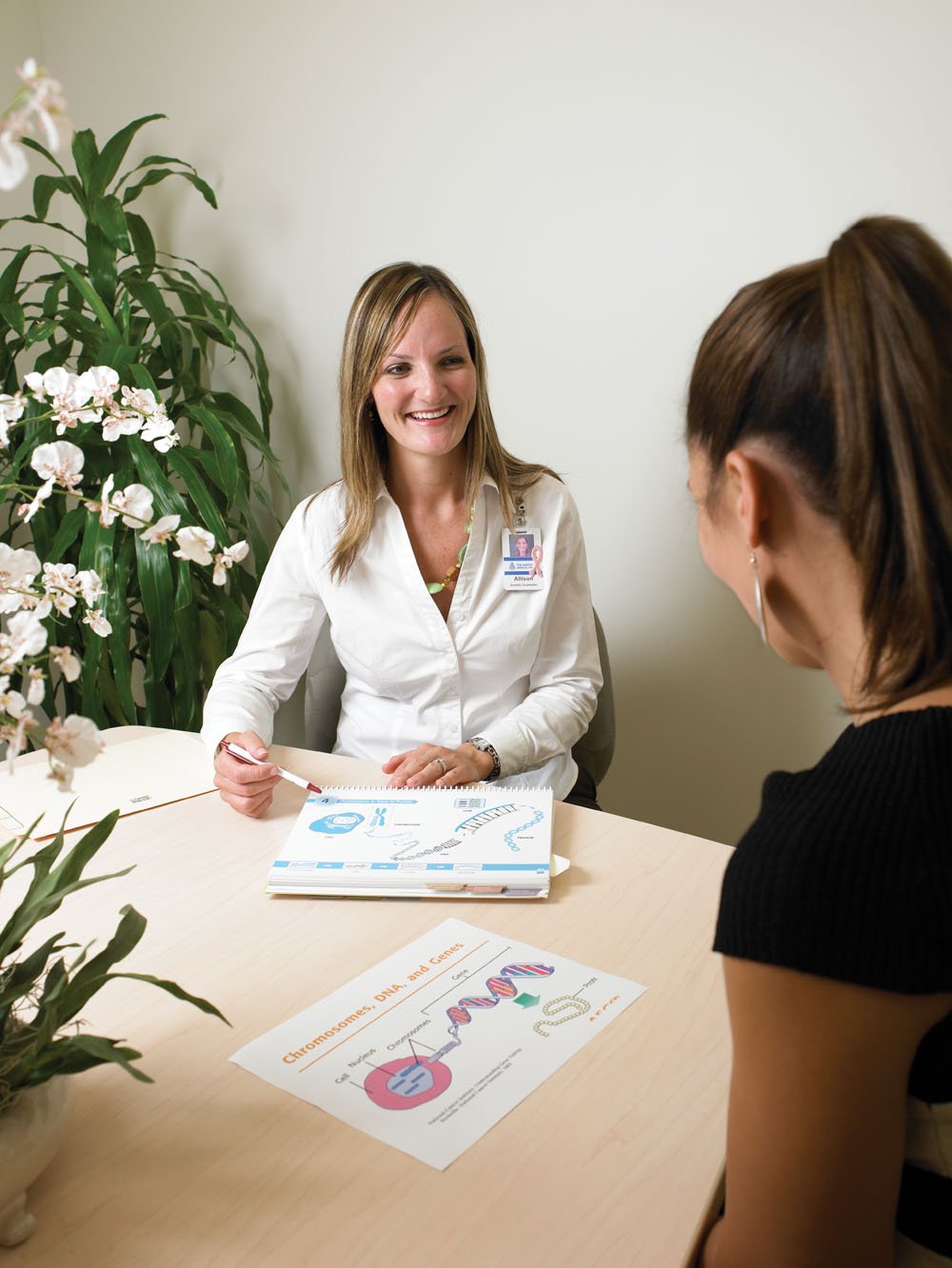 If you could take a test to find out your chances of developing cancer, would you want to know the results?
Allison Taylor Shykowski is well-versed in that kind of dilemma. She's one of two full-time genetic counselors at The Queen's Medical Center, working mainly with patients from the hospital's Women's Health Center and the new Queen's Cancer Center (see below).
Genetics counseling is best known for the role it plays in prenatal cases, but can predict adult-onset issues, too, such as cardiovascular disease and cancer. Most of Shykowski's patients have either been diagnosed with a disease, or had a family history of a disease.
About 10 percent of cancers have a hereditary cause; meaning there's a single, mutated gene that puts someone at a higher risk-sometimes, as much as 80 to 85 percent higher-of developing a specific kind of cancer. In about 30 percent of cancers, there's a familial link, which means more than one person in the family has a certain type of cancer, but it's not just one gene causing the problem, it's a combination of many genetic and environmental factors.
When she meets with a patient, Shykowksi starts by studying their medical records and family history. That can be tricky; relatives aren't always forthcoming with medical information. Or a person may have been adopted. "We do the best we can with the information the patient knows," Shykowski says.
"Not everybody wants to know [their risks], and they have the right not to know. Some people think genetic counseling equals genetic testing, but that's not the case."
If patients do want testing, blood samples are either analyzed at Queen's genetics lab, or FedExed out; some tests are so specialized, they are only done at one or two labs in North America. "You can't just 'test for cancer,' you have to test specific genes," says Shykowski. "In the future, we'll be able to test the full panel of genes."
Patients who learn they aren't at risk can be spared excessive testing-and worrying. But "even if someone is at a high risk, there are many, many things that can be done for prevention," says Shykowski. "People can also get screened earlier or more often, or with a different modality. For example, doing a breast MRI instead of a mammogram."
The most aggressive approach can involve difficult decisions, such as whether to do a pre-emptive removal of the breasts or ovaries. "We never push in any direction. We just try to provide the information," says Shykowski.
While much of the research has focused on genes and the role they play in breast and colorectal cancers, new research is centering on genetic links to prostate and stomach cancers.
"Genetics is always changing and expanding. Even if we don't have the answer for you right now, we might in a year or two."
For more information on Queen's genetics service, call 537-7633.
In November, The Queen's Cancer Center opened, and is expected to treat about 100 patients a day (Queen's sees 43 percent of Hawaii's cancer cases). The $6 million project includes new equipment, such as a TomoTherapy machine for radiation treatment, but also features a softer touch. A chemotherapy session can take one to six hours, "so we wanted to make it as comfortable as possible," says Darlena Chadwick, RN, vice president of patient care. Patients can receive chemo-therapy in a healing garden; take classes in nutrition or oncology yoga; sign up for massage therapy or acupuncture; and bring their families into the larger consult rooms. Chadwick also cites the navigator program, where a staff person guides a cancer patient through services, making appointments, arranging for transportation, helping file paperwork. "We don't see the cancer center as a department," says Chadwick. "It's a vision."