'Dear Thalia': Update on a film and a homeless family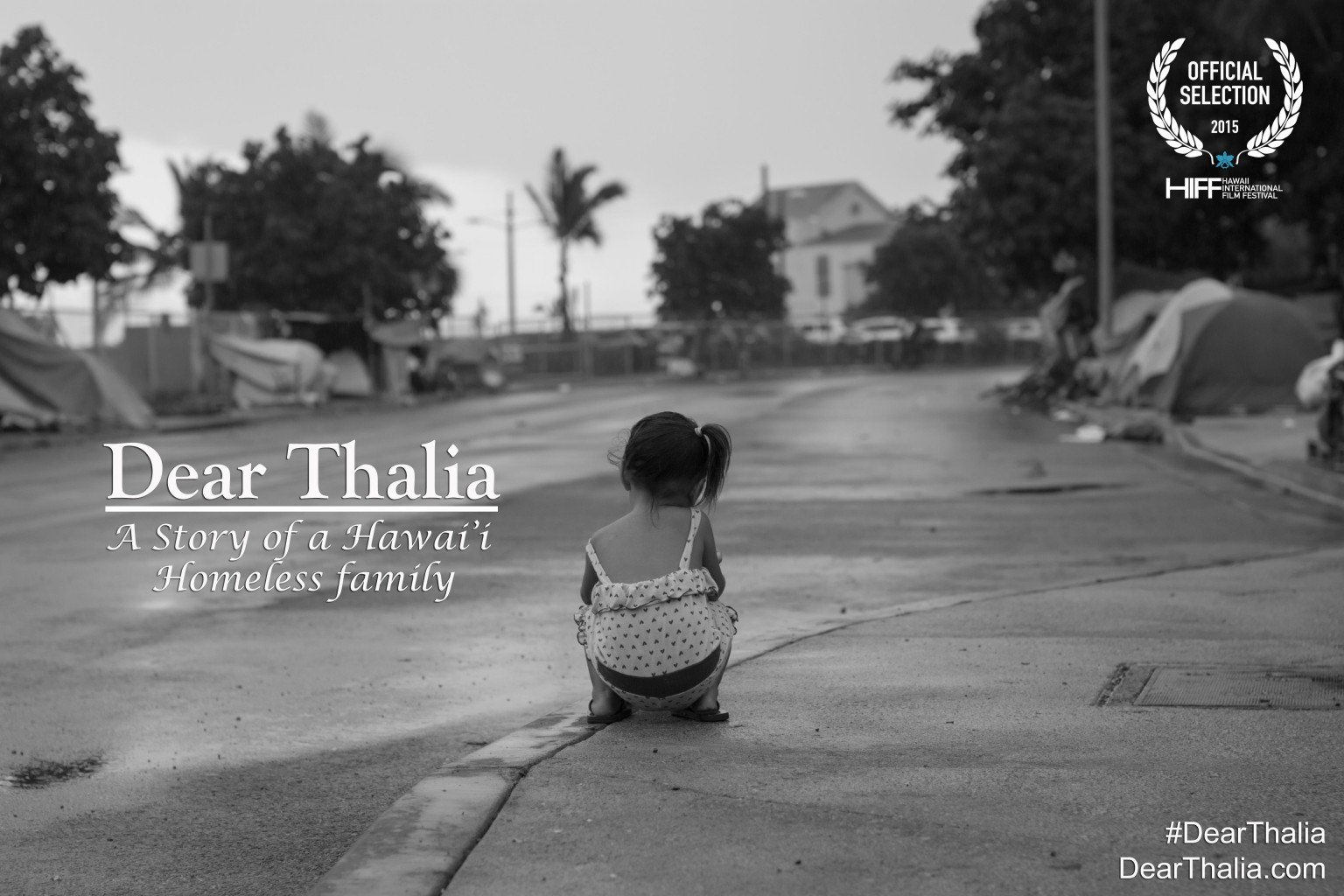 It's a story that has already touched many hearts. After my blog post in March about Dear Thalia: What it's really like to be homeless, local filmmaker Rex Moribe's documentary about a 3-year-old living in Kakaako, thousands of people shared Thalia's plight on Facebook. Now I have some updates.
First, there is good news. When Moribe launched his Kickstarter to fund the film, he had $1,500. Twenty-four hours after the post was published he had $7,000. "I gotta thank you, and all the Frolic Hawaii readers, huge for that. From that it exceeded $10,000, which is double the amount we asked for," Moribe said. "It led to a lot of promotions including a feature on KITV4 news. Also emails — people from different islands, countries, states showing interest. Now everyone is excited about the movie."
Moribe finished editing the film earlier in September and submitted it to several film festivals around the world. I was ecstatic to hear the Hawaii International Film Festival has selected the documentary for its Fall 2015 showcase. For Moribe, who is my high school classmate and a self-taught former pro body boarder turned guerrilla-style filmmaker, this is a dream come true. Not just because the film will show on the big screen, but also because he can share Thalia's story.
"This movie right here will literally put you in ground zero Kakaako and you will see what it is like to be homeless. This has never been done before. You've never seen what it's like inside the tent, at the shower, cooking dinner, after dark and when it rains."
When Moribe first met the Martins, a series of medical and employment setbacks had forced the family onto the streets. At the time there were 30 to 40 tents in the Kakaako area. Now there are more than 160. "I would never say I am an expert on homelessness, but this is more gnarly than I ever expected it to be," Moribe says. "There's a lot of confusion in the community because you don't always see local families on the streets. That's because they are hiding. You do see a lot of people from the mainland, fresh out of jail, mentally ill, some who have come to Hawaii for the benefits."
The Martin family remains homeless, but has not yet been affected by the city's sweeps of Kakaako's homeless camps. Thalia's dad Tracy cares for her while her mom, Tabatha, who was juggling two jobs, now works at one job. Moribe notes that Thalia, who just a few months ago didn't understand that her home was different, is starting to realize what it means to live on the streets.
The long-term goal is to get the family into a home they can afford. Moribe used all his savings and maxed out his credit cards to produce and edit "Dear Thalia." If the film sees a profit, Moribe wants to put the money into using it as an educational and awareness tool at schools, other film festivals, on tour and in churches. Money raised will also likely support local non-profits and homeless outreach organizations.
"Being in the film and being able to see ourselves express the hardships we endure daily from fellow locals, the visitors and even our own government officials constantly stereotyping the homeless as nuisances, brings an emotional feeling of sadness and disappointment at the lack of aloha our own birthplace of Oahu (known as the Aloha state) has for its kama'aina and especially for its keikis," Tabatha Martin says. "However, being a part of this film has been truly a blessing, and having people view the real life of a homeless family in Honolulu will hopefully change a lot of negative perceptions of homeless individuals.
"Everyone always thinks about changing the world," she says, "but no one ever thinks of changing themselves."
Dear Thalia: The Story of a Hawaii Homeless Family
78 minutes
HIFF
Oct. 19 HIFF ticket sales go public
Nov. 15 12:30 p.m. First showing and world premier; Martin family will be in attendance
Nov. 17 4 p.m. Second showing featuring a surprise guest
For more information and updates: www.dearthalia.com
Here's a new must-see 60 second teaser of the film: