Daylight Mind: A New Cafe, Bakery, Restaurant and Coffee School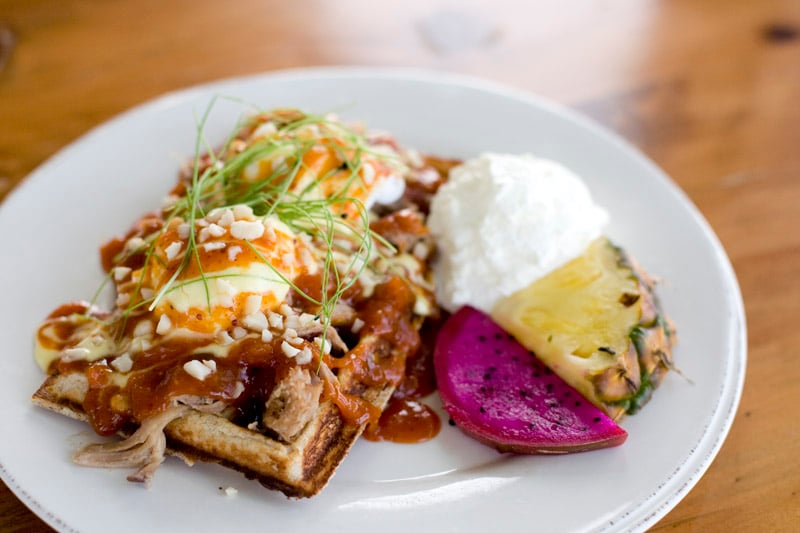 In this month's issue of HONOLULU, we dive into the Hawai'i world of coffee—the geeks, the farmers, the cafes. Research for the feature meant heading to Kona, Hawai'i's most famous coffee region, (although did you know that less than half of Hawai'i's coffee production comes from the Big Island?) to visit some of the farmers. The other main reason to go to Kona: Daylight Mind, a new cafe, restaurant, bakery and coffee school. One of the partners in Daylight Mind is Shawn Steiman, aka Dr. Coffee. So this isn't your usual cafe.
For one, you can take classes in cupping (how coffee experts evaluate coffee), coffee cherry processing and roasting. Or if you prefer to just skip to drinking, Daylight Mind offers a variety of Hawai'i coffees, such as a 100-percent Kona from Papa Kona, and a Waialua Estate coffee from O'ahu, prepared with your choice of brewing method. You can even order a flight of coffee pours. Where have you ever heard of a coffee flight? Welcome to the new world of coffee, tasted with all the gravitas of wine.
To make it even more geeky, it's brewed by centrifuge. Because "how else are you going to get one-ounce brews quickly and with no waste?" Steiman says. How else indeed?

Liliko'i opera cake (left) and coffee flight
But there's more than just coffee here. I ended up eating at Daylight Mind three times during my stay in Kona. Partly for the lānai which juts out over the ocean, partly for the food, and especially for the desserts. Daylight Mind recently started supplying Alaska Airlines' first-class cabin with its cakes. Can they also start flying them over to O'ahu? I especially love the liliko'i opera cake—sponge cake layered with liliko'i buttercream, dark chocolate ganache and finished with a liliko'i glaze.
For breakfast, if you're going all out, get The "Sam," a no-holds-barred concoction that's essentially an eggs Benedict on a waffle. With Kalua pig. And barbecue sauce.
There are pizzas and sandwiches for lunch, and dinner entrees include pork chops and a mushroom polenta. If you can't make room for any of that, then at least make time for a morning cup of coffee and pastry by the water.
75-5770 Ali'i Drive, Big Island, (808) 339-7824, daylightmind.com