Cutting Edge Sharpening: Where to Get Your Knives Sharpened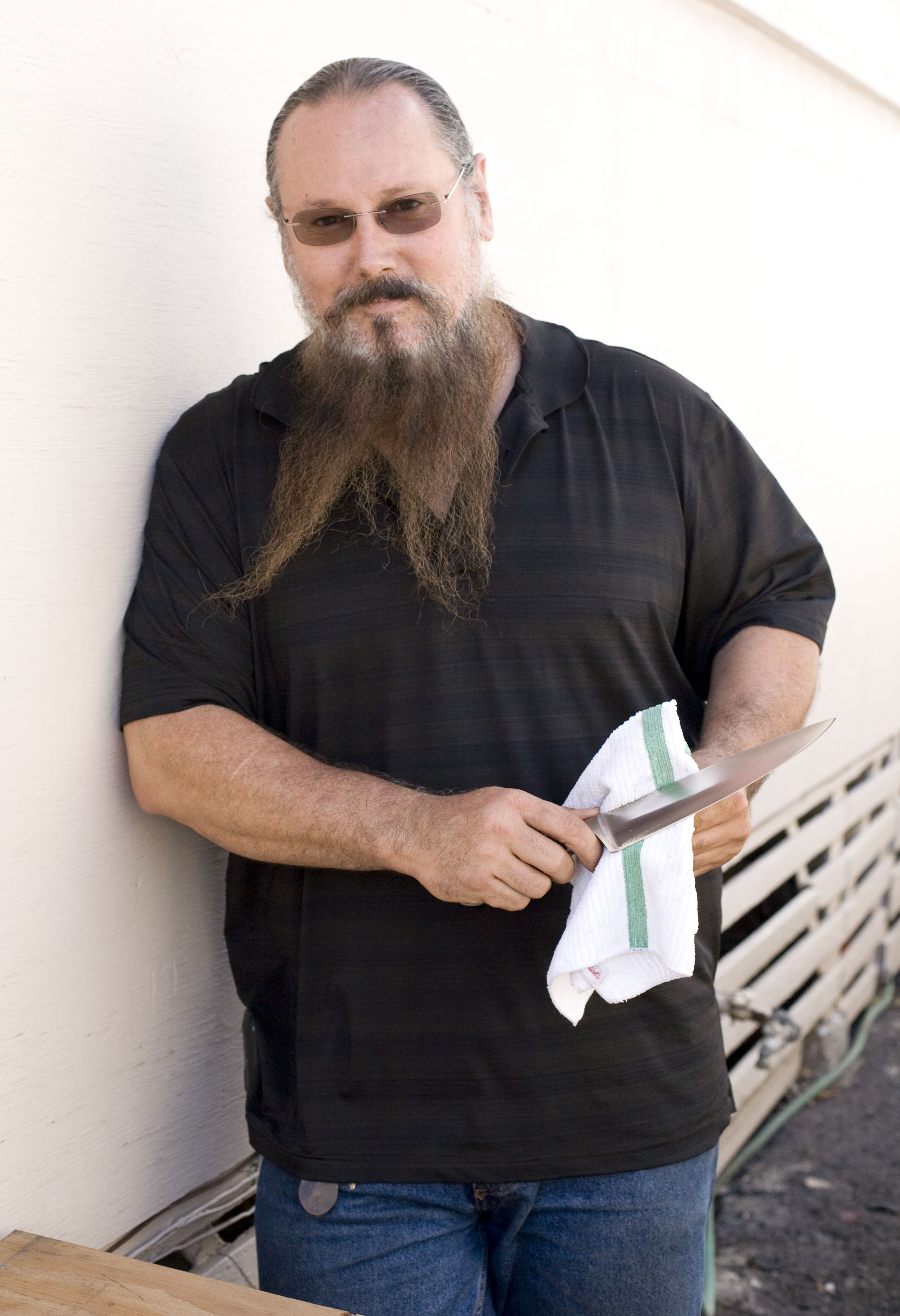 Chris Greywolf, aka Wolf, would rather be making armor and swords or leading the Khanate of the Golden Horde. But even the founder of a Mongolian living history group has to pay the bills. Hence, Cutting Edge Sharpening. Wolf sharpens blades for many of the meat markets and restaurants around town, including Whole Foods, dk Restaurants and 3660 on the Rise. And if you really want a Japanese katana to slice through fish, he can make you that, too.
You'll have to check with Wolf on the price of sword forging, but his kitchen knife sharpening rates are reasonable: $3 to $5 per blade.
Call ahead to get your knives sharpened. I met Wolf in front of his shop—a corrugated metal shack shoved between residential houses. As he disappeared into it, I could hear the grinding wheel switch on and wondered about the wisdom of handing over my knives to a stranger in an alleyway. But I am still here, and with freshly sharpened knives.
He wouldn't let me see inside his shop—"It's a mess," he said. But we chatted about his life as a blade honer:
How'd you get into knife sharpening?
It's actually a byproduct of what I already do. I'm a knife maker, a sword maker. As a kid, my grandfather taught me how to sharpen knives. I never thought this is what I wanted to do for a living. It was a necessity. We grew up on a small reservation on the Mainland so we always had to slaughter animals, skin out deer and stuff like that. Sharpening knives was just everyday life.
After I got out of the military, I apprenticed under Vince Evans, who was a very well known Hawaii blade maker. His father was a blacksmith, Bill Evans. I learned everything I could out of those two guys. After a few years of blade making, I went to Mongolia. Lived there off and on for seven years so learned a lot over there as well. After the birth of my son and my daughter in Mongolia, I decided, well, maybe I want my kids to grow up in the States.
Making swords and armor is really hit or miss. Sometimes you get customers, sometimes you don't. When you have little ones, you can't have that variability in income. I started pushing the sharpening.
Who orders swords?
Historical collectors, historical re-enactors. I'll get a request for Roman stuff. Another guy wants 13th century Mongolian or crusader or a Scottish suit of armor. I've done a lot of work with movies, a lot of movie props. Sometimes I do fight training. I was hired as a historical consultant for a film that came through a year ago. I made a bunch of weapons and armor for them and trained them in classic fighting styles from the Bronze Age.
I make my knives old-school style, forging of the steel.
So you sharpen knives for restaurants?
I go in their kitchens and bring a waterstone wheel and leather strop and I service pretty much all the blades. When I set up, all of the guys simply bring back their knives. That way the knife never leaves the line. I sharpen for the meat markets here, too—all of them.
You ever cut yourself?
Not very often.
Every now and then one of my customers will cut themselves, but they'll thank me. They're not angry or pissed off, but they say, "Man, that knife was so sharp, I'll never forget you."
Cutting Edge Sharpening
1822 Young St., 277-2738, by appointment only