HONOLULU Family Recipe: Crisped Rice Easter Egg Treats
A fun twist on your child's favorite marshmallow crispy bars.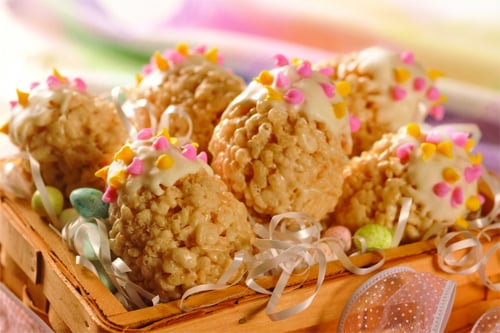 Ingredients
Nonstick cooking spray
6 cups miniature marshmallows (10.5 ounce packages)
1/4 cup butter (1/2 stick)
8 cups toasted rice cereal
2 teaspoons vegetable shortening
Assorted sprinkles and/or sugars for decorating.
Instructions
Spray large mixing bowl with nonstick cooking spray.
Heat marshmallows and butter in large, heavy-duty saucepan over medium-low heat, stirring frequently, for 5 to 10 minutes, until smooth. Remove from heat.
Quickly, stir in cereal and 2/3 cup morsels. Carefully transfer mixture into prepared mixing bowl. Cool for 5 minutes.
Spray hands with nonstick spray. Press marshmallow mixture into a 1/3 cup measure, then form mixture into an egg shape with hands.  Repeat with remaining mixture to make a total of 24 eggs.
Microwave remaining 1 1/4 cups morsels and vegetable shortening in medium, uncovered, microwave-safe bowl on medium-high (70 percent) power for 45 seconds; Stir. Morsels may retain some of their original shape.  If necessary, microwave at additional 10- to 15-second intervals, stirring just until morsels are melted.
DIP top of each egg into melted morsels; shake off or scrape excess against side of bowl. Place each upright in muffin pan(s). Immediately sprinkle dipped end of each egg with toppers, sprinkles or sugars. Refrigerate for 10 minutes or until set. Store in airtight container at room temperature.
Order HONOLULU Family's Surprise Easter Bunny Box here!
---
Looking for more Easter Fun? Check our Easter Corner for a roundup of events and activities, at-home craft ideas and even virtual storytimes!