"Crazy Rich Asians" Flew This Hawai'i Chef to Cook a Crazy Feast in Hollywood
Pig and the Lady's Andrew Le is cooking with Eddie Huang and Roy Choi.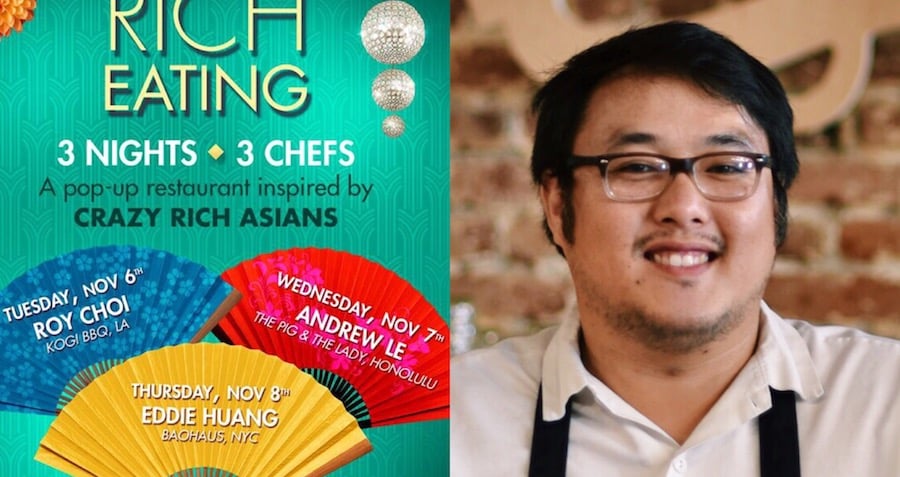 The email was so unbelievable they thought it was a hoax. Crazy Rich Asians, the Warner Bros. blockbuster that's grossed more than $234 million worldwide since its mid-August release, was inviting Pig and the Lady chef-owner Andrew Le to cook at a pop-up dinner in Hollywood. The other chefs in the three-night dinner series? Eddie Huang—host of Viceland TV's Huang's World, author of Fresh off the Boat and chef-owner of New York's Baohaus restaurant—and Roy Choi, creator of the Kogi Korean taco truck craze and twice voted one of Time magazine's 100 most influential people in the world.
"We were shocked," says Alex Le, Andrew's brother. "When we found out who the other chefs were, we thought it was a practical joke."
Like some of the characters in the movie, Huang, Choi and Le break the mold of their ethnic stereotypes. Each cooks from his family's culinary heritage; none cooks traditional Asian food. That's how you get Huang's Spiceland Bao, steamed Chinese buns stuffed with 24-hour brined fried chicken topped with lemon-garlic aioli and an eight-ingredient Szechuan chili oil. And Choi's short rib tacos and Kogi kimchee quesadillas.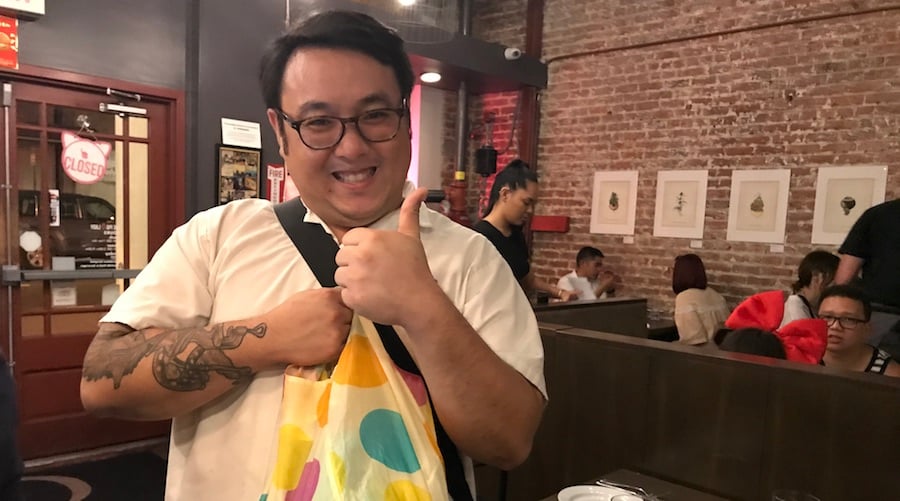 Le, who considers himself a crazy middle-class Asian, had to come up with a menu before seeing the movie. So he went with crazy, rich and Vietnam/Hawai'i. Here's what he's serving the CRA glitterati in Hollywood Wednesday night:
BITES
SCALLOP CRUDO with leeks poached in konbu broth, fermented tofu & tamarind sauce, candied sesame anchovies
DUCK CRACKLINGS & JELLYFISH marinated with sesame, rau ram herbs, scallion, ginger, daikon, pickled chili, nuoc cham a l'orange
VIET CHARCUTERIE of spiced pate maison, savory pig head & mushroom terrine, fermented sour sausage, side of coffee can bread with market pickles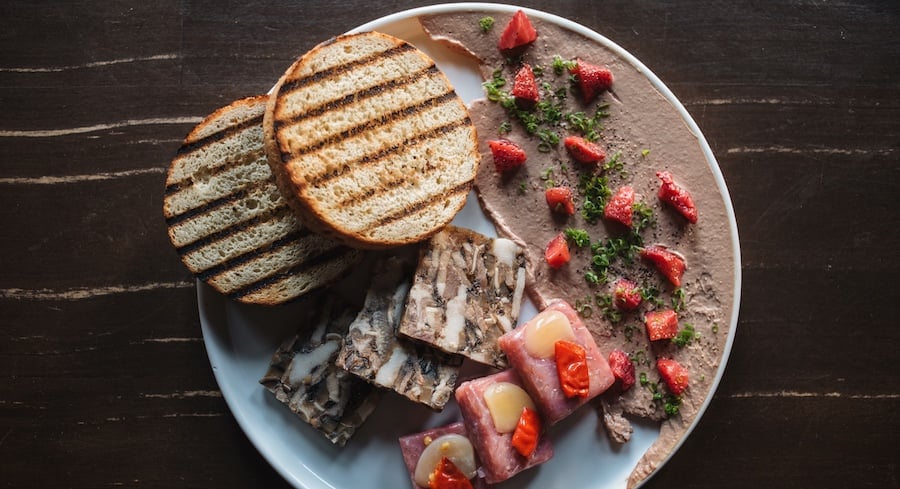 MAINS
NI'IHAU LAMB SAUSAGE marinated with sweet spices then grilled with wild betel leaves, spicy coconut curry sauce, kabocha, sweet Maui onions, Thai basil
STEAMED KONA KAMPACHI with charred Sun Gold tomatoes, Hawaiian seaweed, pomegranate, pickled pearl eggplant & herb sauce
CRISPY BROCCOLINI with shishito peppers, black garlic char siu, turmeric pickled radish, shiso, lime
12-GRAIN RICE steamed with pandan leaves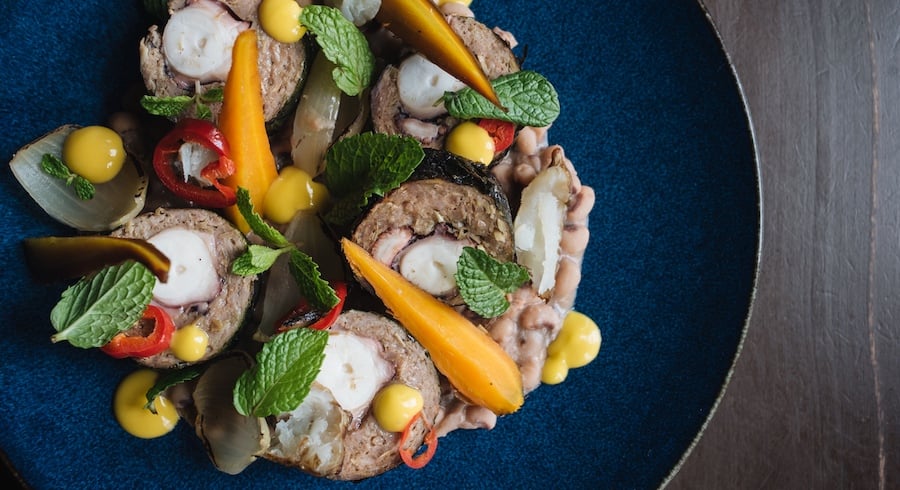 DESSERT
HAWAIIAN GOAT CHEESE PANNA COTTA with picked strawberry granite, toasted pine nuts, shiso, pomegranates
BRIOCHE MALASADAS with yuzu curd, black sesame foam, Asian pear, lemon balm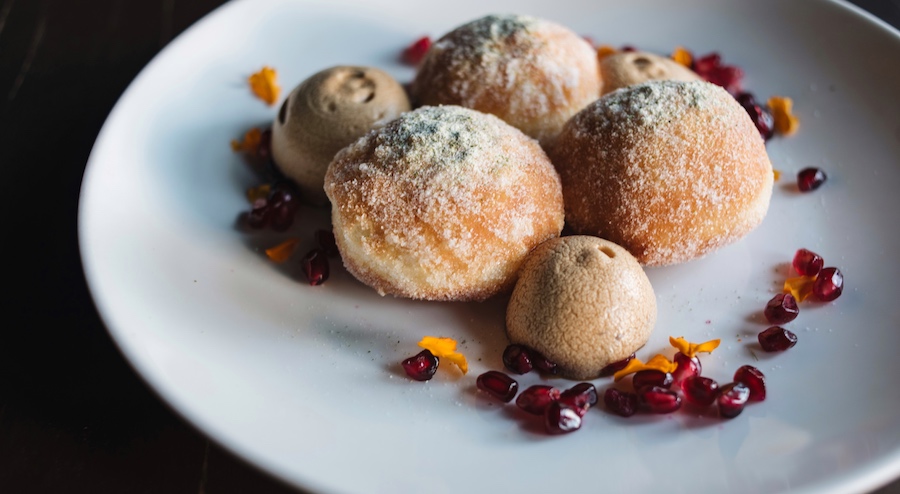 The family-style pop-up dinner is all sold out. And there's no word on exactly who among the cast and crew of Crazy Rich Asians will be there.
Le, by the way, is unfazed by this whole thing. I caught him after dinner last week on his way home to play with his son, Ollie. "It's good, but it's a crazy week," he said. "The dinner is Wednesday night, we fly back Thursday morning and we have five events the same week."
His brother understands better why I was flipping out. I idolize Eddie Huang for using Huang's World to confront uncomfortable questions about society and identity, and I pretty much worship Roy Choi for trying to bring affordable, quality food to one of the poorest neighborhoods of Los Angeles. Le himself is no slouch—he's a James Beard Award nominee whose constantly evolving Viet-global menus have made Pig and the Lady one of the hottest restaurants in Honolulu. Still, that he's now in the same elite pantheon as Huang and Choi is incredible. "We're so busy we're numb, but when we land in L.A. it will sink in," Alex says. "This is for sure one of the most prestigious things we will ever do and no one can take it away from us. I'm so proud of Andrew and the family."
I'm flying up. I've covered the Le family on this blog for years and traveled with them to Mama Loan Le's native Hanoi. I'll be with several other Pig regulars keeping Mama company while the crew cooks. We're all paying our own way. We'll be the Hawai'i cheering section. And we're all so proud.
P.S. Cross fingers I get to meet Awkwafina and Constance Wu!
Crazy Rich Eating
6 and 8 p.m. Nov. 7, 8, 9
7853 Santa Monica Blvd.
West Hollywood, CA