Craziest ice cream flavors on Oahu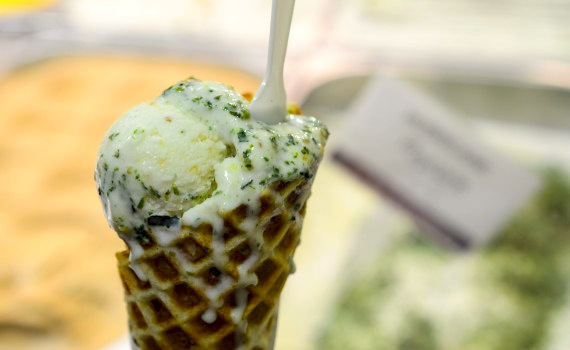 July is National Ice Cream month and I can't think of a better reward on a hot summer night than an icy, creamy cone. So when the assignment of sleuthing out Oahu's strangest, most unusual and just plain weirdest ice creams fell on my desk, I did a little happy dance. Then I got to work.
Here's the result: a delicious roundup that'll have you craving something adventurous à la mode.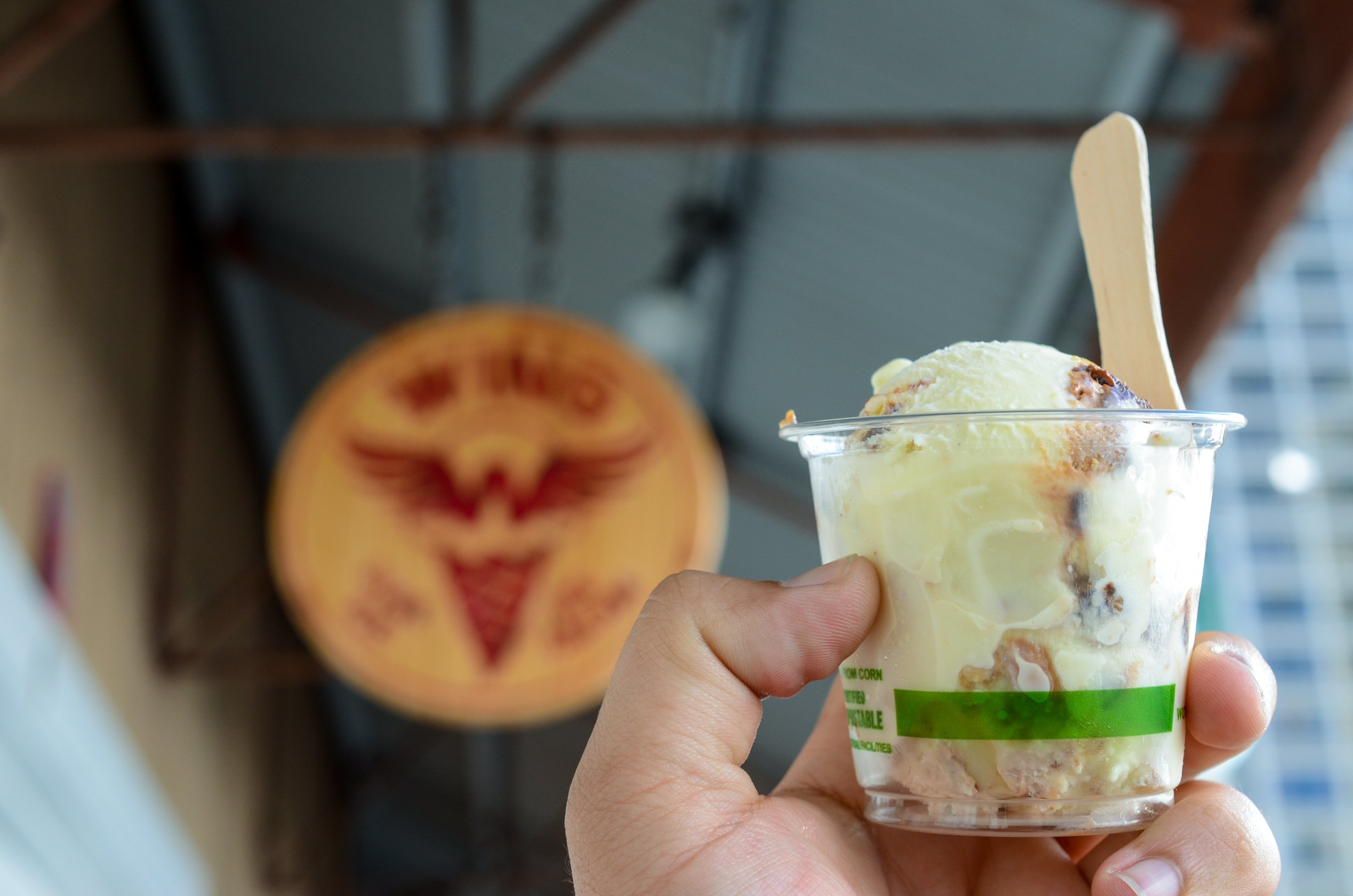 The Pretz-ident, Wing Ice Cream Parlor
The Pretz-ident, a signature flavor at Wing Ice Cream in Chinatown, isn't particularly weird in flavor, but it is in story. Named after a 2002 incident in which former president George W. Bush choked on a pretzel and passed out, this creamy concoction is easy to swallow. Made with peanut butter pretzels, fudge and vanilla, it tastes like a mouthful of those omiyage pretzels from Trader Joe's, only creamier.
With dozens of exotic flavors on rotation that change at the whim of ice cream genius Miller Royer, you're bound to find a unique scoop or two.
Wing Ice Cream • 1145 Maunakea St. Suite 4 • Chinatown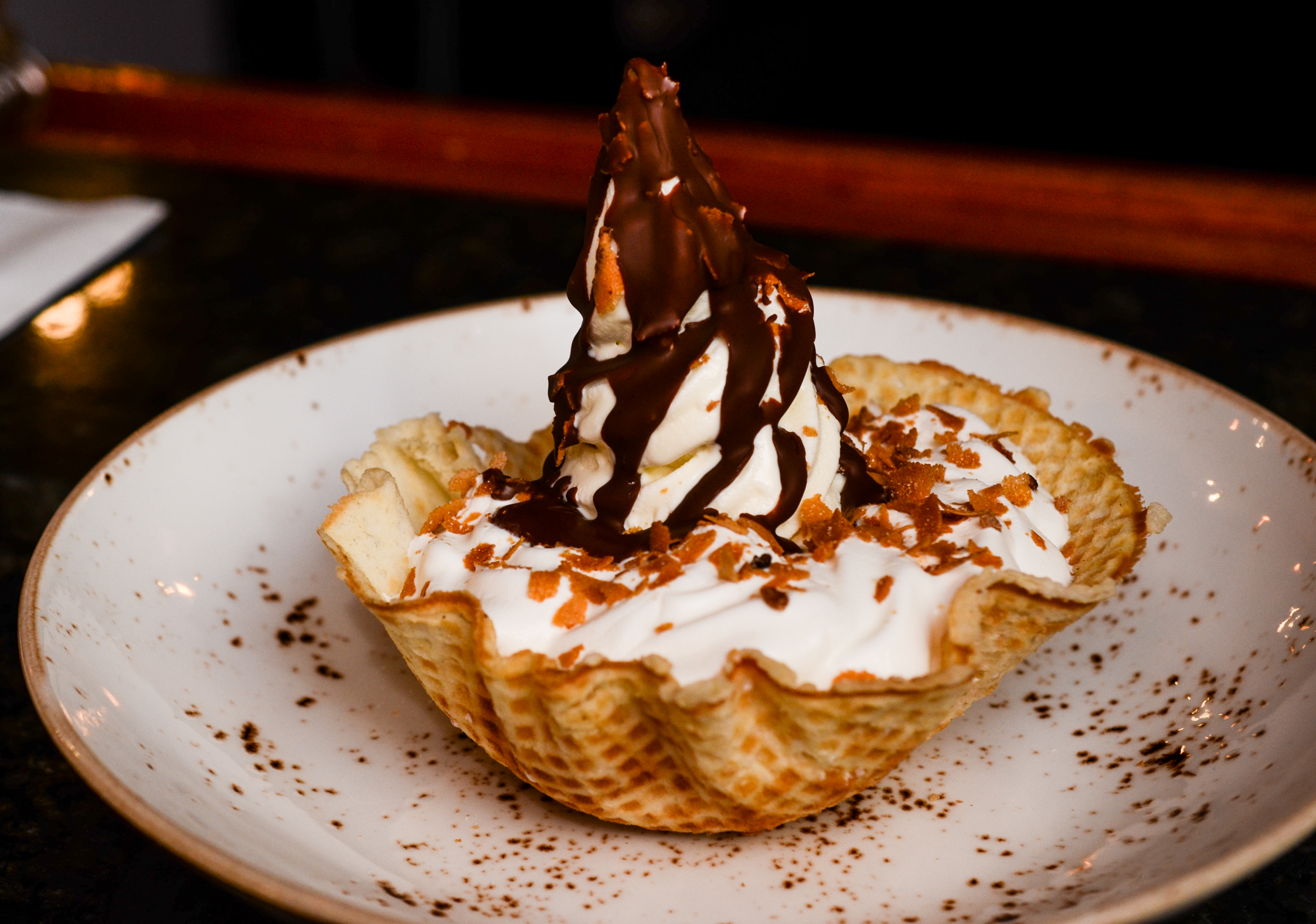 Bacon custard soft serve, The Pig and the Lady
Is there anything more right in the world? Scoff at its absurdity or bask in its divinity, but either way, order dessert first at The Pig and the Lady. I look forward to Rachel Murai's weekly sorbet and custard soft serves because they are always on point. Served as a sundae in a bacon waffle bowl with Frangelico whipped cream and a Valrhona chocolate magic shell, this sweet and salty creation is a luxury paid for at the gym.
If bacon ice cream doesn't weird you out, Murai served up scoops of natto gelato at this year's Midsummer Natto Feast. How's that for strange?
The Pig and the Lady • 83 N. King St. • Chinatown

Ko Hana Rum gelato, Manulele Distillers
A tour around the Manulele Distillery and farm in Kunia Camp is a treat in itself. You taste shots of freshly pressed sugar cane juice and a flight of their Ko Hana agricole rums, feeling great every second. But it isn't the rum that has me longing to visit again, it's their exclusive rum gelato made by La Gelateria. The rum, made with distilled cane juice instead of molasses, is refined and better suited for sipping like a whiskey or cognac. The gelato takes on the boozy flavor of Ko Hana's Kea or white rum and tastes very floral and sweet, like the Hawaiian cane it was distilled from.
Manulele Distillers • 92-1770 Kunia Rd. #227 • Kunia

Maiz queso and halo halo, Magnolia Ice Cream & Treats
When I think of exotic ice cream, Magnolia Ice Cream & Treats immediately comes to mind. Vibrant tubs of rich tropical flavors like langka (jackfruit), buko pandan (young coconut and pandan) and macapuno ube (coconut sport and purple yam) make up the bulk of their offerings, but it's their maiz queso (corn and cheese) and halo halo (evaporated milk with halo halo toppings) that get my tastebuds' attention. The sweet corn ice cream is dotted with salty bits of mild cheddar cheese for a yin-yang effect I can't get enough of. The halo halo ice cream combines all the bits of the classic Filipino summertime treat in one truly meta dessert.
Magnolia Ice Cream & Treats • Inside Seafood City Market, 94-050 Farrington Hwy • Waipahu

Lavender ice cream, Scoop of Paradise
Next time you head to Waialua for the fried chicken and snow puffies at Paalaa Kai Market and Bakery, stop in next door for a palate cleanser at Scoop of Paradise. With flavors like Blue Moon Over Waimea (vanilla and marshmallow) and rosemary lemon, you'll want to kick back and enjoy every lick. I like the lavender ice cream, which is punctuated by blueberries and lemon zest, making for a delightful scoop that isn't overtly sweet.
Scoop of Paradise rotates through more than 50 homemade flavors and has two locations. The menus differ slightly.
Scoop of Paradise • 66-935 Kaukonahua Rd. Suite 105 • 66-145 Kamehameha Hwy Suite 5B • North Shore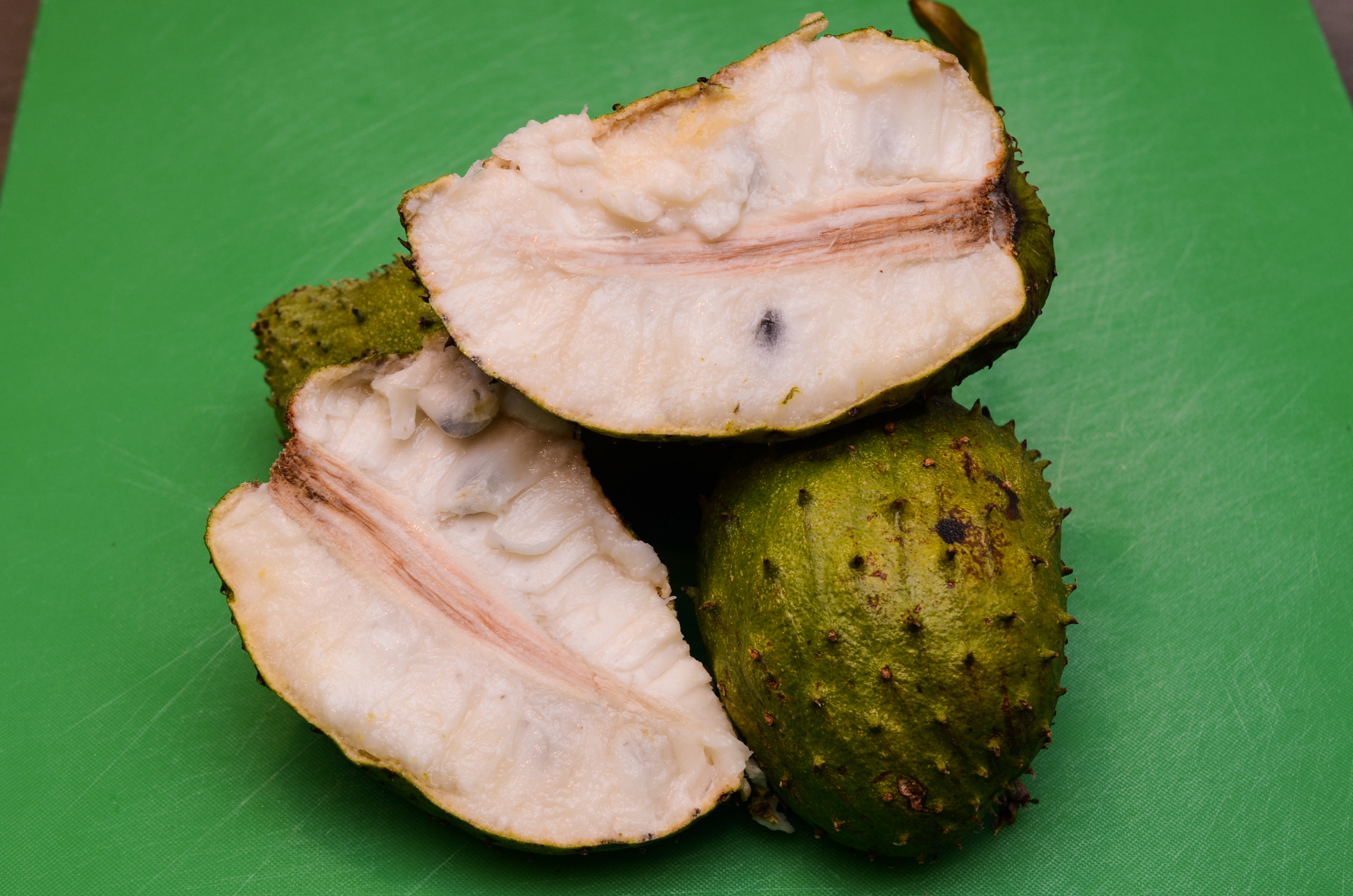 Soursop sorbetto, VIA Gelato
One of my favorite memories of eating gelato is with my friend Lori in the Rainbow Drive-In parking lot, back when Melissa Bow peddled her frozen creations from a truck. We stood there, licking the remnants of pumpkin crunch gelato off the metal serving bin. We were crazy for VIA Gelato, and who could blame us? Her concoctions were outside the box and downright habit-forming.
Last week I snooped around in the kitchen and found workers slicing soursop fruit for their next batch of sorbetto. With a uniquely tropical flavor blend of strawberry, pineapple and custard, and a long list of health benefits, soursop is my new fave at Via.
VIA Gelato • 1142 12th Ave. • Kaimuki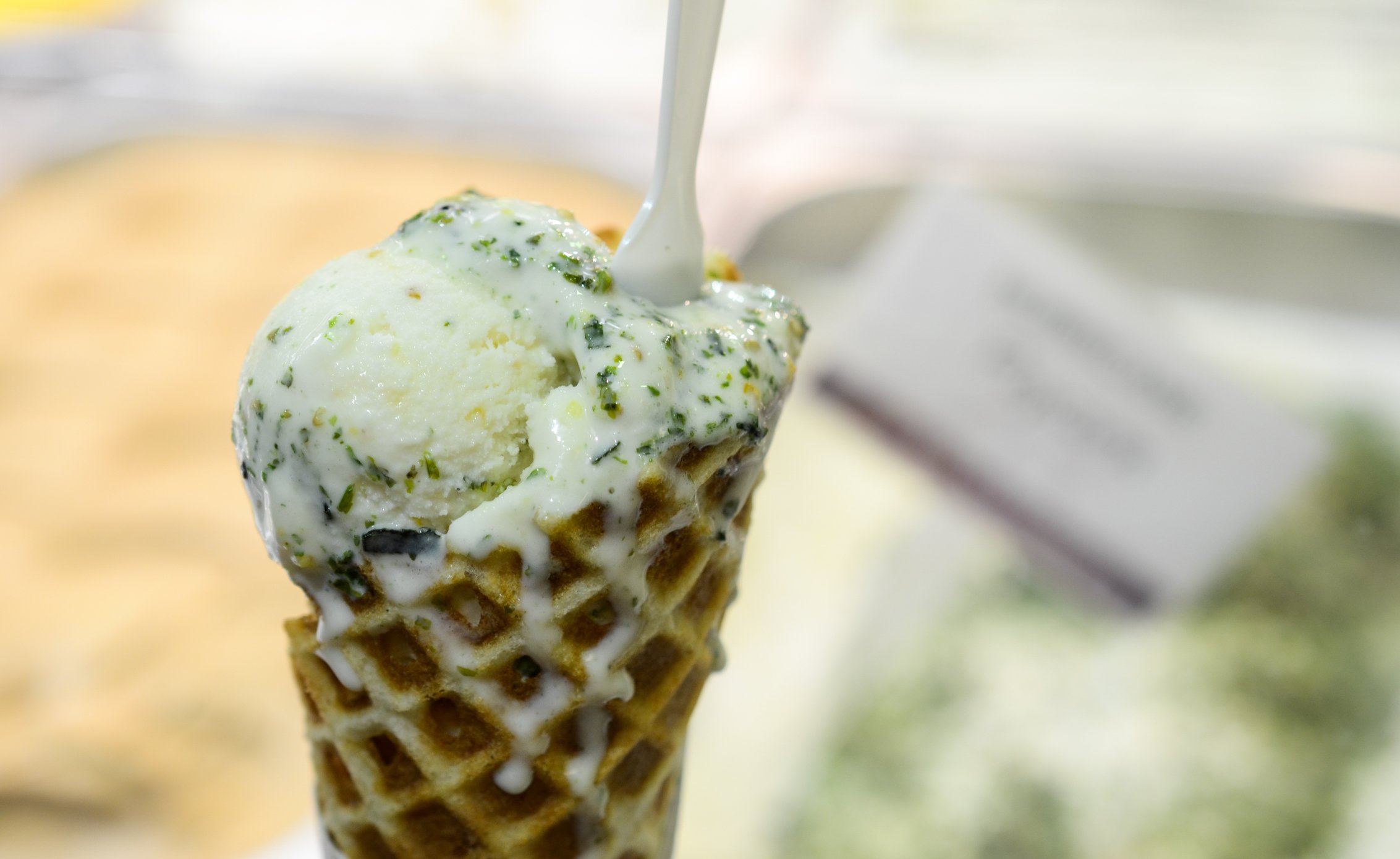 Hurricane popcorn, Il Gelato
Probably the craziest confection I tried is Il Gelato's hurricane popcorn gelato. Crafted by gelato master Dirk Koeppenkastrop, this simple yet complex flavor incorporates a plain gelato milk base with freshly popped movie-style popcorn and is sprinkled with furikake. For the ultimate umami punch, you'll want to BYOMC (bring your own mochi crunch). The saltiness of the furikake and buttery popcorn make this a perfect pre-movie snack while strolling around Kahala Mall.
Il Gelato • Kahala Mall Center Stage, 4211 Waialae Ave., Kahala • North Shore Market Place, 66-250 Kamehameha Hwy C104, Haleiwa • 501 Sumner St. Suite 501, Kalihi