Craft beer alert: All-local tap takeover happening Saturday
Beers from 12 breweries across the state are taking over Village Bottle Shop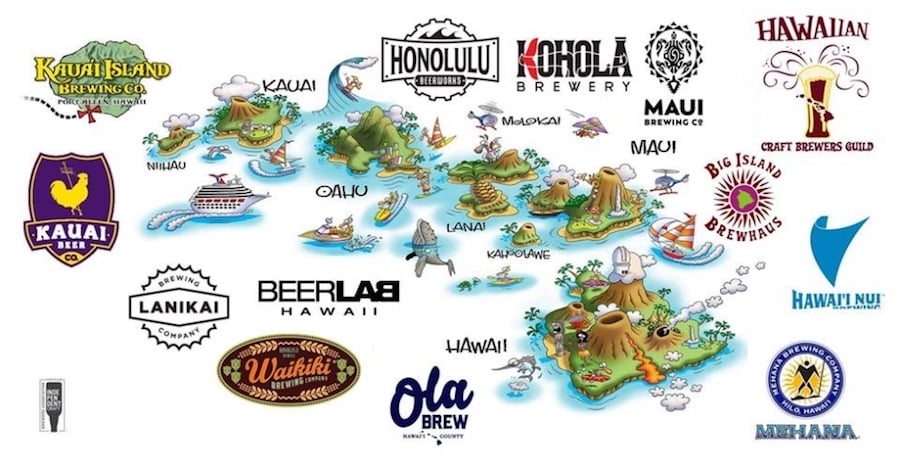 This Saturday is your chance to taste the range of craft beers brewed in Hawaii: Village Bottle Shop & Tasting Room is hosting an all-Hawaii tap takeover featuring 18 local beers from around the state. Every island with a brewery will be represented.
Besides bringing most of the local craft beer world together for a celebration, there'll be raffles, games and prizes. Even better, all proceeds will go to the Hawaiian Craft Brewers Guild, which promotes independent commercial breweries that produce 100 percent of their beers in Hawaii. Which means every dollar you spend will help the entire local industry, meaning more Hawaii beers for us!
What: Hawaiian Craft Brewers Guild Tap Extravaganza
When: Saturday, Oct. 20 from 5 to 11 p.m.
Where: Village Bottle Shop & Tasting Room, 675 Auahi St. in Kakaako
Who'll be there: Maui Brewing Co., Waikiki Brewing Co., Honolulu Beerworks, Beer Lab HI, Lanikai Brewing Co., Kohola Brewing Co., Big Island Brewhaus, Ola Brew Co., Hawaii Nui Brewing Co., Kauai Island Brewery, Kauai Beer Co., Inu Island Ales.
Draft list:
Beer Lab HI Expelliarmus Session IPA
Big Island Brewhaus Graham's Pilsner
Big Island Brewhaus Red Giant
Hawaii Nui Southern Cross
Hawaii Nui Hapa Brown
Mehana Humpback Island Lager
Honolulu Beerworks Cocoweizen
Honolulu Beerworks Wet Hop Mosaic IPA
Inu Island Ales Island Punch w/ Peach + Mango
Inu Island Ales Island Punch w/ Raspberry
Lanikai Brewing Island Life Sour Brut IPA
Ola IPA
Ola Pineapple Cider
Kauai Beer Co. Under Construction IPA
Kohola Talk Story Pale Ale
Maui Brewing Land of Rainbows Sour Saison
Waikiki Brewing Kahalu'u Blonde
Waikiki Brewing Wet Hop Loral Pale Ale
What is the Brewers' Guild?
The Brewers Guild is an organization that represents member breweries who make 100% of their beer in Hawaii. All of the funds donated to the organization are used to promote brewing locally and to improve the marketplace for current and future members. A lot of this work surrounds legislation as it relates to beer laws, including direct sales, shipping, packaging, and consistency across counties. "We have worked closely with many of the liquor commissioners from the various counties and we continue to work on these goals. They have been very helpful and supportive," said Steve Haumschild of Lanikai Brewing, one of the Guild's Board of Directors.
Raffles and Prizes:
Raffles are a $5 donation for 1 ticket, or $20 donation for 5 tickets. Must be present to win (drawings start at 830 p.m.). All proceeds will go to the Brewers Guild. Below are the prize packages that will be raffled off:
Honolulu Beerworks
Prize for 2 people

Private brewery tour (including barrel room)

Lunch

2 HBW tshirts

2 HBW hats
Lanikai Brewing
Prize for 4 people

Private brewery tour

$30 gift card
Stewbum & Stonewall
Prize for 2 people

Invitation to friends & family"/ "VIP" opening party at new Downtown location

2 $150 Gift Cards

Swag pack
Waikiki Brewing Co.
Prize for 2 people

Private Brewery tour

Lunch

Swag pack
Maui Brewing Co.
$100 gift card to Maui Brewing Co. Restaurants (Waikiki location)
Beer Lab HI
Prize for 2 people

Private tour of the new Waipio brewery