Cool Slurps: O'Kims Cold Chicken Soba
These noods come with a Hot. Mustard. Popsicle.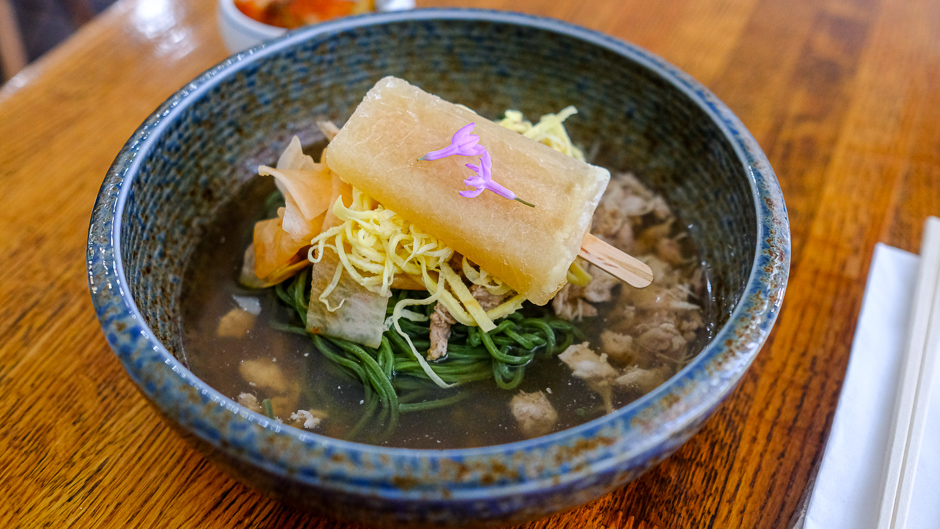 Thinking hard about icy breezes and drifting icebergs can only take you so far when you're sitting in a hot house in the middle of July. If you're like me they're steering you out of the house and over to O'Kims to slurp some mak-guksu, an icy new summer addition to the menu. Verdant soba noodles sit in a savory broth of chicken consomme accented by tart red vinegar, crisp cucumber batons, chewy ribbons of daikon, shredded chicken and omelet. Normally this noodle soup is garnished with a dab of sinus-tingling mustard, but Hyun Kim takes it a step below zero with an ingenious hot mustard popsicle. As it melts into the broth, your soba stays cold while the mild mustard harmonizes with the savory and piquant notes for a soup that keeps you dipping in for more.
$17.95
Open Monday – Saturday, 11 a.m. – 8 p.m., 1028 Nu'uanu Avenue, 808-537-3787, okimshawaii.com, @okims_honolulu
More Cool Slurps
Cool Slurps: Ireh's Emerald Noodles in Soy Broth
Cool Slurps: Rinka's Cold Soba and Sushi Lunch
Cool Slurps: Chilled Tantan Ramen at Wagaya