Teaching Kids in Hawai'i To Stay Cool, Calm and Collected
How do adults teach keiki in Hawai'i to have social emotional skills? Plus, advice from a mom whose child died in the Sandy Hook School shooting.
Editor's Note: This story was published before the coronavirus pandemic closed schools in Hawai'i. We're posting it in May to spread awareness about National Children's Mental Health Awareness Month.
Isabella Acosta, a fifth grader at Kanoelani Elementary School, admits she was nervous to play at a youth golf tournament last year. To mentally prepare herself, she took "brave breaths" and stood in a "brave pose." The moves paid off as she finished near the top of her division. Brave poses and brave breaths are self-soothing techniques familiar to students of Kanoelani, a leader in social-emotional learning, or SEL. Harper Kenny, a second-grader, says SEL helped her feel accepted by her classmates when she moved to the Waipi'o school over a year ago.
Kanoelani's principal, Stacie Kunihisa, is largely to credit. About four years ago, she introduced her 780 students and staff to an SEL program called the Jesse Lewis Choose Love Movement, founded by a mother whose first-grade son died in the Sandy Hook Elementary School shooting in 2012. Its four pillars of courage, gratitude, compassion and forgiveness are now taught to over a million keiki in 90 different countries, and in 60 schools and 90 after-school programs statewide.
"We firmly believe that providing everyone—including adults—tools to manage emotions and regulate mental well-being is not only critical, but non-negotiable," Kunihisa says. At Kanoelani, the pillars permeate across campus: a giant heart-shaped mural plastered with Post-its of inspirational messages; bookshelves lined with foil sculptures that students twist into "brave poses;" and kids who clap after a classmate speaks up in class. In February 2019, the school hosted the state's first-ever Choose Love Conference where more than 400 local educators shared best practices.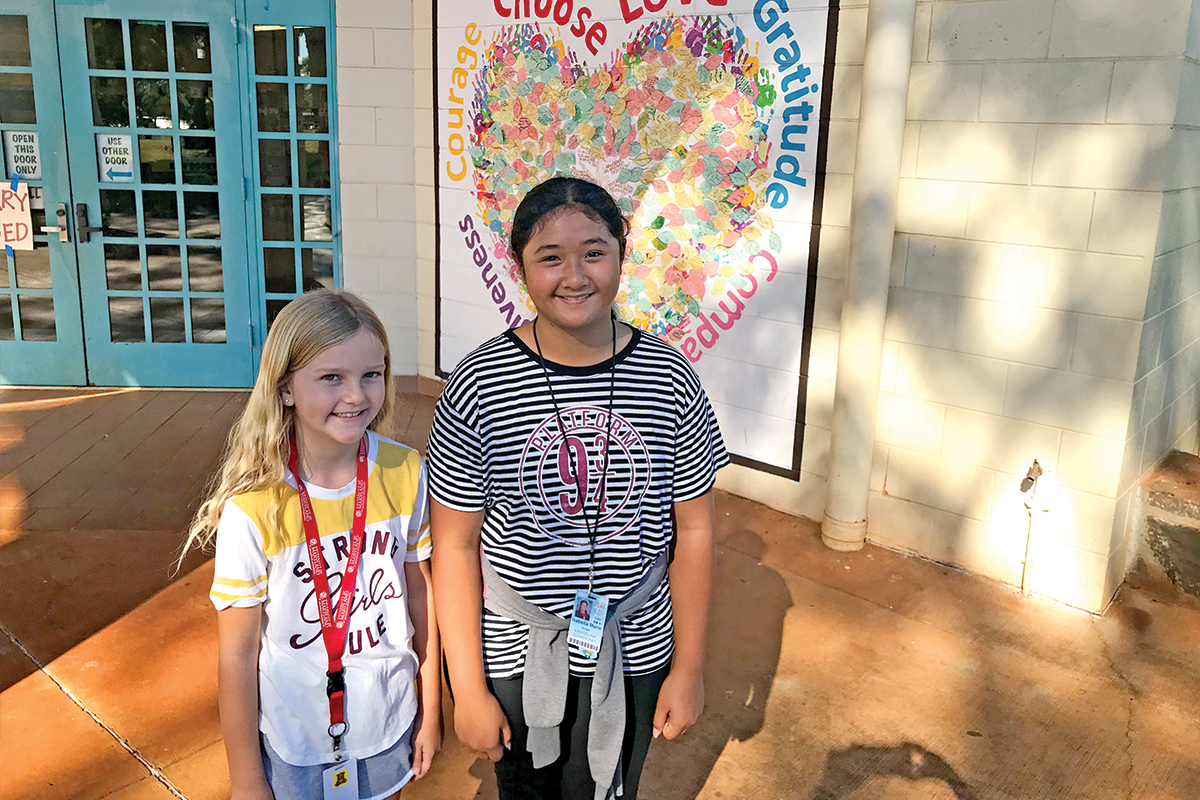 Although Choose Love is widely followed in Hawai'i, more than 15 SEL programs exist in both public and private schools.
In 2017, the Hawai'i Department of Education expanded SEL to "promote the whole child," says Fern Yoshida, education specialist for the DOE. "The schools are empowered to design their own learning environment based on the context of their own families," she says. For example, in the Nānākuli-Wai'anae complex, SEL programs focus on "trauma sensitivity and proactive ways of addressing behavioral challenges," Yoshida says. "If a student gets into trouble, he or she needs to have support in repairing relationships."
Hawai'i is playing a game of catch-up. Local educators say that in the past decade, social-emotional skills got lost as schools pushed strong academics and test scores—and forgot they were raising little humans with feelings and emotions.
"All the issues we're seeing in society today—guns and security in schools, an all-time loneliness among young people—show that there is a lack of connection," says Kelley Oshiro, the Hawai'i ambassador for Choose Love. "We're looking at the root cause of these issues, and that root is connectiveness, love for others and self-love."
Character-based learning isn't new, of course. For decades, schools have taught keiki to be courteous and nice. The difference between then and now, however, is the focus on critical life skills: stress management, resilience to adversity, gratitude, sustainability, empathy and inclusion, to name a few.
More recently, SEL programs have added another component: the use of digital mediums.
At Hongwanji Mission School, a private school in Honolulu, keiki follow a code of ethics when interacting online—from social media and video games, to email and Google Docs circulated in classes, says David Randall, head of Hongwanji. Such skills are important when students enter college and the workforce.
"If you're in a school environment where you have a high social-emotional quotient, that natural learning process can take place," he says.
Hongwanji has 370 students from preschool through eighth grade and is rooted in Buddhist philosophies. As part of their routine, kids recite the "Golden Chain of Love" affirmation as a reminder to be peaceful, positive and responsible for their actions.
Another SEL-based program that is gaining traction in both public and private schools is Yoga Ed. (yogaed.com). Nearly 1,200 adults in Hawai'i are certified in Yoga Ed., and hundreds more join the movement each year, says chief executive officer, Brynne Caleda.
Yoga Ed. promotes mental well-being through breathing exercises, mindfulness and yoga poses with chairs and mats. Teachers who are certified in Yoga Ed. lead their students in "brain breaks" throughout the day.
The goal is to help kids stay calm during chaotic moments—before tests and exams, and after recess and lunch, for example.
Another format used in schools, Roots of Empahy (us.rootsofempathy.org/hawaii), invites infants into classrooms to interact with students. As a result, teachers have seen less bullying and more compassion among classmates.
These programs are just the beginning of a stronger movement.
"As research grows, the more we learn about SEL, the more we understand the greater need and balanced approach to addressing the whole child," says Yoshida of the education department.

THIS MOM FORGAVE THE PERSON WHO KILLED HER CHILD
In early January, Scarlett Lewis visited schools on O'ahu to spread the Jesse Lewis Choose Love Movement (jesselewischooselove.org)—a social-emotional learning, or SEL, program she founded after her first-grader, Jesse, died in the Sandy Hook Elementary School in Newtown, Connecticut, on Dec. 14, 2012.
According to survivors, Jesse yelled at his classmates to run before the gunman shot him.
"Jesse would have been 13 years old today," Lewis said, after speaking at 'Iolani School earlier this year. "It's a beautiful thing—and painful—to visit schools and see kids who are about Jesse's age, but I know that what I'm doing will give them the skills they'll use for the rest of their lives."
Lewis chose to forgive the gunman, whose childhood experiences led to fear, anger and violence in adulthood, she says.
"I believe that Jesse fulfilled a purpose, which was to save people," she said. "He has created a platform on which I could offer these life-saving and life- transforming skills and tools. I do this out of love for the children of Hawai'i, and my desire to see this movement grow internationally."
5 Ways to Teach Kids Emotional Intelligence
Exercise: Balloon Breaths
Goal: Relaxation
Practice "balloon breaths" by having children place their hands on their belly, so they feel their belly expand and contract as they breathe deeply. Young kids can place a plush toy on their stomach to watch it rise and fall during inhalation-exhalation. Once they've mastered breathing while lying down, kids can practice balloon breaths while sitting up, with legs crossed.
Exercise: Sloths and Turtles
Goal: Social Cues
When you're out with your kids, pretend to be turtles or sloths, slowly looking around to observe people and situations. Take turns describing what you see and how you can react. At a playground, for example, you might see four children standing in line to use the slide and one boy holding a basketball. "I think I'll ask the boy holding the ball if I can play with him," would be a possible reaction.
Exercise: A Thousand Words
Goal: Self-Regulation
Young keiki have a basic, limited vocabulary of emotions, such as "sad," "happy," "bad" and "good." Teach them different words to describe emotions, including "frustrated," "excited," even "cautious." Ask them to describe physical sensations associated with the emotions, such as "heart beating fast" or "closed eyes." You also can visualize a rainbow and match colors to emotions, such as "red is embarrassment" and "blue is calm."
Exercise: Sleeping Bear
Goal: Focus
Teach kids "bear breaths" by asking them to inhale through the nose for three to five seconds, pause for two seconds, then exhale through the nose for three to five seconds. Repeat until they learn breath awareness. Kids can use their fingers on one hand to quietly count by themselves, or you can count for them.
Exercise: Thanksgiving 
All Year
Goal: Gratitude
Decorate a jar or box, and snip pieces of paper big enough for written words. Every time a family member is grateful, write it down and put the paper in the box or jar. Once a week (or at a designated time), gather your family to read the notes. Stick them onto a wall to create a "gratitude ladder" or "gratitude tree" for everyone to see daily.