Coming to Our Kaka'ako: Keauhou Lane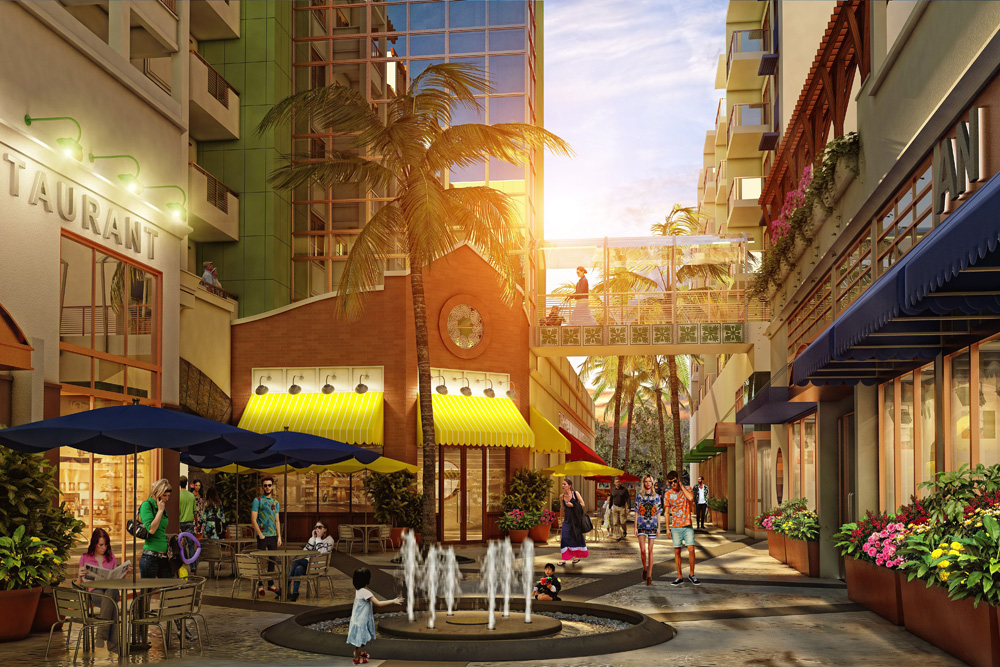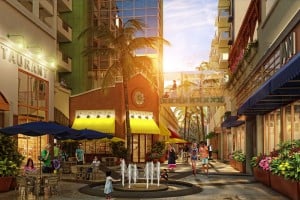 A multi-faceted residential project, Keauhou Lane, will be developed in Kaka'ako, adding new rental apartments, lofts, townhomes, a high-rise tower, live-work spaces and retail shops, including a neighborhood grocery store. The project, part of Kamehameha Schools' extensive Our Kaka'ako master plan, will be constructed at 555 South St., the parking lot where Eat the Street now takes place.
Stanford Carr Development and Kamehameha Schools will work collaboratively to spearhead Keauhou Lane — which means "new era" and references Keauhou Lane, a historical private lane that once ran through the area.
Paul Kay, director of Kamehameha Schools' real estate development, says the overriding vision of Keauhou Lane and Our Kaka'ako is to create a vibrant urban neighborhood where people can live, work and walk or bike for all their daily needs. The project will be "urban and modern, yet reflective of history," Kay said at a press conference Friday announcing the latest plans. "Kaka'ako is returning to its roots as a vibrant, diverse neighborhood."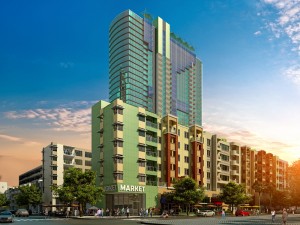 Stanford Carr will develop approximately 93,000 square feet of the property, including a 40-story tower called Keauhou Place (with 400+ residential units), as well as a parking structure for all uses on a block that will be lined with some 35 townhomes along South and Pohukaina streets. Kamehameha Schools, meanwhile, will develop about 70,000 square feet of the property, including some 150-170 live-work units and rental apartments, along with ground floor retail spaces.
Combined, the projects are expected to add almost 50,000 square feet of recreational spaces for Keauhou Lane residents and more than 65,000 square feet of open spaces, including fully landscaped sidewalks enhanced with features to create very walkable, "complete streets." Keauhou Lane also will only be a short walking distance from the new Salt at Our Kaka'ako retail/dining center, announced a few weeks ago.
This mixed-used development is designed for the local market, says Stanford Carr Development president Stanford Carr. "Our goal is to bring out the history of this wonderful area, celebrating it through architecture," he says. "The diversity of architectural vernaculars that will be layered into the neighborhood will be influenced by historical eras in Hawai'i as well as modern architecture."
Keauhou Lane — located on the block bound by South, Halekauwila, Keawe and Pohukaina Streets — will break ground sometime in late 2014 and take appromixately 15-20 months to complete. Overall, it will offer a wide selection of affordable units designed for individuals, couples and families. About 40 percent of the housing will be reserved for middle-income residents. Renters can earn up to 100 percent of Honolulu's median income, and fee simple buyers can earn up to 140 percent to qualify.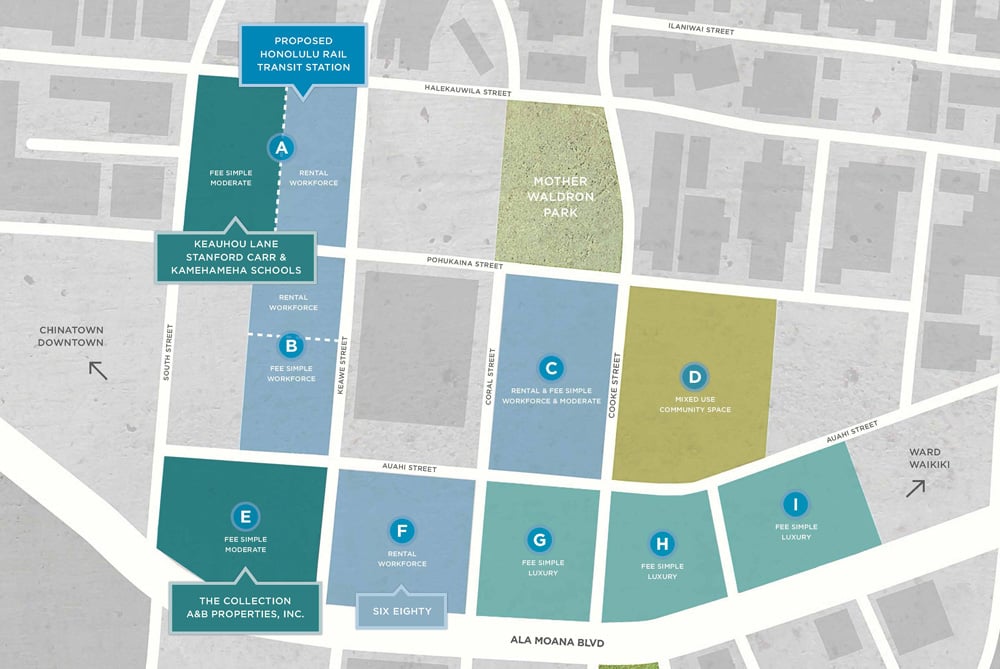 "This is a critical component in the economic development of our state," says Gov. Neil Abercrombie, who attended the press conference. The goal, he says, is to "create an urban core for the 21st century."
Alakea Design Group has been retained to ensure integration between the various Keauhou Lane projects, which includes the creation of a promenade that creates a mid-block connection that lies roughly where Keauhou Lane used to exist within the block.
The project is the latest development announced by Kamehameha Schools as part of the Our Kaka'ako plan. Last October, Kamehameha Schools announced its first residential redevelopment at Six Eighty Ala Moana. Alexander & Baldwin's The Collection residential project followed in April. And last month, details of the Salt at Our Kaka'ako project were offered.
Kay says events like Eat the Street and Night Market will be relocated to new areas once construction begins.
Archived stores about Our Kaka'ako development
The Collection comes to Kaka'ako
Coming soon: Salt at Our Kaka'ako
What's coming: Salt at Our Kaka'ako