Coming Soon: 6 New Restaurants and Food Concepts in Chinatown's Encore Saloon Building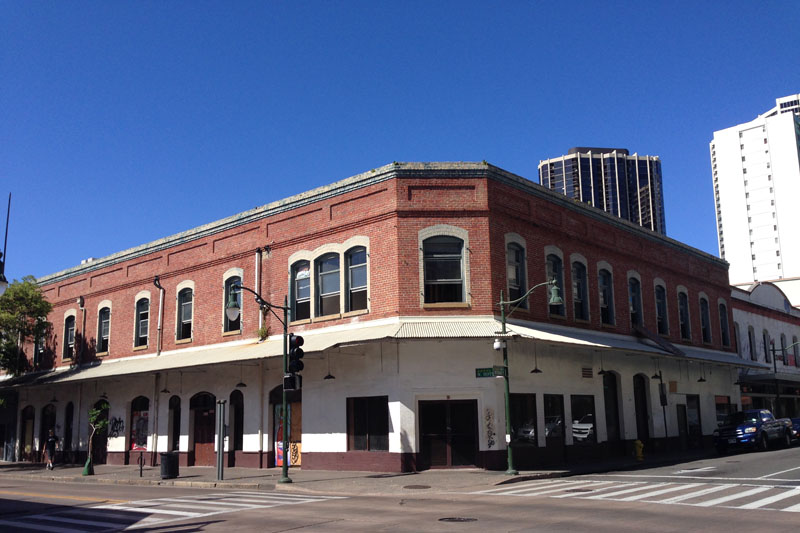 Chinatown is up and coming. It's been up and coming for the past 30 years.
But recent years have been particularly promising, with the new influx of restaurants—by our count, at least a dozen, including Lucky Belly, The Pig and the Lady and Grondin.
And the biggest project is yet to come.

Salvador d'Auvergne (left) and Ron McElroy in the Encore Saloon Building courtyard. Didn't know that there was a courtyard in back of Gold Gate Lounge and Club Ke Kai? Yeah, we didn't either.

If Ron McElroy and Salvador d'Auvergne's grand plans for the Encore Saloon Building (at the corner of Hotel and Nuuanu) come to fruition, the top floor will be a start-up incubator and co-working space, while the entire ground level will house six restaurants and bars. They envision one of the spots with a "hearth oven and where you can get great pizzas and sandwiches" to go and another sit-down place with "banquettes, a communal table and a very social atmosphere," says d'Auvergne. "Simple, clean stuff. We're going to have that kind of food that's addictive. People are going to get hooked on this stuff."
They plan on opening a bakery, a coffee and juice bar, a takeaway spot with sandwiches and pizzas, and a small plates concept with a bar. These four spaces they'll run themselves. As for the remaining two spots, they're hoping to lease to local restaurateurs and "we're courting some Mainland talent to get some LA people or SF people or NY people to do an outpost here," d'Auvergne says. "We really think it would add to the cachet of the whole project."
"These restaurants are gonna be something that's really exciting for the financial district and Chinatown people that are coming in … The initial concept, we were thinking, what could be amenities to the [co-working] members but what is also needed in the neighborhood?"

One of the future restaurant sites, formerly that bar you never went to.
The bakery "was one of the starting points," says d'Auvergne. "We want it to evolve into the neighborhood bakery. When people start coming and living here, they'll stop by and get their one baguette, their breakfast bread. Everything's geared toward community. For us, coffee and bread are the heart and soul."
D'Auvergne started the Blue Plate restaurant group and runs four restaurants in Santa Monica, ranging from a neighborhood café to oyster bar to a California taco joint. McElroy is the CEO of Real Office Centers (ROC), which currently encompasses six locations of startup incubator/co-working spaces in Southern California. They originally planned on opening the Chinatown ROC in March of this year, but now expect to have the upstairs space open by the end of the year and the restaurants open by mid-next year. Their renovation of the Encore Saloon Building represents Chinatown's first notable project by an out-of-state developer. (Not that McElroy is a stranger to Hawaii: He has family on Molokai and spent time on Oahu.) While McElroy is considering more ROC locations in Hawaii, including Kakaako, Maui and Big Island, he chose Chinatown as his launching point. "It just feels more vibrant, active," he says. "We're looking forward to contributing in that regard."


The current floor plans for the ground floor.