Coffee growers on both sides of HB280, which would remove mandatory certification for Hawaii-grown coffee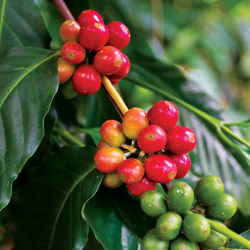 [Update 7/13: HB280 became law without the Governor's signature]
Coffee growers are coming down on both sides of HB280, a bill that cleared the House and Senate during the legislative session, but is on Governor Abercrombie's intent-to-veto list. HB280's most contentious aspect is that it removes mandatory certification for Hawaii-grown coffee.
Arguments supporting HB280: "The certification process has become a restrictive bottleneck," Chris Manfredi of the Kau Farm Bureau writes in an editorial. (There is only one full-time inspector in the West Hawaii district to inspect Kona coffee.) "Our primary competition is not within our borders, but overseas where our wage and benefit burdens don't exist. Long delays combined with relatively high production and shipping costs combine to make one of Hawaii's signature crops less competitive in the global marketplace." Manfredi argues that certification isn't necessary because "sophisticated buyers who pay the prices that Hawaiian coffees command typically request samples in advance. These samples are evaluated to a much higher standard than HDOA's standards." Farmers are free to pursue third-party certification (similar to how organic farmers are certified).
Among the groups supporting HB280: Hawaii Coffee Association, Kona Coffee Council, Hawaii Coffee Growers Association and the Maui Coffee Association
Arguments against HB280: Abercrombie notes that "The implications of this measure are problematic. Further discussion is needed to insure the Hawaii Brand will not be undermined."
The Kona Coffee Farmers Association says doing away with certification will open the floodgates to fraud and lower the quality of coffee labeled as "Kona Coffee" (or any other Hawaii coffee). It writes in a newsletter to its members: "This bill would have disastrous effects on the integrity and reputation for quality of our product." KCFA does not deny there's a bottleneck, but suggests the solution is to hire more inspectors, not do away with the system entirely.