CIY video: Hurricane-style poke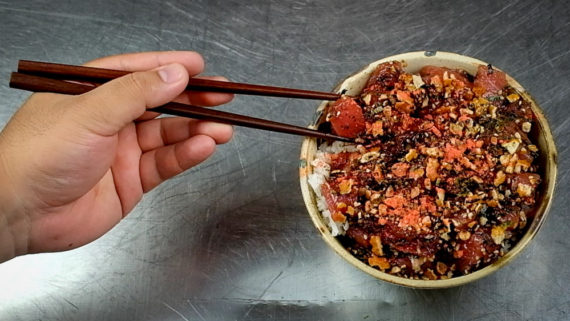 Even Frolickers have to stay home sometimes. These CIY (Cook It Yourself) videos are for those times when eating out is not an option: They're quick-ish how-tos for dishes that make staying in fun.
We love hurricane popcorn. And we love poke. So hello? Why didn't we think of this sooner?
Hurricane Style Poke
What you'll need:
1 lb. of your favorite poke
1/2 cup kaki mochi
3 T furikake
1 generous pinch of li hing powder (optional)
What to do:
1. Buy a pound of your favorite poke
2. Crush kaki mochi, sprinkle on top of poke
3. Generously sprinkle furikake over poke
4. Dust li hing powder to taste!
More Cook It Yourself
Missed our other CIY videos? Check them out below.