Christmas shopping for a large family



Growing up in a large family means a lot of things. For one thing, you're seldom alone. The fact that everyone in your family is intertwined in your life, whether you like it or not, is ingrained in your very existence from birth. Still, there's nothing in life more reassuring than knowing that no matter what, there will always be someone to watch your back.
During the holidays, big families are all about big gatherings, where everyone crams into tutu/ba-chan/apo-lady's house. In my case, it's all three. At least in my family, Christmas Eve and Christmas are spent on the road, stopping at uncle's house for Christmas Eve dinner, then to various cousins' houses to drop off gifts. But we don't stay long at any one place, because we have to wake up early on Christmas to open gifts, then hit the road to auntie's house for brunch and to another aunt's home for the big family dinner, all while stopping here and there to deliver gifts.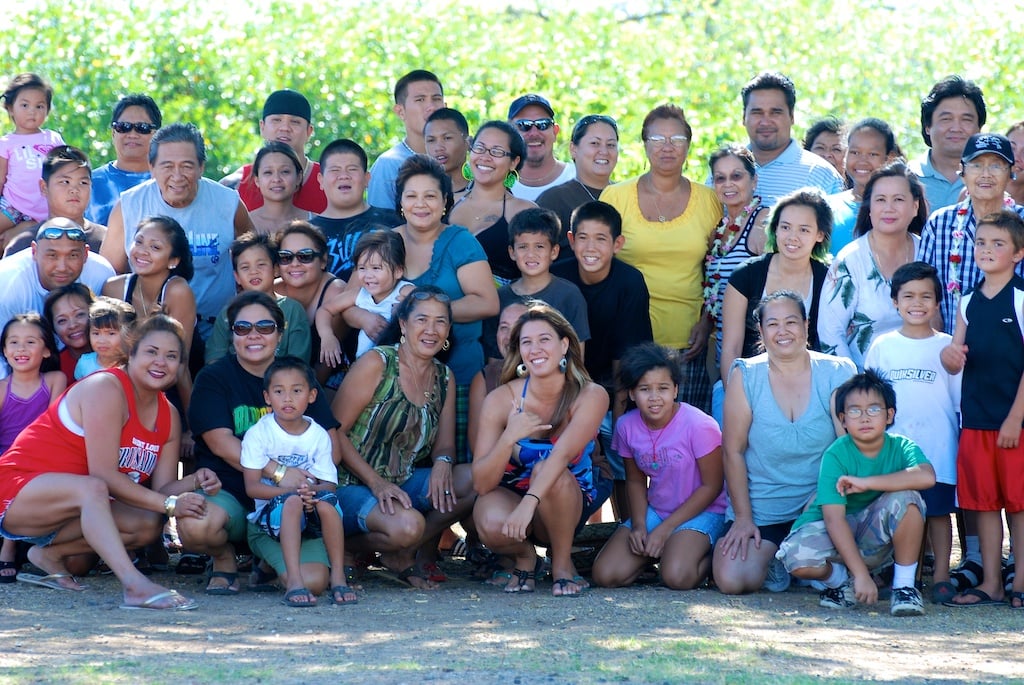 As a kid, Christmas in a big family was awesome because it meant lots of gifts under the tree. However, as an adult, shopping for a big family can be expensive. My Christmas shopping list consists of 11 aunts and uncles, 16 cousins, and thanks to two births in November, 22 nieces and nephews. And that's just the people I shop for. I tried to count the members of my extra-extended family, but I kept losing count. That's 49 people on my list (not counting friends or co-workers). That's why over the years, my sister, cousins and I have developed guidelines for Christmas shopping and gift giving.
One of the many quirks about my family is that my cousins and I all refer to each other as Lizids. And we have four groups of Lizids, the baby Lizids (any newborn to elementary school child), the Junior Lizids (intermediate to high school kids), the Lizids (anyone in our generation) and the Senior Lizids (aunties, uncles, grandparents — basically anyone our parents age or older).
The Baby Lizids
Of course, babies always get gifts. Newborns are easy, because diapers are always welcomed by parents. The problem we've run into with school-aged kids is that they're old enough to know what they want, but they have no concept of how much things cost. We also can't give certain nieces or nephews gifts that might be perceived as better than what other nieces or nephews got. So to prevent favoritism, we've done theme gifts, where every child essentially gets the same present, but with different characters. For instance, one year, I got all my nieces and nephews sleeping bags. The girls got Disney princesses, Dora or Hannah Montana, while the boys got Spider-Man, Lightning McQueen or Transformers. Other themes I've done in previous years were backpacks, bedding sets, books and board games.
The Junior Lizids
The greatest invention in shopping since layaway is, without a doubt, the gift card. There's no better gift for a preteen/teen, because they can buy whatever they want. The boys are always happy to receive a gift card from GameStop, while with the girls, I just call up their moms and find out whatever brands they're wearing at the moment. It's become a tradition for the Junior Lizids to gather at our big family party on Christmas night and exchange gift cards. The smart ones try to get as many gift cards to one store as possible, so instead of getting a small thing, they can get a pricier item.
The Lizids
My cousins are the easiest to shop for because they're content if you get gifts for their kids. Occasionally, someone wants a high-ticket item, so we'll all pitch in to get it. One year, we pitched in to buy a laptop for a cousin who had decided to go back to school. A few years ago, my sister and cousins bought me my first camera. This year, we're pooling our money to help a family friend pay for her cancer treatments.
The Senior Lizids
The seniors are the matriarchs and patriarchs of the family, upon which our family is built. They usually don't ask for much, and instead, lavish gifts on their grandchildren. Just visiting them is more appreciated than any gift you can buy. They do, however, appreciate anything that requires some personal effort, like home-baked items or hand-drawn cards from the grandkids. Being the family photographer, I make an annual calendar with photos from whatever family events that occurred that year. I made the mistake of not making a calendar one year and got scoldings from every aunt and uncle exclaiming, "Where's my calendar?" I've been doing it every year since.
Exceptions
When the economy tanked and money became tight, we decided that once nieces and nephews graduate from high school, we'd no longer buy them gifts (although, they usually get a gift card or something anyway). It actually helps them, because as college students without steady income, they also aren't expected to give any gifts.
Another exception came about when one of my nephews in high school got his girlfriend pregnant. This may sound harsh, but he was cut off from our Christmas gift lists. He wanted to leave school and get a job, but as a family, we decided he should finish school. So instead of buying him gifts, we bought for the baby, which ended up helping my nephew.
Gift wrapping
It may sound odd, but my family also has guidelines for gift wrapping. It may seem like we're being "green," but back when green was just a color, my sister, cousins and I all agreed that gift wrapping was a waste of money, so we decided to streamline the process. Our rule is that gifts exchanged by Lizids don't have to be wrapped. It's a common practice in my family for someone to show up at another person's house holding a box and saying something like, "Here, I heard your rice cooker broke. Merry Christmas."
Gifts for Baby Lizids still get wrapped, because part of the fun Christmas is tearing wrapping paper. However, we no longer bother with ribbons and bows. The younger kids always needed help removing them, so we just got rid of them. It also makes stacking gifts easier at the big family gathering Christmas night. At that party, the gifts under the tree usually number in the hundreds.
Another rule is that whenever possible, we use gift bags. But it doesn't end there. We recycle gift bags. At the end of Christmas, we just stash the gift bags into a closet for next Christmas. My family has been trading bags back and forth for several years now.
Remember that it's Christmas
Whether you have a big family like me or not, there's one thing I've realized about gift giving among family members. What's important are not the gifts themselves, but the social interaction that comes with giving them. It's an excuse to visit someone you didn't see enough during the year. It's about the kids planning a sleepover so they can try out their new sleeping bags. It's the grandparents quietly sitting in the corner watching several generations of their family together under one roof. It's easy to get too caught up in the materialism of the season, but gifts are really just a way to show love and let people know how much you appreciate them.
***
— With 49 family members on his shopping list, Nonstop contributor Ed Morita has become an expert on family shopping strategies.
RECENT BLOG POSTS
Cyber Monday… my kind of shopping
Survived Black Friday?
In the bag