Christmas every week: Kula Fields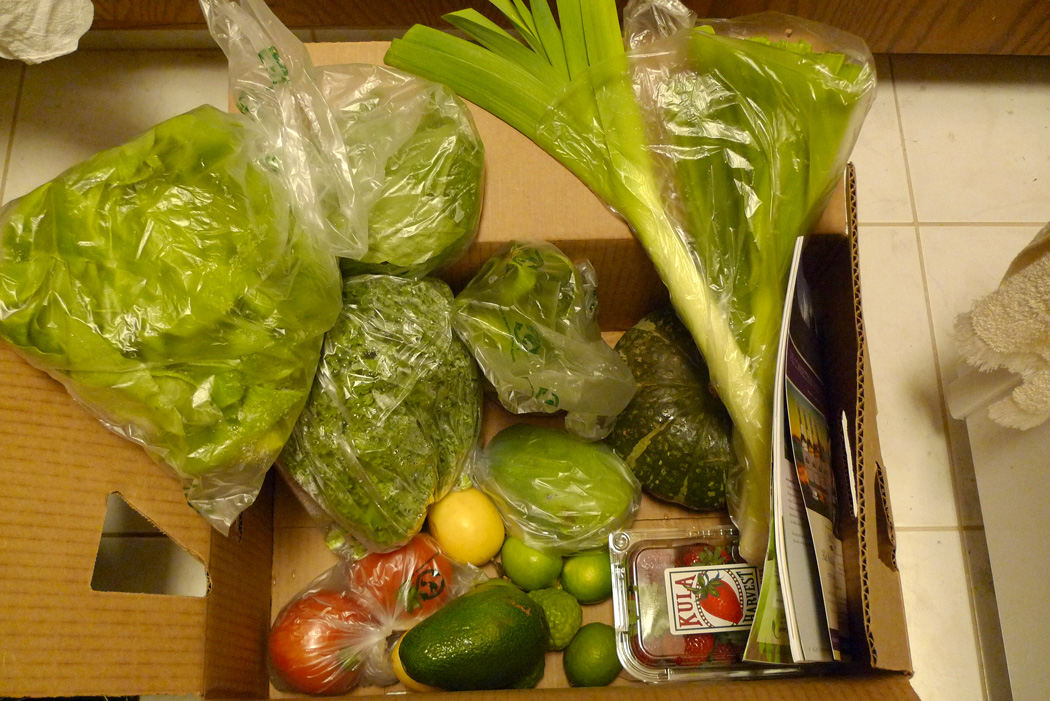 I had been following Maui's Roxanne Tiffin (@KulaFields), not really knowing what her company was all about… or that she was located on Oahu, as well. One day, she suggested I try one of Kula Fields' Community-Supported Agriculture (CSA) boxes so I could see what the process was and get a sample of what was inside.
Kula Fields is different from other CSA boxes in that they deliver to your doorstep; other CSAs need to be picked up at a designated place, time and day. Kula Fields gives you a window of time that they'll deliver your box on Fridays, so if you can't be at the delivery spot (home or office), give them permission to leave at the door.
They're also different in that they pull produce from an assortment of local growers to ensure you get the best Hawaii has to offer.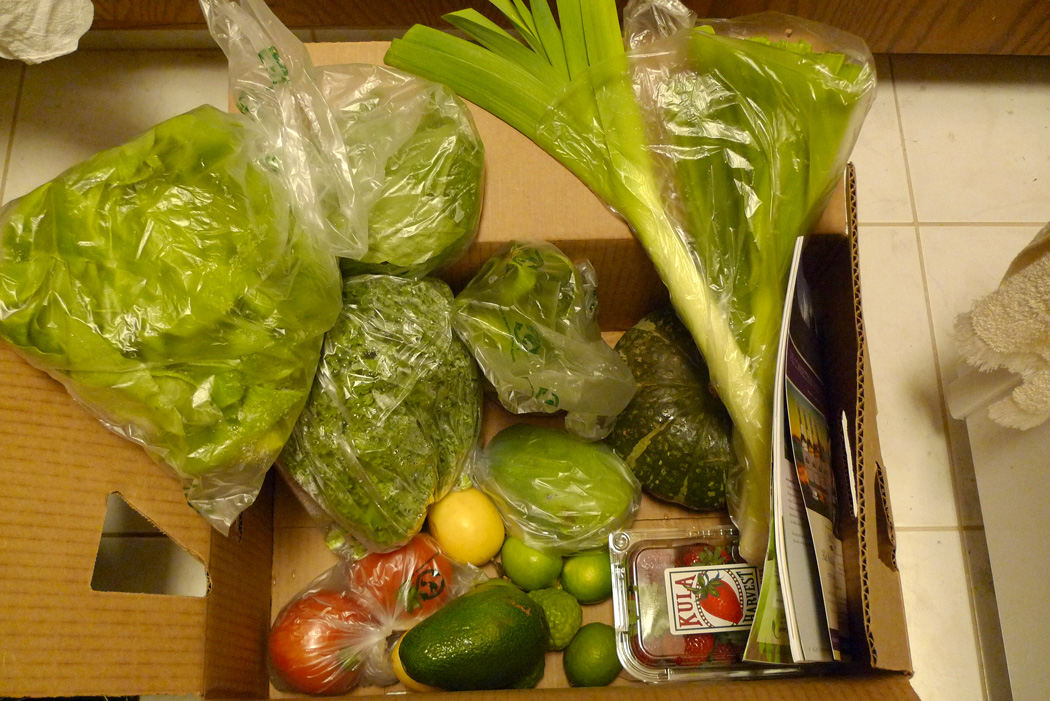 I was instantly overwhelmed by my Kula Fields' box — this is a small! Look at all that produce! Lettuces, limes, bok choy, lilikoi, strawberries, leeks, tomatoes, avocado, green mango, and kabocha. So I called my neighbors, Dawn and Derek Paiva, to see if they wanted any. Dawn got a bright idea that we could do a potluck using the items from the box, and here's what we ended up with:
CSA dinner with the neighbors
I attempted to cook parts of the kabocha using various recipes, but most times ended up overcooking it or underseasoning it. I never made anything that I could serve until my last attempt, which tasted nice but looked grossly unphotogenic. Isn't that always the case?
Anyway, I'm late on this blog, so it's too late to order a box of produce for Christmas, but you can still put orders in with them to get gift certificates and memberships for future use. That way, you and your friends can start 2012 off using fresh, local produce regularly. Mahalo to the Tiffins for the CSA; sorry I couldn't display everything that I ended up using the produce in, especially since I'm a kabocha novice.
Kula Fields
Oahu phone: 808-280-6533
Maui Phone: 808-280-2099
Fax for both islands: 1-877-806-0603
You can get recipes on their site, but here are recipes from me and Dawn. Her vichyssoise was super full of win — it seemed richer than the potato kind, yet not as heavy. I made panna cotta because it's a fancy dessert that doesn't take a lot of ingredients or make much mess, and is a clean slate for showing off the Kula strawberries. The lilikoi weren't ready yet, or I would have topped the panna cotta with a lilikoi puree, as well.
Rice Vichyssoise
The "Vichyssoise" Recipe is an adaptation of The Pacific Cub Chef Eric Leterc's recipe for "The Hawaii Farmers Market Cookbook – Vol. 2" (Watermark Publishing, 2010). For the cookbook, Chef Eric substituted taro for the traditional potato used in the French cold leek and potato soup. Dawn replaced the taro with jasmine rice and made a couple other tweaks.
1/4 c. unsalted butter
1-2 shallots
2 c. sliced leeks (white and pale green part only)
2 c. okayu (aka jook or congee — rice porridge — overcook rice by simmering in water until it turns mushy)
2-3 c. heavy cream infused with fresh gingersalt
In a saucepan over medium heat, melt butter. Add shallots and leeks and cook, stirring, until transparent. Add rice and a little bit of salt. Add water if the rice mixture is difficult to stir. Mix thoroughly and remove from heat. Blend, using an immersion blender (or allow to cool and transfer to a blender). Cool and refrigerate.
When you are ready to serve, add cream and blend well. If soup is too thick, add more cream. Taste and adjust seasoning. Serve chilled with garnish of thinly sliced leek greens.
(The version I served you guys used 2 c. cooked rice…I think that was too much, so I adjusted this recipe to use 2 c. of the smushy, liquidy rice instead of starting w/ the full 2 c. of rice.)
Panna Cotta
1/4 c. cold water
2-1/2 teaspoons unflavored gelatin (from 2 packages)
3 c. whipping cream
1 c. sugar
1-1/2 teaspoons vanilla extract
Pour 1/4 cup cold water into small custard cup. Sprinkle gelatin over. Let stand until gelatin softens, about 15 minutes. Bring 1 inch of water in small skillet to boil. Place cup with gelatin in water. Stir until gelatin dissolves, about 2 minutes. Remove from heat. Combine cream and 2/3 cup sugar in heavy medium saucepan. Stir over medium heat just until sugar dissolves. Remove from heat. Mix in vanilla and gelatin. Divide pudding mixture among eight cups, wine glasses, ramekins, etc. Cover and chill until set, at least 6 hours and up to 1 day.
Strawberry coulis (with alterations to my recipe by Ed Morita)
2 c. quartered hulled strawberries (about 12 ounces)
1/4 c. water
3 tablespoons sugar
2 teaspoons fresh lemon juice
Combine strawberries, water, 3 tablespoons sugar and lemon juice in blender. Purée until smooth. Cover and refrigerate until cold, at least 2 hours. Can be made a day ahead. (Ed's version, which I used: substitute the water with brandy or Grand Marnier, and substitute the lemon juice with balsamic vinegar. Finish with ground black pepper to taste.)