Chocolate Adventures on Oahu
Homegrown sweetness provides a tasty, educational journey for families.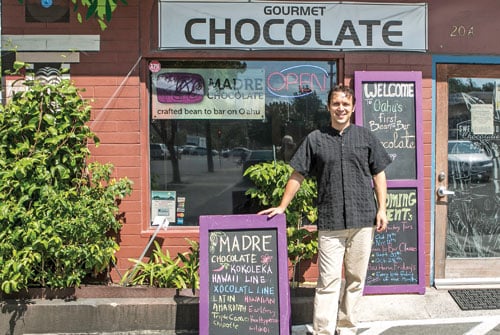 Parents beware: Taking your family on this adventure will not only tempt chocolate consumption, but is likely to create lifelong chocolate aficionados, with a deep appreciation for homegrown Hawaii chocolate.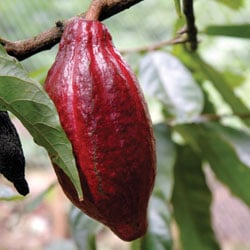 "Sometimes," my daughter has been known to say, "I wish candy grew on trees, like mangoes, and we could just pick some candy bars on the way to school." It turns out that her wish, likely based on an episode of Dora the Explorer about a chocolate tree, is not totally unreasonable. Chocolate does start on a tree, and there are cacao trees (Theobrama cacao) right here on Oahu. They're being cultivated for locally made chocolate on a farm tucked away on the North Shore, at a nursery in Maunawili, and in other locations throughout the Hawaiian Islands.
I drive past Madre Chocolate in Kailua almost daily and, even though chocolate is one of my primary food groups, I'd never before had a chance to stop in. It turns out there's a chocolate factory in that colorful little building on Kainehe Street. Not only is Madre Chocolate a bean-to-bar operation selling its chocolate bars through an online shop and in local stores, but it also offer classes on how to make your own chocolate bars, starting with the beans from the cacao tree.
The Bean-to-Bar Chocolate-Making Class teaches the history of chocolate, varieties of cocoa beans and how to make your own chocolate at home. In addition to the class, there's an Oahu Cacao Farm and Chocolate Factory Tour. When I spoke to Madre Chocolate co-founder and chocolate maker Dave Elliot, he suggested the Farm and Factory Tour for families with young children, since it's a hands-on, action-filled event, while the Bean-to-Bar class requires a little more patience for sitting and listening, and is better suited to older children and adults. He and co-founder, Nat Bletter, a botanist, invited my children and me over for a presentation, tasting and tour of the factory.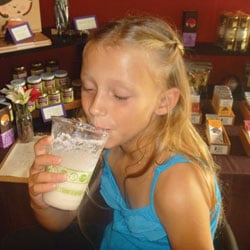 When Dave opened the door for us, the first thing I noticed was the aroma. It was as if we were walking into a brownie. Inside, we pulled up chairs to a table covered in parts of the cacoa tree at various stages in the chocolate-making process, other ingredients, books and bars, and watched as Dave blended a white, frothy drink for us to try. It was light, fruity and refreshing. It was like, well, nothing we have ever tried before. He made it from the pulp of the cocoa pod, blended with a little water.
While we sipped, he explained to us that chocolate has been around for more than 2,000 years. We learned that the cocoa pod, which can be anywhere from 6 to 12 inches long, contains up to 50 cocoa beans. Dave opened up a cocoa pod, pulled out the beans, and then cracked open and tasted the bitter interior of a bean that had been fermented and dried. It didn't smell like chocolate, and it sure didn't taste like chocolate. My daughter thought it tasted a little like a peanut, and proceeded to wipe her tongue with her napkin a few times. Dave explained that, after the fermentation and drying, the beans are roasted, resulting in small broken-up bits of the roasted cocoa bean, called nibs. We tasted the nibs and, this time, I could taste chocolate, and no one wiped his or her tongue with a napkin.
The final step was to combine the nibs with sugar, locally grown vanilla and cocoa butter in a food processor, and then taste again. This time, it was fresh, sweet chocolate. We created a cocoa powder that Dave told us to take home and mix with milk for hot cocoa. Had he ground the ingredients together longer, the cocoa butter would have melted to form chocolate that could be poured into a form to make a bar.
After we finished making chocolate, we sampled some of the many Madre Chocolate creations and chose our favorites (the coconut milk and caramelized ginger for me, and the amaranth crunch for Sky). We then went into the back to see how the bars come to be. We saw the machine that mixes the chocolate, then watched the chocolate being poured by hand into molds to make chocolate bars.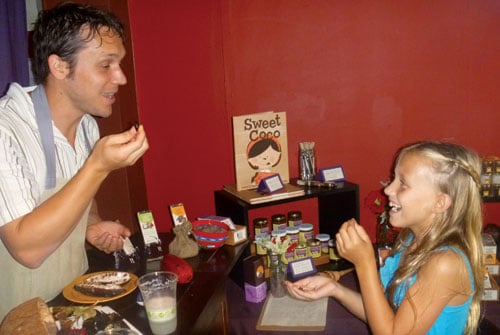 When we'd tasted all the chocolate we possibly could, Dave sent us on to our next stop: Seneca Klassen's cacao tree nursery in Maunawili, to see the very first step in the process, cacao tree cultivation. Seneca developed a passion for making chocolate 12 years ago and, now, he's the owner of a 14-acre cacao farm on the North Shore, at Opaeula. Cacao trees grow well at latitudes within approximately 20 degrees of the equator, putting Oahu, at 21 degrees north, at the very tip of the range.
In Maunawili, a nursery greenhouse keeps the young cacao trees protected from the elements while they grow stronger, woodier stems. We saw small, 2-month-old baby trees in a greenhouse, and 4- to 6-month-old trees in an opening between two greenhouses, a halfway greenhouse of sorts, covered to provide 30 percent shade and partially protected from the wind. When Seneca's cacao trees reach 6 months, they're matured and hearty enough to graduate to his farm. Seneca grows different varieties of cacao trees at the nursery, all of which he finds here, in Hawaii. He plants a single plant of each variety in a test plot at the nursery simultaneously, to see which plants fare best in Oahu's climate, prior to planting large quantities of the plant at the farm.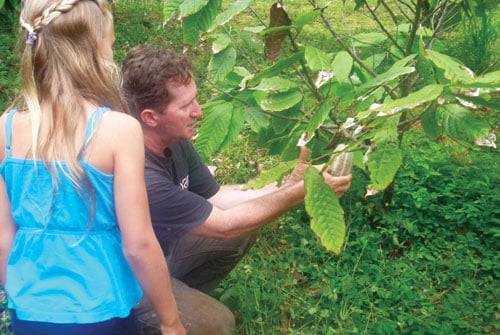 In his test plot, we discovered that the cocoa pods from the different trees varied in color. We saw red, yellow, green and brown pods. Seneca taught Sky how to check if a cocoa pod was ripe: Scratch off a bit of skin with your nail; if it's green underneath, it's not ready, but if the color inside matches the color of the outside of the pod, you're in business. Each tree variety will produce a unique fruit, which then produces a unique chocolate taste.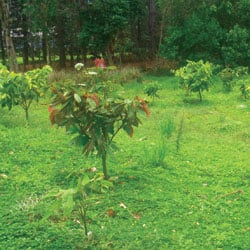 Late summer/early fall is not the time to find ripe cocoa pods. Peak season is January through March on Oahu.
The Oahu Cacao Farm and Chocolate Factory Tour takes place twice a month, and online registration is available at madrechocolate.com. The tour starts at 10:30 a.m. with a tour of a cacao farm, then there's a break for everyone to get lunch and drive over to the factory for the tour. Plan to be there until 2:30 p.m., and to leave full of both chocolate and excitement about making chocolate at home, because Dave's love of chocolate-making is contagious.
Did you know?
The cacao tree was introduced to Hawaii in 1850 at Foster Botanical Garden in Honolulu.
The cacao seed is 40 percent to 50 percent fat, and that fat is what we call
cocoa butter.
During the time of the Aztec empire, cocoa beans were used as currency.
It takes five cocoa pods to make one pound of chocolate.
Endurance athletes drink chocolate milk after a hard workout to replenish their bodies and recover.
White chocolate contains only cocoa butter, no cocoa beans.
Cocoa beans ferment for up to a week before they can be roasted.