Chinee like me: Moon Festival 2014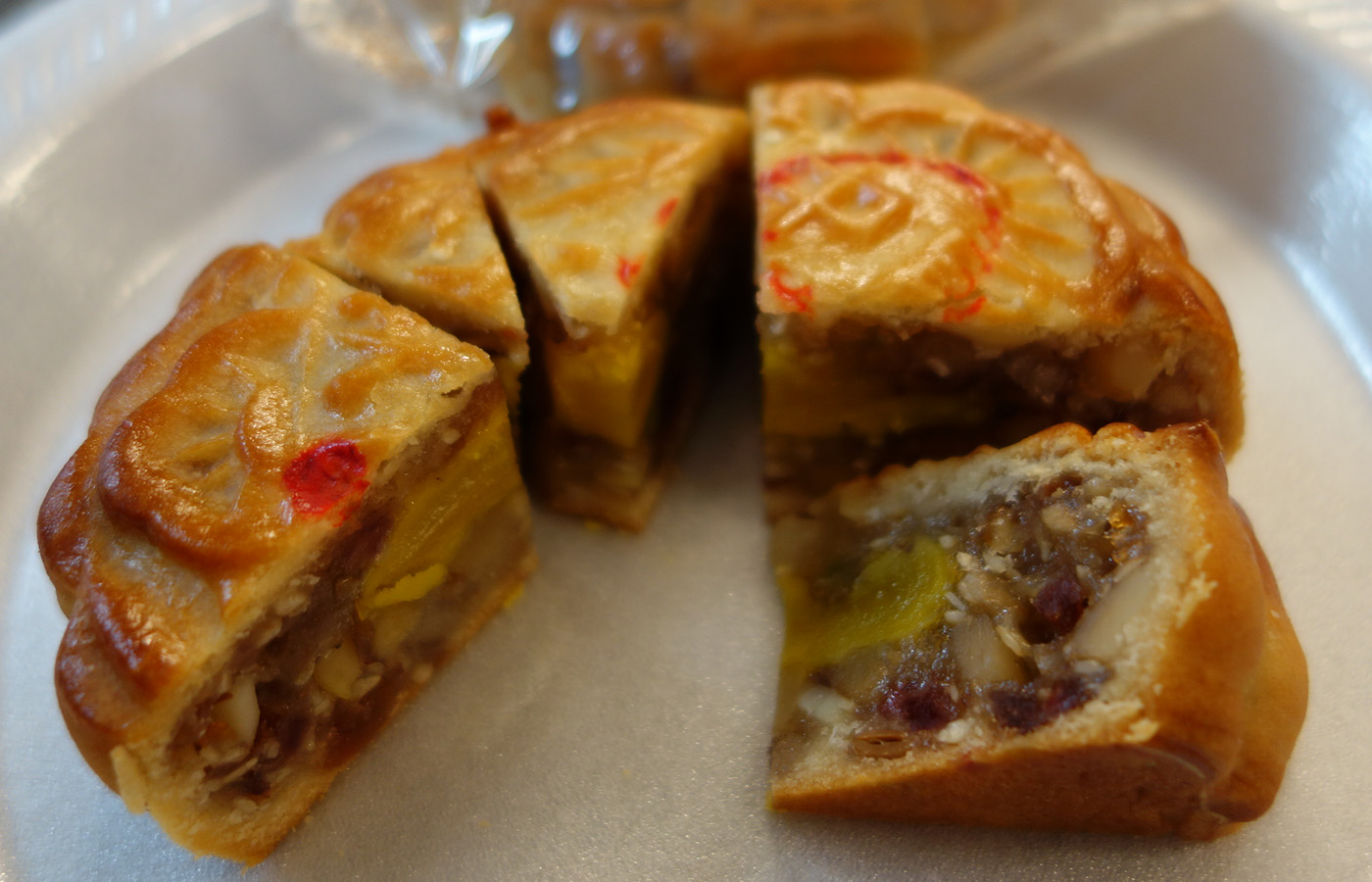 I did it again. Like last year, I was running around for a week before the official mid-autumn festival, which was yesterday (Sept. 8) and forgot to get my traditional moon cakes in time to blog about it for your benefit.
The funny thing is, I wasn't alone. Last-minute Chinese shoppers stormed Sing Cheong Yuan on Maunakea Street on Sunday, and were still buying moon cakes up til 6:30 p.m. yesterday — an hour after the Chinese bakery was supposed to close. They finally shooed everyone out, but then you have pushy Chinee broads like me knocking on the door at 7:30 p.m. to see if I could get in.
"Don't worry about not having your moon cakes on the designated day," Liana Fang assured me. "Like Chinese New Year, you can keep celebrating for two weeks and it's still legit. We'll have moon cakes all month long so people can keep up the festivities."
You already read my blog about moon cakes last year, right? Of course you did. I'm not going to repeat the same clever stories about moon cakes when you can just click over to that post to enjoy them yourself. But I am blogging this year to tell you about Mei Fang's (Liana's mom) five-nut moon cakes. If you're like me, you probably thought the moon cakes at Sing Cheong Yuan were all or mostly mass-produced in a factory with child labor. Well, they're not … they're homemade.
Traditional five-nut moon cakes take walnuts, pine nuts, macadamias, peanuts and sesame and grind them into a paste/powder for the filling. Mei decided that this year's batch would be full of roughly chopped nuts, so you can see the chunks. She added kumquats, which Liana chopped by hand, coconut, and candied winter melon that they made themselves. The middle is still a duck egg yolk. The result is a moist, mildly sweet cake full of surprising flavors and textures in each bite. I'm not one to eat the baked moon cakes, but these were excellent.
I also got to try Mei's five-nut moon cake with ham, which is the same as above but with pieces of a special ham that she cured for three months leading up to this autumn festival. They were just about sold out of that special moon cake last night, so if you are at your desk reading this, it's probably too late.
You can still get the regular five-nut one, or any of the 20 other varieties of freshly baked moon cakes, while they last through September (and some, year-round). For those who like the contemporary versions, you can get mochi moon cakes filled with mango, honeydew, taro, strawberry, and Honolulu magazine's Martha Cheng's favorite, durian.
To read more about moon cakes and the mid-autumn festival, check last year's blog. Happy Moon Festival!
Sing Cheong Yuan
1027 Maunakea St.
808-531-6688