Chinee like me: Friendship through a taste of Taiwan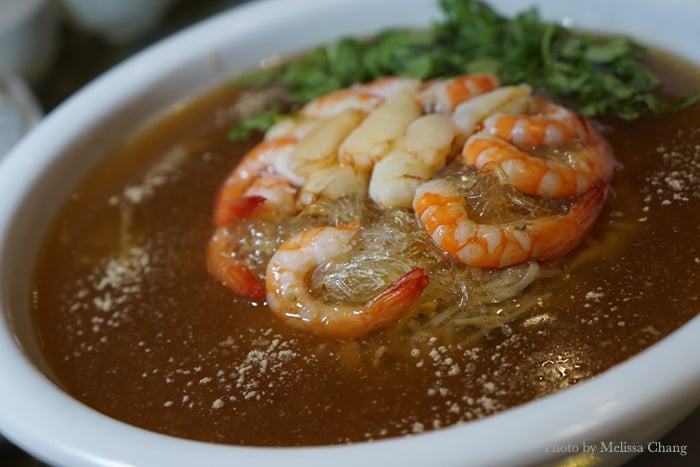 Last night, the United Chinese Society had a very special benefit event at Jade Dynasty, and I had the good fortune to get an invitation from Flora Lu. For the second year, they brought eight chefs in from Taiwan to create a fabulous 12-course feast, which — in true Chinese style — was also a networking event as well as a friendship and cultural exchange.
So why am I telling you about this after the fact? The dinner was such a success, they will most likely do it again next year, and may team up with the Kapiolani Community College culinary program to help the students, too.
The food we enjoyed was more typical of southern Taiwan, so the flavor profile tended to be more sweet — this was something our hosts kept explaining to us, so I guess this is a very distinct characteristic of their cuisine. The chefs brought a lot of their own ingredients to ensure consistency, but used some local ingredients, as well, for freshness. Here's a look at the food we ate.
The first five plates comprised the first course, called "Blessings Appetizer." The blessings represent abundance and prosperity, and all-round success. 賜喜拼盤: 明月蝦餅,生鮑魚,烏魚子,五味九孔,串燒螺肉
Remember how I tried to do a "Chinese food that Chinese people eat" round up and all my respondents made up their own format? It's a thing. We had a lovely printed menu of the food that would be presented, and in order. The chefs had a different idea. So, here's course number six, "Dragon of the Sea" lobster salad. 龍蝦生菜沙拉
I had "Buddha Jumps Over the Wall" at Royal Garden many years ago, and I remembered it was a very expensive dish. The smell of it cooking is supposed to be so good that Buddha would likely stop meditating and jump over the wall (of your house) to eat this. 佛仙跳牆
The chef who made this said (loosely) he included "pork belly, spareribs, chicken wings, sharks fin and eggs, dry flat fish, abalone, scallops, sea cucumber, mushrooms, dates and crystal. Also the secret special pepper."
At first, course nine looked like a simple plate of shrimp. But the chef behind it said (sic) "To confect big shrimp with sorghum liquor and shaoxing rice wine with aniseed, woodberry and angelica." The shrimp had a distinct but pleasant herbal and woody flavor, and the herbal mix is said to help optimize health, which in turn will make you lively. 藥膳大明蝦
Finally, we got course number two! "Auspicious soup" is so named because the Chinese word for crab and harmony are both pronounced as "xie." Therefore, it represents a wish for harmony and reinforces the desire for peace. Shrimp represents liveliness (see above) and mushrooms represent longevity and seizing opportunities. 龍祥展翅
The sixth plate was actually course seven, the Tray of Togetherness. This was still the halfway point and a good palate cleanser. 新鮮水果
"Swimming in Prosperity" — the Chinese word for fish has the same pronunciation as the word for abundance or surplus, so it symbolizes the wish for an increase in prosperity. Note that Chinese always serve their fish whole, because the symbol of the beginning and the end are equally important. 清蒸鮮魚
Our eighth course was course number four, Taiwan virgin crab. How do they know it's a virgin? Most people said they think it's because it's full of eggs. Whatever the case, it was delicious. The roe was in such a large chunk that it was like eating salted duck egg yolk, both in taste and consistency. 台灣處女蟳
People inhaled course eight, the "Assurance and Abundance" dish, probably one of the tenderest ways I've ever eaten abalone. "Abalone" in Chinese has a parallel meaning of assurance and surplus, so it represents wealth, definite good fortune. Note the carrot (representing coins) and the choy sum (representing cash). 一品鮑魚
Chicken represents prosperity, joy, and togetherness of the family, while mushrooms represent longevity and seizing opportunities. This one tasted a lot like the Chinese-style chicken soup my mom used to make. It must have reminded everyone else of their mothers, too, because at the end of dinner, all the liquid was gone but most of the chicken remained. 黑蒜頭香菇雞
The clay pot cuttlefish was interesting because it had basil, an ingredient you don't normally see in Chinese restaurants. It had a lovely, complex flavor reminiscent of Thai food, and the cuttlefish was fresh and tender. As far as I know, though, there wasn't any auspicious meaning to it other than just tasting good. 三杯花枝
Finally — and I didn't name this — the "Happy Ending" was served at the end, and in order. It's a traditional Taiwanese dessert of warm mung bean porridge and mochi. It represents reunion, successfulness, and happiness. 富貴團圓
What a wonderful treat! I love Taiwanese food, so hopefully I can go to their next one. (Hopefully I can bring Will Chen, too!) Mahalo to Flora Lu for the invitation, and as always, to Marylou Foley!