Chinee like me: Dim sum at Yee Hong Pavilion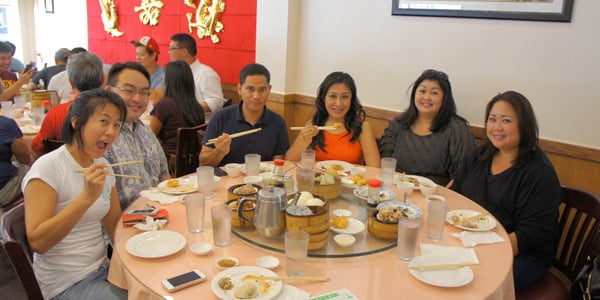 Chinese New Year is on February 10, but Honolulu starts celebrating this weekend with lion dances, the big Choy Cheng event, Night in Chinatown, and the big Cultural Plaza festival. It is the one time of year that I eat gin dui — always the salty one, leaving the coconut ones for the non-Chinese — because as a Chinese food snob, I only eat it fresh, and only the ones with the paper-thin walls.
Chinese or not, you're probably going to be in Chinatown sometime in the next few weeks, and you may want to sit down for a nice dim sum lunch. There are many places to choose from, all decent: Mei Sum, Legends, Fook Lam, the new Empress. But I thought I'd show you how dim sum went at the (relatively) newer Yee Hong Pavilion, which recently served as the spot for chef Will Chen's (@WillChen79) introduction to the Hawaii Chinese Dinner Society (@HICDS). Since most of you have already had dim sum, I don't need to do close-ups of the food to show you what it is — I'll just show you how we eat.
Dim sum at Yee Hong
Picture 1 of 16
Will Chen, who is the executive chef at Beach House at the Moana, recently requested membership in the Secret Chinese Dinner Society. To prove his legitimacy as a Chinee diner, he suggested dim sum at Yee Hong Pavilion. The dim sum chef is from the old Panda Cuisine on Keeaumoku Street, so it had to be good.
Yee Hong Pavilion
100 N. Beretania St. (Chinese Cultural Plaza)
Oh, and that dessert at the end? Will was wondering about it, too, but he speaks Chinese, so he asked the waitress what that über-traditional dessert was. Here's what the waitress told him:
Bonus video: After dim sum lunch, Danny from Wang Chung's wanted to show me and Jennifer a place called Sung Huong, which makes some Vietnamese dishes rarely seen in restaurants here because they're such a pain in the butt to make. You see, Danny and Jennifer are Chinese, but their families are ethnic Chinese from Vietnam. So although they speak Chinese and know how to eat Chinese food, they have a Vietnamese side to them, as well. Here are the two things we ate, plus Danny's little jingle for the restaurant: